Gastric Balloon Package in Tijuana, Mexico - Special Promotion!
Package price starting from:
$3000
Treatment:
Obesity/Bariatric Surgery, Gastric Balloon
Location:
Calle 5ta. Emiliano Zapata #7867 Zona Centro, C.P. 2200 Tijuana B.C. Tijuana Baja California, Mexico
Focus Area:
Gastric Balloon Package in Tijuana, Mexico | CIPLASTIC
---
The Best Package for Gastric Balloon in Tijuana, Mexico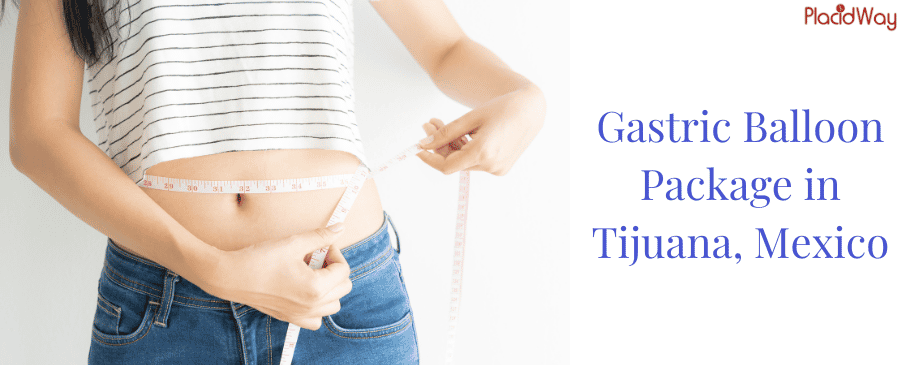 Low-Cost Gastric Balloon Package in Tijuana, Mexico
CIPLASTIC offers a low-cost package for Gastric Balloon in Tijuana, Mexico. Get effective bariatric surgery in Tijuana today at PlacidWay.
Gastric Balloon is a weight loss procedure that helps patients lose excess weight permanently.
CIPLASTIC is one of the top clinics in Tijuana where international patients come for weight loss surgery. The clinic provides modern facilities for your safe and comfortable stay during the surgery.
Advantages of CIPLASTIC clinic:
Uses the latest technology in bariatric surgery

Positive patient reviews

Professional bariatric surgeons

English-speaking medical team

Post-operative care

Affordable WLS packages.
What is a Gastric Balloon Procedure?
Gastric Balloon is a weight-loss procedure that involves placing a saline-filled silicone balloon in your stomach. This helps you lose weight by limiting how much you can eat and making you feel fuller faster.
There are two types of gastric balloons:
Single balloon – for patients who are not morbidly obese, but want to lose 30 – 45 pounds in order to kick-start their weight loss process.

Dual-balloon – encourages greater weight loss and is usually used in morbidly obese patients
Cost of Gastric Balloon in Tijuana by CIPLASTIC
Gastric Balloon cost in Tijuana by CIPLASTIC is $3,500. But you can get a special promotion price of only $3,000!
And here are the prices for Gastric Balloon in America and Canada compared to Tijuana.
| | | |
| --- | --- | --- |
| | | |
| | Gastric Balloon | |
| | Gastric Balloon | |
| | Gastric Balloon | |
Note: Contact the clinic directly to get your final price. The price may vary depending on your condition and the complexity of the surgery.

Advantages of Gastric Balloon in Tijuana, Mexico by CIPLASTIC
Lose weight with the non-surgical method

Resolve conditions related to obesity

Improve your overall health

Feel more confident

Long-term positive results
Gastric Balloon Package Inclusions
Time of use of the medical facilities.

Supplies needed for your surgery.

IV medications needed for your surgery.

Medical and nursing fees.

Anesthetic procedure.

Complete and personalized post-surgical follow-up from a health professional.

Food adequate to your needs. Snacks and healthy drinks

Smart TV with all the facilities related.

Wi-Fi Telephone Air conditioning/heating.

Free valuation consultation by the bariatric surgeon

Recovery house (2 nights)

Medical supplies needed for your surgery

1 incentive deep breathing exerciser

1 pair of compression stockings

Use of the operative room

Surgical team fees during the surgery (bariatric surgeon, assistants, anesthesiologist, surgical nurse)

Preoperative evaluation by an internal medicine specialist

Evaluation by bariatric psychology

Pre-Op and Post-Op nutritional evaluation

Premium Endostapler Kit

Electrocardiogram

Pre-operative studies: COMPLETE BLOOD COUNT, BLOOD CHEMISTRY OF 36 ELEMENTS, SERUM ELECTROLYTES, COAGULATION TIME TEST, LIVER FUNCTION TEST, LIPID PROFILE, GLYCOSYLATED HEMOGLOBIN A1C, VIRAL PANEL

Follow-up program by CiBariatric medical team for 12 months

Information and nutritional counseling for 12 months

Additional discount in case of requiring any plastic surgery (Ciplastic) later
Gastric Balloon Package

 Exclusions
Payment Options:  Cash, Credit, and Debit Cards.
Best Bariatric

Surgeons

 in Tijuana by CIPLASTIC
CIPLASTIC has board-certified bariatric surgeons who work with obesity patients around the world.
The best surgeon for the gastric balloon at the CIPLASTIC clinic is 
DR. EDGAR SERRANO,

Bariatric Surgeon 
Why Choose Gastric Balloon in Tijuana, Mexico?
Tijuana is a famous US-Mexican border town for medical tourism. Besides world-class healthcare, Tijuana also boasts numerous places where you can relax and indulge in Mexican food, culture, people, and nature.
We recommend the following tourist spots you can explore in Tijuana:
Pasaje Rodriguez 
Tijuana Cultural Center
Avenida Revolucion
Mercado El Popo
FAQs about Gastric Balloon in Tijuana
Am I a good candidate for Gastric Balloon?
       After the doctor examines you, he may recommend gastric balloon surgery if you
Have body mass index (BMI) between 30 and 40

You're willing to commit to healthy lifestyle changes

You didn't have any previous stomach surgery
What should I expect after the Gastric Balloon procedure?
Your surgeon will let you know what to expect after the gastric balloon procedure. You'll probably be able to start eating regular food up to three weeks after the insertion of the gastric balloon.
You also must take care of your diet and meet your nutritionist and psychologist, frequently after your procedure.
       What are the side effects of Gastric Balloon?
The most common side effects of the gastric balloon are pain and nausea. However, these symptoms usually only last for a few days after the surgery. A doctor will prescribe effective medications you can use at home.
What is the recovery process like?
The recovery process from Gastric Balloon depends on the complexity of the surgery, your aftercare, and your overall health. Usually, the recovery period takes up to 6 weeks and consists of resting and avoiding strenuous activities.
However, every person is different and you should consult your doctor about this.
Choose Special Promotion Gastric Balloon Package in Tijuana, Mexico!
Choose an amazing Gastric Balloon package in Tijuana today and begin your life-changing journey. You can get today your gastric balloon package at the special promotion for $3,000 only at CIPLASTIC in Tijuana! Contact us now to find out more!

Related Experiences:
Gastric Balloon in Tijuana, Mexico
Gastric Balloon in Merida Mexico
Gastric Balloon in Mexicali, Mexico
Gastric Balloon in Cancun, Mexico
Gastric Balloon in Mexico
Gastric Balloon in Izmir, Turkey
---