Dr. Richard M. Cowin

Laser Foot Surgery Specialist
PlacidWay has caught-up with Dr. Richard M. Cowin in an interview and asked him some questions about the nature of his practice, expertise and technique that have made him successful. We are privileged to share the interview with you, as an opportunity to learn more on the medical professionals behind the medical tourism facilities.
About Dr. Richard Cowin
Dr. Richard M. Cowin, DPM, FACFAS, FAAFAS, noted podiatric surgeon, is the director of Laser Foot Surgery Institute LLC in Orlando, Florida.
He is an acclaimed lecturer, practitioner, and pioneer in the field of minimally-invasive and Laser foot and ankle surgery.  Learn more about Dr. Cowin...
Questions asked during Interview
Q: To being with, which is your centers? most sought after treatment/therapy and why?
Dr. Cowin:  Our most sought after treatment is minimally invasive (1-stitch) surgery for correction of bunions. I believe this is due to the fact that the procedures are performed through such small incisions (therefore less pain and less scarring), the fact that no pins, wires, screws, plates, or casts are needed, the fact that the procedures are performed in our modern offices under local anesthesia, and that the patient can walk right out of the office after surgery.
Many people who suffer from bunions may also commonly develop tailors bunions, hammertoes, and other foot deformities, which we also commonly correct.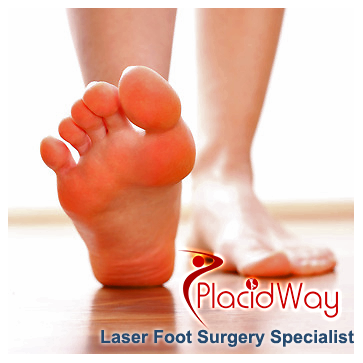 After that type of surgery, the next most common is laser treatment for ingrown and fungal toenails.
I believe these procedures are so popular because we utilize the Alma ClearChoice laser, which is actually two different lasers.
This seems to us to be more effective than most other lasers, which utilize only one technology.
Q: Can you please mention how is your company perceived domestically as well as internationally in general?
Dr. Cowin: Our company is perceived as an innovator and leader in the practice of modern foot surgery.
Q: How do the patients you cater to benefit when choosing your facility?
Dr. Cowin: The way our patients benefit when choosing our facility include:
a). Courteous and prompt treatment
b). Modern technologies utilized by a highly experienced podiatric surgeon
c). Since all procedures are performed in our office, less total cost and greater convenience, and
d). Walk-in, walk-out (often limp-in, walk-out!)
Q: Today, Medical Tourism has become highly competitive. How do you set your business apart?
Dr. Cowin: We treat our patients like family, in a warm, caring and nurturing environment.
We offer state-of-the-art treatment in a high-quality manner. We are not concerned about our competition? most of our new patients are referred by existing patients who are pleased with the services they received from us.
How many doctors provide their surgical patients with their personal cell phone numbers so they can be reached 24/7.  Dr. Cowin does!!

Q: What are the challenges and risks involved in your business specifically from Medical Tourism perspective?
Dr. Cowin: The biggest challenge for some patients is that they often need to return for post-op care for several weeks after surgery; i.e. for 3 weeks after bunion surgery in most cases.
Also, in the case of fungal toenail treatments with our laser, 3 to 5 treatment spaced out from 3 to 5 weeks apart are usually necessary.
Q: What kind of additional services do you offer and what should the patient pay for (not included in the stay ? meals, transport, all-inclusive)?
Dr. Cowin:  Since the surgery is performed in our offices under local anesthesia, our fees include everything.
There are no separate charges for any anesthesiologist, a radiologist to read x-rays, or any hospital or surgery center costs (which are often more than the surgeon?s fee).
Patients usually stay in local hotels, eat meals on their own and must provide transportation to and from our offices.
Having said that, our office is minutes from Disney World, Universal Orlando, and Sea World. No surprise that Orlando, Florida is the world?s number one vacation destination.

Q: A few words on your clientele ? is it more of insurance, corporate clients (employer sponsored), or more individuals?
Dr. Cowin: Due to the specialized nature of our practice, we do not participate with Medicare, Tri-Care, Medicaid, or any insurance companies.
We are happy to provide complimentary (free) comprehensive foot examinations, which may include x-rays and vascular testing, if appropriate. At the conclusion of this consultation, patients are provided with written pre-treatment fee estimates.
Those patients whose insurance allows for out-of-network benefits will often pay for a sizeable portion of our fee.
In addition, we accept all major credit cards, and those patients who qualify may finance their surgery for 6 to 12 months interest-free through Care-Credit.
Q: What do you think the patients should know when opting to travel for health to your facility?
Dr. Cowin: I think the patients should know that we offer an excellent alternative to ?traditional? foot surgical procedures, a procedure which is safe, effective and often more convenient and less expensive than most alternatives.
Q: Finally, a few words on your most recent developments/therapies/services that are very unique to your organization.
Dr. Cowin:  Our most recent developments are the addition of the ClearChoice laser, the addition of EPAT-non-invasive shockwave treatment for heel pain and others, and of course, the opening of our Orlando office in 2012.
Want to learn more about Laser Foot Surgery Specialist?
Click the button below