Best Place to get a Nose Job - Rhinoplasty Surgery Cost
Best Place to get Nose Job, Rhinoplasty Surgery Cost, Best Rhinoplasty in the World, Rhinoplasty in Mexico, How Much Does Rhinoplasty Cost, Rhinoplasty Costa Rica Price, Rhinoplasty Dominican Republic Cost, Rhinoplasty Cost in USA, Rhinoplasty Colombia, Rhinoplasty India, Rhinoplasty Thailand, Rhinoplasty Cost Turkey, South Korea Rhinoplasty

Best Rhinoplasty in the World
The perfect nose shape can be hard to achieve, especially since the rhinoplasty procedure requires maximum precision. Septum deviation, big nose, or just a nose that you are not satisfied with?
There are many procedures you can choose from for the perfect nose shape. And as cosmetic procedures and treatments are increasingly available all over the world, we have hand-picked the most advanced and popular ones where you can get the perfect nose job.
Most plastic surgeons consider rhinoplasty or nose surgery as the most difficult cosmetic surgical procedure of all. Why? Because the procedure involves sculpting the bones and cartilage, lifting the skin of the nose, repositioning the bones and cartilages and put everything together according to the patient's desire. There is no room for error in this surgery and you can say that a surgeon has some experience with this procedure after at least 100 nose jobs.

| | |
| --- | --- |
| Countries | Average Cost of Rhinoplasty |
| Mexico | $2,200 - $6,900 |
| Costa Rica | $2,000 - $3,000 |
| Dominican Republic | $3,000 - $4,000 |
| Croatia | $1,900 |
| United States | $10,000 - $11,000 |
| Colombia | $2,000 - $4,500 |
| India | $2,400 - $6,900 |
| Thailand | $1,200 - $4,800 |
| Turkey | $2,200 - $7,000 |
| South Korea | $3,500 - $5,500 |

Best Countries for Rhinoplasty
Prices for rhinoplasty in Mexico are between $2,200 and $6,900 at some of the best clinics in the country, where patients can feel safe and on proficient hands.
Mexico is considered a plastic surgery center, but accredited clinics here advise patients to carefully do their research when choosing a certain medical facility or surgeon here.
Best Package for Rhinoplasty in Cancun, Mexico - $3,200
Rhinoplasty in Cancun, Mexico can reshape your nose to accomplish upgraded balance and concordance with your facial features. Rhinoplasty is a surgical treatment enhances the look and also percentage of your own nose, improving face harmonious relationship and also self-confidence. Surgical treatment of the nose may additionally right reduced inhaling and exhaling due to structural problems in the nose.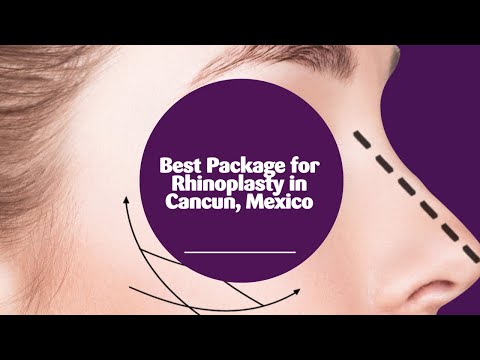 The price for nose surgery in Costa Rica starts from $2,000 onwards. Over the past 10 years, cosmetic and plastic surgery in Costa Rica has become the fourth most popular way to spend lots of money, after houses, cars, and traveling. If the most chosen procedure is double-eyelid surgery, the second one is rhinoplasty. Chinese men and women looking for a more prominent nose, exactly the opposite of the trends in the West.
As more and more employers are looking for attractive job candidates, the number of students choose to go under the knife to increase their prospects. In 2011 there were  51,680 nose jobs done in the Asian country.
Prices for rhinoplasty in the Dominican Republic starts from $3,000 onwards depending on the complexity of the procedure: nose plasty L, nose plasty I, improvements on a button nose, reduce the size of the flares of the nose, improvements on a large nose or reduction of a nasal bone.
Things have changed in the Dominican Republic with cosmetic surgery. Known as a conservative country, over the past years the plastic surgery industry has boomed, reaching millions of dollars annually.
Rhinoplasty in Croatia costs from $1,900 onwards. Zagreb Croatia is one of the cheapest country for nose job has also owned its reputation when it comes to plastic surgery. Women are encouraged to fix flaws and enhance their bodies. In some of the country's cities, there are even programs to offer free plastic surgery to the poorest residents. Although Latin American women are famous for their perfect breasts and buttocks, rhinoplasty is also a common procedure performed by Brazilian plastic surgeons.
The average cost of rhinoplasty in the US  is $10,000, not including anesthesia, hospital costs, post-surgery garments, medication, or other related expenses. Depending on how extensive the surgery is, prices can vary from $10,000 to 11,000 or in rare cases $18,000
A number of nose surgeries are performed in the US by board-certified plastic surgeons and in accredited cosmetic clinics. Over the past years, rhinoplasty has become the no.1 plastic procedure among American teenagers aged 13-19. The procedure accounts for around 45% of all cosmetic surgical procedures underwent by teens.
Colombia is known for its obsession with beauty pageants, so it's no surprise that people here worship the perfect body. It is estimated that more than 30,000 foreign people come here for plastic surgery, without adding the local citizens.
Colombia Rhinoplasty Price
Prices for rhinoplasty here are between $2,000 and $4,500, but doctors here advise patients to choose carefully and check the surgeon's credentials and experience.
India, home to the Bollywood industry, hovers between fourth and fifth place in the top five cosmetic medical destinations. For the young and the middle-aged, the top choice when it comes to plastic surgery is rhinoplasty, followed by chin, lip, and breast augmentation.
Rhinoplasty Cost in India
Prices for rhinoplasty start at $2,400 but can go as high as $6,900 depending on the clinic, area, and surgeon who performs the surgery, but also on the complexity of the procedure.
Thailand is another country famous for its plastic surgeons and affordable prices. Many of the country's plastic surgeons have been trained abroad and brought to Thailand the expertise they have gathered in the US, the UK, or other highly-developed countries.
Rhinoplasty Thailand Price
For a Rhinoplasty Thailand Price starts from $1,200 to $4,800 depending on what procedure he/she needs, the hospitalization period, the clinic, and the surgeon who performs the surgery.
The cost for nose surgery in Turkey starts from $2,200 to $7,000. Turkey ranks among the top 10 destinations for plastic surgery and it has become a trusted ad renowned cosmetic surgery center in Europe.  The country has more JCI accredited medical facilities than any other country besides the US. More and more tourists come here for plastic procedures.

Rhinoplasty or nose surgery have become so common in this country. The prices for rhinoplasty in South Korea vary from $3,500 to $5,500 depending on the area, clinic, and surgeon's experience and training.
South Korea also known as the Mecca for plastic surgery, South Korea has managed to gather years of expertise in this field. According to ISAPS statistics, one in five Korean women has cosmetic surgery.
No matter which destination you choose, always make sure you have thoroughly checked the doctor's and clinic's credentials, as well as the hidden costs. Be sure to balance between the cheapest procedure, and the highly experienced cosmetic surgeon as these are crucial when trying to get the perfect nose shape and a great result.
Need a nose job? PlacidWay can help you access affordable rhinoplasty surgery worldwide from the top cosmetic surgeons. Click the button below, or email us at [email protected] to explore rhinoplasty options worldwide!
Related Experiences:
The Ultimate Guide for Rhinoplasty in Turkey – Clinics, Costs & Reviews
Rhinoplasty in Mexico – Compare Clinics, Costs and Reviews
Get a Rhinoplasty in Dominican Republic – Find Best Clinic & Cost!
2014-04-11 / Updated on: 2021-12-15