The Emerging Health Travel Hotspot
With the competition ever growing within the global medical tourism market, new health travel hotspots are emerging to profit from the huge potential that the industry is providing. Italy is one such state, where the demand for medical tourism services is growing and its specialists and hospitals are adapting to cater to all.

Italy's Health System Focused on Specialty Care
Because of Italy's growing elderly population, and a high incidence of chronic disease sufferers, the country's health system has evolved over the past 50 years to cater to its people's demand for treatment. Hence, nowadays, some of the best specialty treatment and research centers can be found throughout Italy in specific fields. Specialty clinics and research centers focused on research and patient care have been established, especially in the fields of Neurology, Oncology, Cardiology, Orthopedics and Neurodegenerative diseases. 
The major university centers in the Italic peninsula, such as Milan and Rome are also home to prestigious medical schools in collaboration with the largest teaching hospitals in Italy and worldwide.
In the year 2000, the World Health Organization listed Italy as having the second best health system in the world. Such study has not been done lately, due to its massive resources needed for data collection, however, the Italian health system has been constantly improving.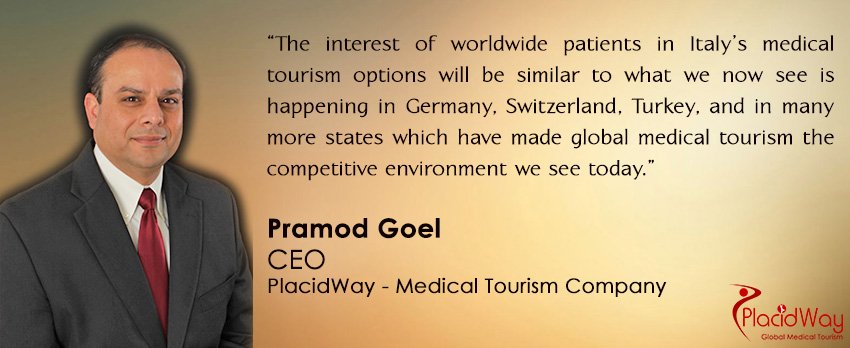 Furthermore, the climate of Italy has been popular throughout history when dealing with lung diseases.  According to Euromonitor International, health and wellness tourism is expected to increase, reaching value sales of €1.2 billion by 2017, through a constant value CAGR of 2%. The trend will be supported by the increasing importance of spas.
As Pramod Goel, PlacidWay CEO stated, "2015 will be a year of massive changes in Italy's image in the global health tourism market, as their technology, know-how and human resources have been there for decades, yet few patients have tapped into the huge potential of the advanced health system of Italy. The interest of worldwide patients in Italy's medical tourism options will be similar to what we now see is happening in Germany, Switzerland, Turkey, and in many more states which have made global medical tourism the competitive environment we see today."
Strengths for Italy's Medical Tourism Market:
High Quality Health Care System

High Market attractiveness

Strategic location

Perfect for climatic stays/vacations

Who are Italy's Foreign Patients?
Taking advantage of Italy's advanced treatments, technology and specialists are citizens from USA, Russia, former soviet countries, and from neighboring EU countries.

"It is expected, within the next 3-5 years, for Italy to be a recognized landmark for international health tourism seekers – just like Switzerland and Germany are regarded at the moment", says Sorin Stircu, Business Development Manager EMEA & Asia at PlacidWay Medical Tourism Company. "Italy is actively focused on specialty research and treatment, thus giving the customer quick access to the latest treatment, in the specialty medical center which he/she is looking for, i.e. Cardiology, Rehabilitation, Oncology, etc., gaining the patient's confidence in the quality of the treatment, which, as we have seen, is acclaimed all over Europe".
In 2009, the number of medical tourists treated in Italy's health centers was of 60,000 while the Italians treated in foreign centers totaled 70,000, according to the WHO data.

The Prices for Procedures in Italy
Beyond the fact that Italy is home for some of the most technologically advanced clinics in the world, numerous Italian clinics take pride in using the latest medical equipment and continuously training their physicians in applying the latest techniques. That is why centers and hospitals such as Centro Cardiologico Monzino – the excellence center in treating heart diseases, do not have the lowest possible prices for the procedures they offer, but they are still competitive in comparison with the US, Canada or the UK.
A patient coming to Italy for cardiac peacemaker implantation would pay around $ 13,000, while in the US the same procedure costs more than $ 60,000; in Australia, the peacemaker implantation cost is of $ 25,000.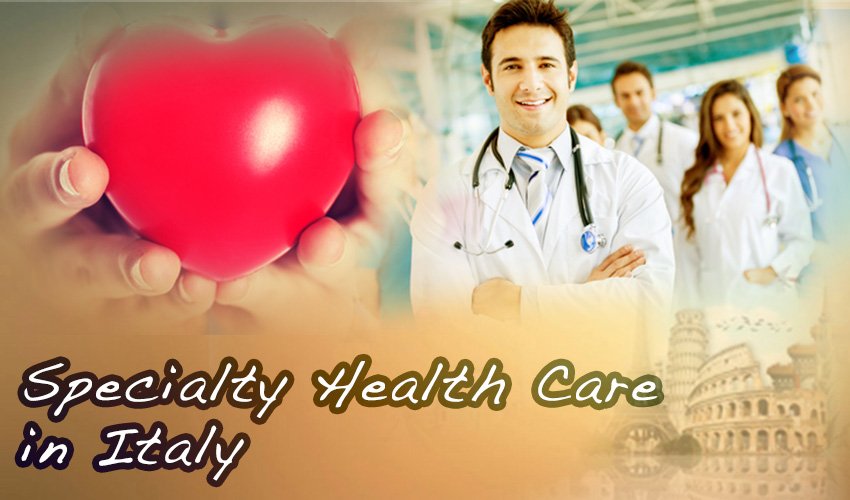 The Italian medical tourism market might not have the best prices in Europe for medical treatments, but it is however very competitive in terms of specialty treatment success and medical technology available. The interest of getting treatment in Italy has been rising for the past several years and it is expected for more and more Italian medical centers to join the global medical tourism market in an effort to help worldwide patients benefit from the top specialty treatments they need.

About PlacidWay Medical Tourism Company
PlacidWay is a leader in the medical tourism industry, dedicated to offering accurate, up-to-date information and resources regarding medical travel, international providers, treatments, procedures and destinations for international travelers.  PlacidWay's network has over 250 renowned medical centers from more than 30 countries. PlacidWay is able to help customers from all over the world get access to personalized, safe, and affordable medical care, no matter where they are from, meeting their budget requirements. Our goal is to help each customer make the right decision when it comes to choosing health care options abroad. For press inquiries about PlacidWay or to arrange an interview with Pramod Goel, call +1.303.500.3821, or email info@placidway.com.