Knee replacment of a Nigerian Former Minsiter
Dr.Shettima Mustafa, a former Agriculture minister in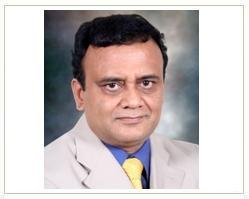 the federal Nigerian government and a vice presdiential candidate recently underwent a total knee replacement at the hands of Indian Orthopedic surgeon Dr.A.K.Venkatachalam of Knee Surgery India. He travelled to the modern Indian hospital in Chennai with his wife. He is so pleased with the surgery that he plans to get his other knee revised in a few months. He had earlier undergone a knee replacement in the right knee in Germany. In comparison, he says that after the present surgery, his recovery was faster and the incision was cosmetic.
Gone are the days when powerful Nigerian officials travelled to the USA, UK, Europe and Middle East for Joint replacements. These days Indian orthopedic surgeons find favour amongst the political elite for medical treatment. High quality worth medical treatment is provided by western trained Indian doctors.
Speaking about his surgery at a conference at the Zankli medical centre where Dr.A.K.Venkatachalam was an invited guest, Dr. Mustafa had nothing but high praise for the Indian surgeon. It took nearly 6 months for him to recover from his right knee replacement in Germany sixteen years ago. He has a twelve inch long scar down the front of the knee. This time around the scar measures only 5 inches and he was able to walk without any support at only two to three weeks after surgery.
He said that although Nigeria had advanced in several ways, the Indian medical system was far ahead in providing high quality treatment. No wonder that large numbers of Nigerians are travelling to India for their Joint replacement surgery.
The cost of surgery in India was another favorable factor in drawing patients as a knee replacement in India costs about 8000 US dollars only compared to about 45000 in the US or 6000 Euro in Europe.
Please click here to request additional information from Dr. Venkatachalam.