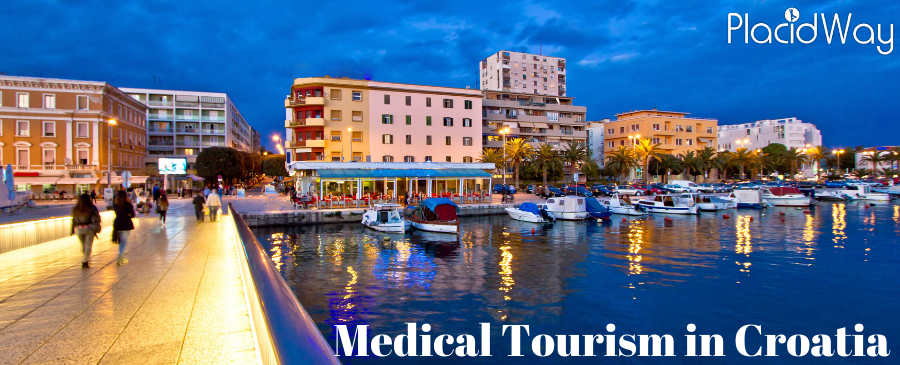 Medical Tourism in Croatia
Welcome to Croatia: Land of Thousand Islands
Croatia is an ancient place of rivers, mountains, beaches, and islands. Since the 7th century, this small kingdom has had its share of strife, war and poverty. Despite that, the 21st century offers a brighter future to this small country that now attracts tens of thousands of curious travelers to her beautiful cities, pristine beaches, and rugged mountain ranges every year.
Croatia:
Currency: Kuna

Language: Croatian

Climate: Summers are warm and dry, winters wet and snowy. Temperatures in summer range from 23°C in summer to 2°C in winter.

Capital: Zagreb
Croatia is a diverse location nestled against the eastern edge of the Alps on one side and the beautiful Danube on the other. The waters of the Adriatic Sea lap against its western border, offering natives and visitors access to thousands of tiny, picturesque islands that Croatia is famous for. Croatia's interior is graced with the Dinara mountain range, offering summer and winter fun for all. Whether looking for beaches, forests, plains or mountains, Croatia has the best of everything.
Croatia's capital is Zagreb, a hub of ancient history and modern technology. It's a place where visitors can find architecture dating back to the 7th century or where vacationers may find the best in hotel accommodations, fine dining and entertainment. Zagreb is the cultural center of Croatia, boasting scientific and cultural advancements. It's also a city that offers tourists that Old World feeling, enhanced by cobblestoned streets and beautiful, medieval-style architecture. Museums, theatres, gorgeous hotels and a multitude of dining opportunities await travelers arriving in this ancient, thriving city.
Croatia was officially recognized as its own country in 1992, following years of war and conflict. Since then, Croatians have determined to become a focal point for European travelers as well as a global destination that offers the best in tourism, accommodations, dining, entertainment and UNESCO World Heritage Sights. Two such sights, Plitvice Lakes and the Old City of Dubrovnik, draw thousands of visitors a year. Croatia is proud of her many National Parks and islands and the infamous Danube, which attracts visitors looking for classic romance in the city of Vukovar.
Why Health Tourism in Croatia?
Croatia is an extremely competitive health and medical destination for safe and affordable treatments not only for neighboring Europeans, but travelers from North and South America as well. Croatia is known for superlative care, treatments and procedures in dental and cosmetic surgery, physical therapy and rehab. With state of the art facilities, equipment and expertise, Croatia is building a growing reputation for the best service that still beats medical or health costs from throughout Europe and North America.
Many of the most popular facilities are located in the country's capital of Zagreb, which offers medical travelers the best of technology blended with thousand year old traditions and buildings, foods and entertainments. Whether you find yourself in Zagreb, Selce or Rovinj, medical travelers can expect the best in service, experience and expertise for their medical and dental needs.
10 Fun Things to Do in Croatia
Visit the Old City of Dubrovnik

Be amazed by the Cathedral of St. James in Šibenik

Enjoy a day on the Island of Hvar

Go sailing in the Kornati National Park

Check out the Roman ruins of the Pula Amphitheatre

Stroll the day away in Istria's hilltop village, Motovun

Visit the nearly 2,000 year old Diocletian palace

Go clubbing on Pag Island's Zr?e beach

Follow the footsteps of dinosaurs in Brijuni

Enjoy the waterfalls at Krka National Park
No matter where you've been before, Croatia is bound to take your breath away. Take care of your medical needs and recuperate in one of the most picturesque destinations in the world. Croatia is guaranteed to inspire and amaze with her wealth of outdoor adventures, classic architecture and ancient ruins.