Monika Jankauskaite – Dentist in Tenerife Spain, General odontology, Cosmetic dentistry, Oral surgeon
Av Moscu 38 Lc.9
Costa Adeje, Tenerife, Spain
Speciality:
General odontology, Cosmetic dentistry, Oral surgeon,
Languages:
English,Spanish
Degree:
Degree in Stomatology
Focus Area:
Dentist in Tenerife Spain | ICA Instituto de Cirugia Avanzada | Monika Jankauskaite
---
About - Monika Jankauskaite – Dentist in Tenerife Spain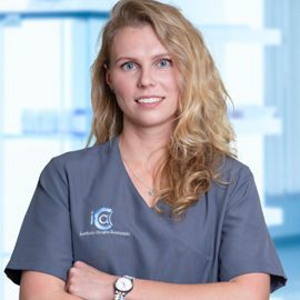 Monika Jankauskaite | Top Doctor for Dental in Spain by ICA, Instituto de Cirugia Avanzada
Biography of Monika Jankauskaite
Monika Jankauskaite is top Dentist in Tenerife Spain by ICA, Instituto de Cirugia Avanzada. Book your appointment for Dental Treatment today at PlacidWay. She is a dentist who loves her profession and strives for perfection in her work. Check below for more information about her biography:
"Hello, I am the ICA Dentist, I love my profession and I am a perfectionist in my work but I always like to work with my team in a relaxed and jovial environment. I have a dental prosthesis that is wonderful and together we do some beautiful and very well finished work, nobody would say if the corinas or anal pieces are natural or not."
"My work is always done with the best of the market that is the STRAUMANN implant and in the prosthetic part I use zirconium material that is the best in quality and aesthetics. I was trained in Lithuania in 2016 and I am characterized according to my patients for being very professional and friendly in my practice."
"I'm looking forward to you sitting in my chair to see you relaxed because in my practice no one is out there or afraid, ah ..., nor does he feel pain because I am a crack. We are waiting for you at ICA."
Contact PlacidWay today to book your appointment with top Dentist in Spain, Monika Jankauskaite, and achieve your beautiful smile today!

Education
Experience and Education of Monika Jankauskaite | Experienced Doctor for Dental Treatment in Spain by ICA
Education:
Lithuanian University of Health Sciences - Master Degree, Dentistry, 2011 - 2016

University of Oulu - Master Degree, Dentistry, 2015 - 2015
Experience:
Specialty in General Dentistry

Oral Surgeon
Languages Spoken:

Prices
| Dental, Hair & Plastic Surgery Cost in Tenerife Spain | ICA | Prices | Enquire |
| --- | --- | --- |
| Breast Augmentation in Costa Adeje, Tenerife, Spain | $6500 | Enquire |
| Breast Reduction in Costa Adeje, Tenerife, Spain | $8000 | Enquire |
| Dental Implants in La Orotava, Spain | $1400 | Enquire |
| Liposculpture in Costa Adeje, Tenerife, Spain | $11200 | Enquire |
---
ICA Instituto de Cirugia Avanzada reviews
Melania

It has been a luxury to have done the internship in this great clinic. I have met wonderful people who have helped me a lot in learning. I would love to be part of this staff, but if I could not, I would be a client of this clinic. Without hesitation, I would put myself in the hands of Dr. Sonia Diaz and her entire team. I have been able to verify how professional they are in everything, their impeccable protocol before and after each procedure, the affection and pampering that is given to the patient during the treatment, etc.
I can only say thank you! It has been a privilege.

Google

Aug 02 2021

Lola

Magnificent team led by Dra. Sonia. Cutting edge treatments at competitive prices. Now with a new location, an exclusive Villa in the North of the Island of Tenerife. Congratulations team !!

Google

Aug 12 2021

Mariaisolina

Professionals of excellence, very respectful human treatment, first rate technology, safe procedures with excellent results !! Highly recommended to the entire team led by Dr. Sonia, a great professional and an excellent human being !!

Google

Aug 24 2021

Juan

ICA Clinic, Aesthetic Surgery Center, a high quality center at all levels, with its services to take care of external beauty and the care of internal beauty, promoting health, aesthetic care, good nutrition ... with a team of professionals of excellence in each of their specialties, led by Dr. Sonia Díaz, an excellent professional, with a long and successful career in cosmetic surgery, with a long list of patients satisfied with the results obtained, and an admirable human quality.

Google

Sep 09 2021

Angeles

Dr. Sonia treatment is impeccable, very professional, very happy with the results


Google

Dec 15 2021

Elizabeth F

"In ICA I have felt at home, because of the energy that flows everywhere, the peace, calm and attention that they have had with me, as with each of their patients.The professionals that make up the team, led by the Doctor Sonia Diaz Pérez, carry out their work putting their hearts in each person. I am happy to have found quality and commitment. Thank you all!"

ICA Instituto de Cirugia Avanzada

Jun 16 2021
---
---
PlacidWay.com provides information and travel related services. We do not provide health care services. We provide information solely for informational purposes and do not endorse any particular health care provider or facility or any particular health care service or treatment. We are not affiliated with any health care provider or service and we are not responsible for any health care service. Please consult with your own domestic licensed health care provider before seeking the services of any health care provider you learn about via our site.
---