Conventional Lipo Abdominoplasty Package by CIPLASTIC
Package price starting from:
$6700
Treatment:
Cosmetic/Plastic Surgery, Liposuction, Abdominoplasty
Location:
Calle 5ta. Emiliano Zapata #7867 Zona Centro, C.P. 2200 Tijuana B.C. Tijuana Baja California, Mexico
Focus Area:
Lipo Abdominoplasty in Tijuana Mexico | CIPLASTIC
---
Effective Lipo + Abdominoplasty Package in Tijuana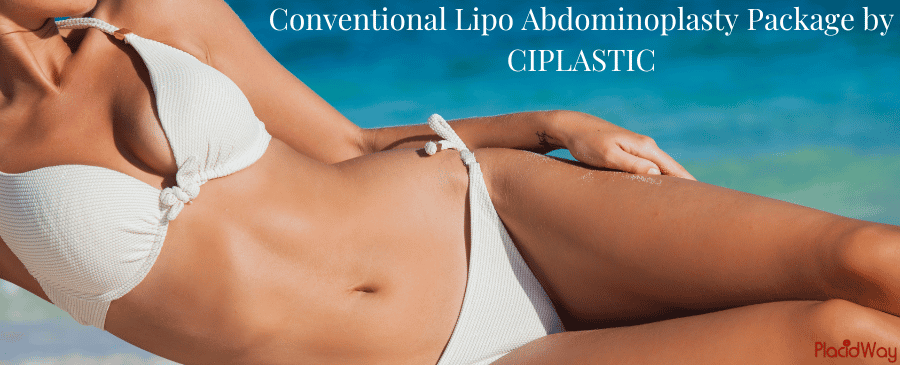 Lipo + Abdominoplasty Package in Tijuana Mexico
CIPLASTIC offers an affordable package for Lipo and Tummy Tuck in Tijuana, Mexico. Choose effective plastic surgery in Tijuana at the cost of only $6,700!
CIPLASTIC is the top cosmetic surgery clinic in Tijuana providing effective plastic surgery to international patients. It has modern facilities and comfortable rooms for our pleasant stay.
Tummy Tuck or abdominoplasty surgery is an effective procedure that helps patients with excess fat and skin in their abdomen. A plastic surgeon usually performs this procedure by removing extra fat and skin to flatten your stomach.
Liposuction helps you remove excess fat deposits from certain areas of the body. It can be done around the hips, abdomen, arms, and buttocks. 
Tummy Tuck Cost in Tijuana by Gastelum Cosmetic Surgery
The cost of Tummy Tuck in Tijuana is only $6,700 and includes lipo surgery. While in the US and Canada you would have to pay over $9,800 only for tummy tuck.
Take a look at our cost comparison table below to check the prices.
Note: For more information about the final price, make sure to contact the clinic directly. The price may vary depending on your condition and the complexity of the surgery.

Advantages of Cosmetic Surgery in Tijuana, Mexico by Cip Plastic
Safe surgery 

Removes excess fat permanently 

Improves your overall health 

Improves your aesthetic 

Boosts your self-esteem
Lipo + Abdominoplasty Package

Inclusions
Time of use of the medical facilities.

Supplies needed for your surgery.

IV medications that are needed for your surgery.

Medical and nursing fees.

Anesthetic procedure.

Complete and personalized post-surgical follow-up from a health professional.

Transportation from CIPLASTIC to the Recovery house and back to CIPLASTIC.

Food adequate to your needs. Snacks and healthy drinks

Smart TV with all the facilities related. Wi-Fi, Telephone, Air conditioning/heating.

Liposuction 360, muscle repair, removal of excess skin, fat transfer to hips and glutes.
Lipo + Abdominoplasty Package

Exclusions
Payment Options: Cash and Credit Cards.
Here you'll find the best plastic surgeon in Tijuana at CIPLASTIC clinic.
Dr. Hermes Pelayo Certified Plastic Surgeon
Certifications and Accreditations:
AMCPER: Asociacion de Cirugia Plastica, Estetica y Reconstructiva,

ASPS: American Society of Plastic Surgeons.

ISAPS: International Society of Aesthetic and Plastic Surgeons

CMCOEM: Colegio Mexicano de Cirugia para la Obesidad y Enfermedades Metabolicas AC
Why

 Choose

 Tummy Tuck in Tijuana, Mexico?
Tijuana is conveniently located on the US-Mexico border. This innovative town has American influence and offers many advantages to international patients.
Here are some things you can do in Tijuana:
Tijuana Cultural Center – Explore Culture and Arts of Mexico.
Avenida Revolucion – Spend your time in one of the numerous cafes, and restaurants, or enjoy outdoor performances.
Mercado El Popo – Buy some fresh products from locals such as cheese, sweets, cosmetics, fruits, and herbs.
FAQs about Tummy Tuck in Tijuana
What should I expect after the Tummy Tuck procedure?
Your surgeon will let you know what to expect after abdominoplasty. Mostly, he will prescribe you to take antibiotics and avoid nicotine and alcohol.
The positive outcome from this procedure takes some time which will depend on your aftercare.
What are the side effects of an abdominoplasty?
Pain and swelling after surgery are normal reactions in patients. Soreness, numbness, and bruising may last for several weeks. Other side effects are
Scarring

Hematoma (bleeding)

Infection

Blood cloths.
Am I a good candidate for Tummy Tuck?
Both men and women are candidates for tummy tuck surgery. Also, patients who were obese and have lost significant weight can get abdominoplasty.
Other factors to consider before getting a tummy tuck
You are of good general health

You are at a stable weight

You are a non-smoker
What is the recovery process like?
The recovery process from abdominoplasty depends on the complexity of the surgery, your aftercare, and your overall health. Usually, the recovery period takes up to 6 weeks and consists of resting and avoiding strenuous activities.
However, every person is different and you should consult your doctor about this.
Get Your Tummy Tuck + Lipo Package 

in

 Tijuana, Mexico Now!
CIPLASTIC provides effective and affordable liposuction + tummy tuck package for international patients. Contact our PlacidWay team for more information and get this special offer today!

Related Experiences:
Liposuction in Tijuana Mexico
Liposuction in Mexico City
Liposuction in Mexicali, Mexico
Achieve Beautifully Shaped Body with Liposuction in Mexico!
Liposuction in Merida, Mexico
Liposuction in Cancun, Mexico
---