Rhinoplasty in Mexico – Compare Clinics, Costs and Reviews
How Much Does Rhinoplasty Cost In Mexico
Whether it's to treat broken nose injuries, birth defects, or improve aesthetics, Rhinoplasty is the right choice to accommodate your needs.
Do you want to get rid of the pancake on your nose or modify your nose bridge?
No need to worry because PlacidWay provides you with the Best Options for Nose Surgery in Mexico with various options for costs, clinics, surgeons, packages, and others for you to choose from.
You just need to spend an average of $2,800 - $4,000, and that's it! The surgeons will modify your nose according to what you want.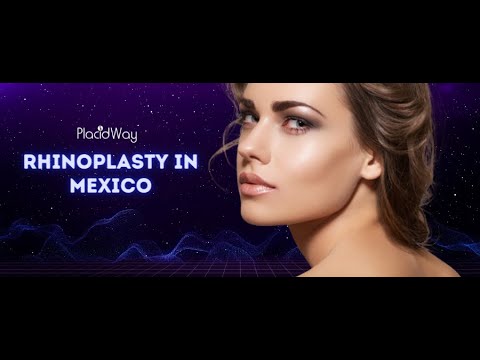 ---
Popular Rhinoplasty Package in Mexico – Save Your Money!
Say goodbye to expensive surgery costs. Through the Rhinoplasty Package in Mexico, which we list below, you will be able to get an option that you cannot miss.
It is available with the price starts from $2,800, and you are ready to go!
PlacidWay ensures to provide you with a choice of Nose Surgery Packages from top clinics that we have selected strictly and have the best facilities to support what you need.
---
Cost of Rhinoplasty in Mexico Vs Other Countries
We provide you with a choice of the best prices from various reliable providers for you. Rhinoplasty in Mexico is the right choice because in addition to being affordable, the quality is also not inferior to the country where you come from.
While in the US or Canada, you have to spend around $15,000, Rhinoplasty Price in Mexico has you covered in the $2,800 - $4,000 range which means you can save even more money!
Nose Surgery Rhinoplasty Centers Cost Comparison in Mexico
| Provider | Procedure | Price |
| --- | --- | --- |
| Dr. Alejandro Paredes Plastic Surgeon | Nose Surgery Rhinoplasty, Cosmetic/Plastic Surgery | $3000 |
| Gastelum Cosmetic Surgery | Nose Surgery Rhinoplasty, Cosmetic/Plastic Surgery | $2900 |
| Hospital Los Lagos | Nose Surgery Rhinoplasty, Cosmetic/Plastic Surgery | $2800 |
Nose Surgery Rhinoplasty Cost Comparison in Mexico

| Country | Procedure | Price |
| --- | --- | --- |
| United States | Nose Surgery Rhinoplasty, Cosmetic/Plastic Surgery | $9500 |
| Canada | Nose Surgery Rhinoplasty, Cosmetic/Plastic Surgery | $10000 |
---
Best Hospital to Get Rhinoplasty in Mexico
We understand that you want to find the best clinic to support all your needs. We also understand that there are many things that you want to discuss with the specialists who will treat you later.
Therefore, PlacidWay will provide you with information about the Top Hospital for Rhinoplasty in Mexico, where the hospital has a five-star reputation in providing comprehensive patient care.
They are ready to listen to what you want and provide the best options for satisfactory results.
---
Video You Must Watch Before Rhinoplasty in Mexico
Times are changing so fast, and now you can get useful information through videos. We get videos from the best providers in Mexico for Nose Surgery.
We present it in the form of Rhinoplasty Video in Mexico which we have uploaded on our official video site. You can watch it now to get more detailed information.
Enrich your experience and insight through our informative video about Nose Surgery. As a result, you will be able to make the right decision as you wish.
---
Patients Experience & Review for Rhinoplasty in Mexico
Before proceeding to the next step, it would be nice for you to first read the Review for Rhinoplasty in Mexico that we got from real patients below.
They have undergone Rhinoplasty Surgery at a number of clinics that we recommend, and will share their experiences with you!
---
Popular Frequently Asked Questions (FAQ) about Rhinoplasty in Mexico
You will of course do your research first before making a choice for Nose Surgery. Here PlacidWay is here to provide support for you to get the right and accurate information.
We compiled the following Rhinoplasty in Mexico FAQ which we got from incoming patient inquiries. As a result, you will be more enlightened to get the latest information.
What is the Average Price of Rhinoplasty in Cancun, Mexico?
Show More
What is the Average Price of Rhinoplasty in Cancun, Mexico? Surgery of the nose, also known as Rhinoplasty, is one of the most popular procedures done in cosmetic reconstructions. Many patients are unsatisfied with the shape of their nose, and opt to alter the appearance by undergoing Rhinoplasty. The procedure may improve not only the appearance of the nose but also proportion and structural imbalances. The average price for Rhinoplasty treatment packages in Cancun, Mexico is around $3,150. However, the cost may vary from clinic to clinic and you may find the same clinic in Cancun, Mexico is offering Rhinoplasty at different prices. The price for the Rhinoplasty here in Cancun, Mexico may range between $2,700 and $3,800. Factors that Affect the Price of Rhinoplasty in Cancun, Mexico You can reach Cancun, Mexico to get the Rhinoplasty conveniently. Before you plan to travel to this nation, you should be aware of the factors that can affect the package price. Have a look at the factors that can affect the overall cost of the procedure. Age Body Mass Index Muscular structure Weight Procedures Equipment used in the process What should be expected from the Rhinoplasty procedure in Cancun, Mexico? Cancun, Mexico has become the home of a number of world-class cosmetology institutions offering the Rhinoplasty at affordable price. Here, you can receive the Rhinoplasty through highly experienced doctors and supporting medical staff. How Much You Can Save by Receiving Rhinoplasty in Cancun, Mexico? The average price for Rhinoplasty in most of the leading countries may range between $5,000 and $7,500 approximately. However, you can receive the same treatment here in Cancun, Mexico at around $3,150. So, you can save more than $3,500 by choosing Cancun, Mexico as your preferred medical tourism destination for the Rhinoplasty procedure. Approximate Cost of Rhinoplasty Variations in Cancun, Mexico Face Lift $6,000 Other Costs to Consider If you are preparing for the overall expense of Rhinoplasty in Cancun, Mexico, you have to consider some other associated expenses as well. These expenses are: Hotels and accommodation Food and drinks during stay Airfare and transport Travel insurance These are the details of the estimated costs and you should not grant it as the final cost of the Rhinoplasty in Cancun, Mexico. However, you can always ask for the free quotes and check how much you can save by going to Cancun, Mexico for Rhinoplasty.
How Much is a Nose Job Rhinoplasty in Guadalajara, Mexico?
Show More
How Much Does a Nose Job Rhinoplasty Cost in Mexico? Having Nose Job Rhinoplasty in Guadalajara, Mexico will cost you on an average $3,600. The surgeon will be able to give you the final price after the first consultation when he/she will determine what type of procedure is needed, how long will it take, what materials will be used, etc. Country Average Cost United States $10,000 Canada $15,000 Guadalajara, Mexico $3,600 How Much Does Nose Job Cost in Mexico? Here you can easily find the Nose Job cost in Mexico. City/Country Cost Merida, Mexico $2200 Guadalajara, Mexico $2850 Ensenada, Mexico $3000 Mexicali, Mexico $3000 Cancun, Mexico $3200 Cabo San Lucas, Mexico $2850 Tijuana, Mexico $3995 Playa de carmen, Mexico $3000 Monterrey, Mexico $4,000 How to Find Best Clinics for Nose Surgery Rhinoplasty in Guadalajara, Mexico If you are from another country and you want to have Nose Surgery Rhinoplasty in Guadalajara, Mexico you can also benefit from the many packages offered to international patients, which include airport pick-up, transportation to and from the hotel and clinic, pre and post-operative care, case manager, translator, or even accommodation. How to Find Best Surgeon For Nose Surgery Rhinoplasty in Guadalajara, Mexico By choosing Nose Surgery Rhinoplasty in Guadalajara, Mexico you will find top plastic surgeons, accredited medical facilities, highly experienced medical staff, modern techniques, and affordable prices. Besides all these, you will also recover and relax in one of the most beautiful countries in the world. Finding the right plastic surgeon in Guadalajara, Mexico for you can be hard. There are so many, each of them promising great results. But there are some questions that you can ask, which will help you find the right one for you. How many years of experience do you have performing Cosmetic/Plastic Surgery? What are the advantages and disadvantages of Nose Surgery Rhinoplasty? What about the risks and complications? How often have you performed Nose Surgery Rhinoplasty? What should I expect after the surgery? What if I am not happy with the Nose Surgery Rhinoplasty results? How long should I be staying for recovery? Are you certified? Are you a member of any Cosmetic/Plastic Surgery association or society? What if something goes wrong during the Nose Surgery Rhinoplasty procedure? Mexico has won its reputation as one of the best destinations for medical tourism, offering superlative medical care in the plastic surgery field. Internationally accredited medical facilities are located in large cities such as Guadalajara. Surgeons and physicians in Mexico provide high-class care and expertise to both local and international patients and most of them have been trained in Europe and the US. Below you can find the best plastic surgeons in Guadalajara, Mexico that offer the most affordable price for Nose Surgery Rhinoplasty. Nose Surgery Rhinoplasty at Centro Plastica Dr. Allan Ceballos Pressler (Guadalajara): from $3,600 Frequently Asked Questions in Rhinoplasty What is rhinoplasty? Rhinoplasty is a surgery to reshape the nose. Over 250,000 rhinoplasties are performed in the United States each year. Rhinoplasty can be used to make the nose smaller, reduce the bridge of the nose, narrow the nose and shape specific portions such as the tip of the nose or nostrils. Rhinoplasty also may be used to improve nasal breathing. What is a standard rhinoplasty? Because the structure of the nose is quite complex, there is no standard rhinoplasty. Each procedure is unique and custom-designed to address every patient's specific needs and to work within the structure of their specific nose. Because of the huge variation – not only in shape and appearance but also in strength, structure and support of each element of every nose – a careful plan must be created for each procedure and meticulously carried out. Is rhinoplasty cosmetic or reconstructive? Rhinoplasty may be cosmetic or reconstructive but most procedures have elements of both. What is the difference between "open" and "closed" rhinoplasty? Closed rhinoplasty typically describes a procedure in which all incisions are carefully hidden on the inside of the nose. Open rhinoplasty also involves a small incision across the columella, or bottom portion of the nose which forms the skin and tissue between the nostrils. A closed rhinoplasty approach with the incisions hidden inside the nose. However, in a very small number of specific cases an open approach may be required. This would leave a small incision at the bottom of the nose which typically heals quite well. Can you improve the breathing through my nose? Breathing can be improved significantly in the vast majority of cases. Do I have to stay overnight at the hospital after surgery? No. Almost all rhinoplasty procedures are performed as outpatient surgeries, meaning that patients typically go home after surgery. Arrangements may be made with our office for out-of-town patients to stay at a fine after-care facility or a hotel after surgery if this is necessary. What kind of anesthesia is used for surgery? Almost all rhinoplasty procedures are performed under general anesthesia or heavy sedation, according to the needs and wishes of each patient. We find that most patients prefer general anesthesia in which the patient is asleep during the entire procedure. How long does rhinoplasty take? Rhinoplasty procedures may take one or more hours, depending entirely on the complexity of the case and the meticulous steps required for an optimal outcome. Will I have bruising after surgery? You may or may not have bruising depending upon the details of your specific surgery. Patients who bruise easily, have thin or fair skin, or require repositioning of the nasal bones will be more likely to bruise than patients who do not. Most bruising resolves around 10-12 days after surgery. I have had a rhinoplasty before and I am unhappy with my result. Can this be fixed? The revision of a rhinoplasty can be quite variable and depends entirely upon the patient's wishes and anatomy and the procedure which was done before. Sometimes minor touchups are all that is required and in other cases a major revision of the underlying nasal structures is necessary. Revision of a rhinoplasty typically is more complex and takes longer than a rhinoplasty performed for the first time and the expectation for what could be reasonably achieved may be lower. Can I have other cosmetic surgery at the same time as my rhinoplasty? Yes. Other procedures may be performed at the same time as rhinoplasty. Commonly a procedure which sometimes may be performed is a chin advancement or chin implant to improve the harmony of the face. Other procedures in other portions of the body may be performed as well. Why do surgeons sometimes move the chin forward or place a chin implant during rhinoplasty surgery? Moving the chin forward in specific cases will better balance the relation of the nose to the rest of the face. Find out more about the best plastic surgeons in Guadalajara, Mexico! Contact us and choose the best plastic surgeon!
---
Reputable Rhinoplasty Surgeons in Mexico – You are in a Good Hand!
We have confirmed the experience of the nose surgery specialists listed below, and confirmed that they are board certified surgeons.
This is to help you find the right Rhinoplasty Surgeons in Mexico and from doctors who have the best reputation or portfolio that you can rely on.
---
Popular Things to Do After Rhinoplasty Surgery in Mexico
Rhinoplasty Surgery in Mexico becomes a very special moment and certainly will not be forgotten in your life.
Complete your trip by visiting various interesting places in Mexico.
You will be able to see how great Mexico is in pampering local and foreign tourists through its extraordinary scenery and entertainment.
Here are some places that you must visit after Nose Surgery in Mexico:
| | | |
| --- | --- | --- |
| | Cholula Pyramid | El Malecon |
---
Reshaping Your Nose with Safe and Affordable Rhinoplasty in Mexico!
We are here to provide the best guide for overseas patients and local patients who want to explore further information about Rhinoplasty in Mexico. We provide all the complete information you need.
PlacidWay is also available 24/7 to answer any questions you may have. Even if you want to start your consultation with one of the clinics that interest you, we are here to help you get connected quickly.
Get more information by pressing the button below:

---