Rhinoplasty in Tijuana by Gastelum Cosmetic Surgery
Treatment:
Cosmetic/Plastic Surgery, Nose Surgery Rhinoplasty
Location:
Tijuana, Mexico, Mexico
Focus Area:
Rhinoplasty | Nose Job | Plastic Surgery | Tijuana Mexico | Gastelum Cosmetic Surgery
---
Cheap Package for Nose Job in Tijuana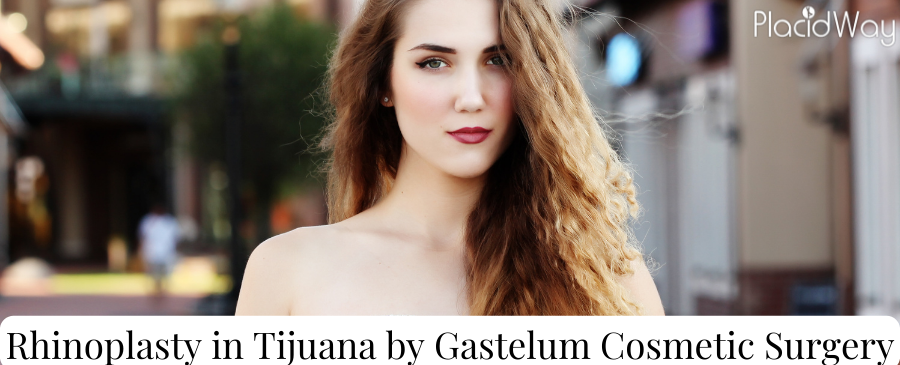 Top Package for Rhinoplasty in Tijuana
Want to improve your nose shape and aesthetics? With an affordable package in Tijuana now you can get the desired nose look performed by the best plastic surgeons in Mexico. Plus, enjoy a refreshing holiday in Tijuana at the fraction of the cost compared to the US and Canada.
Gastelum Cosmetic Surgery is one of the best plastic surgery practices in Mexico. The clinic attracts thousands of American and Canadian patients each year. It is close to the US since its located in a Tijuana border town.
Advantages of Gastelum Cosmetic Surgery:
High-success rate of nose job

English-speaking medical team

Experienced plastic surgeons

Affordable cosmetic surgery

The latest technology used in a plastic surgery
What is Rhinoplasty Procedure?
Rhinoplasty, commonly known as a "nose job" is a cosmetic procedure that solves the problem of patients who are not happy with their nose sizes or shapes. It also helps patients who have breathing problems which can have negative impacts on sleep and overall daily life.
Cost of Rhinoplasty in Tijuana by Gastelum Cosmetic Surgery
Rhinoplasty in Tijuana, Mexico cost only $2,900. The same quality of procedure costs over $10,000 in North America.
| | | |
| --- | --- | --- |
| Country | Procedure | Cost |
| Tijuana, Mexico | Rhinoplasty | $2.900 |
| United States | Rhinoplasty | $15,000 |
| Canada | Rhinoplasty | $10,000 |
Note: For more information about the final price, make sure to contact the clinic directly. The price may vary depending on your condition and the complexity of the surgery.

Advantages

of Choosing Rhinoplasty in Tijuana
Have better-shaped nose

Enhance the balance and harmony of your face

Improved breathing

Reduced sinus pressure
All related surgical costs: surgeons, anesthesia, equipment, hospital stay, and nursing care.

X-Rays, Laboratory works

Pre-surgical Evaluation and Post-surgical medication and follow-up

Medical attention and security 24/7

Surgery in Hospital De Los Archangeles
Payment Options: Cash, credit card, wire transfer
Note: The center may require a money deposit once a patient decides to book the surgery.
Best Plastic

Surgeons

 in Tijuana at Gastelum Cosmetic Surgery
A board-certified cosmetic surgeon Dr. Óscar Leal Gastelum has a long history of successful plastic surgeries.
His credentials include
Specialist in Cosmetic Surgery

Experience: 10+ years

Fluent in English
Why Choose Nose Job in Tijuana, Mexico?
Tijuana is a border town located on the Pacific Coast in Baja California. It offers many advantages to international patients as well as interesting places for tourists.
Here are some things you can do in Tijuana besides having Gastric Balloon procedure:
Pasaje Rodriguez 
Tijuana Cultural Center
Avenida Revolucion
Mercado El Popo
What to expect after a nose job in Tijuana?
The nose job is done under local anesthesia with sedation or general anesthesia, depending on how complex your surgery is. After the surgery, you'll be in a recovery room and may have to stay overnight (this will a doctor decide).
Your doctor will let you know about your recovery process afterward.
What are the Risks of Rhinoplasty Surgery?
The most common risks of nose job procedure include:
Bleeding

Infection

An adverse reaction to the anesthesia
Talk to your doctor about how these risks apply to you.
Absolutely! Getting a nose job in Tijuana, Mexico is as safe as in the USA or Canada. Clinics use modern equipment to provide quality plastic surgery. Every year. thousands of patients from North America visit Tijuana for affordable procedures with great results. 
Plastic surgeons who work at Gastelum in Tijuana are committed to giving you the best service possible. They offer a low-cost rhinoplasty package to improve your aesthetics and breathing. If you want to get further information, please click the below button:

Related Experiences:
Rhinoplasty in Tijuana
Rhinoplasty in Merida, Mexico
Rhinoplasty in Guadalajara, Mexico
Rhinoplasty in Cancun, Mexico
Nose Job in Mexicali
Rhinoplasty in Mexico – Compare Clinics, Costs and Reviews
---
Cosmetic/Plastic-Surgery Related Packages
Cosmetic/Plastic-Surgery Related Experiences