Riviera Institute Liposuction Package in Cancun, Mexico
Package price starting from:
$4565
Treatment:
Cosmetic/Plastic Surgery, Liposuction
Location:
Av. Tulum Mza. 1 Lote 1 Sm. 12 Int. 309, 77505 Cancún, Q.R., Mexico Culiacán, Mexico
Focus Area:
Riviera Institute for Plastic Surgery | Cancun | Mexico | Liposuction | Lipo360
---
Revolutionizing Body Contouring with Lipo360 in Cancun, Mexico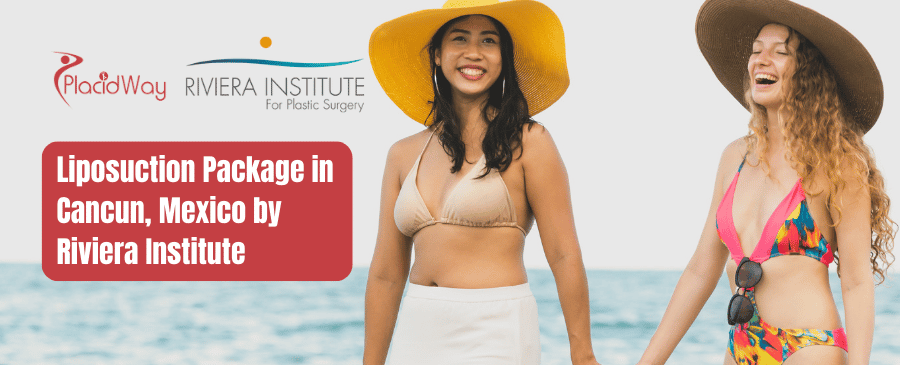 Are you dreaming of a perfectly contoured body? Look no further than Riviera Institute for Plastic Surgery in Cancun, Mexico! Our Liposuction Package is designed to help you achieve your desired body shape, with expert medical care and state-of-the-art facilities. Say goodbye to stubborn fat and embrace a new, confident you! Check our package details below for more information.
You can get liposuction package in Cancun, Mexico by Riviera Institute with the price starts at $4,565. Check our price list table below to learn more:
| | |
| --- | --- |
| City, Country | Cost in USD |
| Cancun, Mexico | $4,565 |
| United States | $15,000 |
| Canada | $10,000 |
Note: price may change and vary depends on complexity of procedures and patient conditions. Click free quote button below to learn more:

Affordable Packages: Riviera Institute offers cost-effective Liposuction Packages, saving you money without compromising on quality.
Experienced Surgeons: Our skilled plastic surgeons have years of experience, ensuring safe and effective results.
Modern Facilities: Enjoy world-class amenities and advanced technology during your treatment journey.
Stunning Beach Destination: Recover in paradise! Cancun's breathtaking beaches provide the perfect backdrop for your transformation.
Medical Tourism Hub: Cancun is a leading medical tourism destination, offering a seamless experience for international patients.
Liposuction is a popular cosmetic procedure aimed at removing excess fat from targeted areas, such as the abdomen, thighs, arms, and more. Our skilled surgeons use advanced techniques to sculpt your body, resulting in a toned and proportionate appearance.
Consultation: Prior to the procedure, you'll receive a comprehensive consultation with our surgeon to discuss your goals and expectations.
Surgery: The liposuction procedure will be performed by our experienced plastic surgeon using the latest techniques.
Anesthesia: Safe and appropriate anesthesia will be administered to ensure a comfortable experience.
Post-operative Care: We prioritize your recovery and provide thorough post-operative care instructions for a smooth healing process.
Follow-up Consultations: Stay connected with our medical team through follow-up consultations to monitor your progress and address any concerns.
Travel and Accommodation: While we offer excellent packages, travel expenses and accommodation are not included.
Additional Treatments: Any other medical treatments or procedures outside the liposuction package will incur separate costs.
Medications: Prescription medications needed after the procedure are not included in the package price.
Personal Expenses: Expenses related to personal items and services are not covered in the package.
Complications: In the rare event of complications, additional medical care may lead to additional costs.
Liposuction Pre-Op Tests
Blood Work: Comprehensive blood tests ensure you're in good health for the procedure.
Medical Evaluation: A thorough medical evaluation will be conducted to assess your fitness for surgery.
Heart and Lung Tests: Cardiac and pulmonary assessments guarantee your safety during the procedure.
Allergy Testing: If you have allergies, specific tests will be conducted to avoid any adverse reactions.
BMI Assessment: A Body Mass Index evaluation helps determine your candidacy for liposuction.
Our Liposuction procedures are performed by Dr. Nain Maldonado and Dr. Alicia Benavides, renowned plastic surgeon with years of experience. Dr. Maldonado is dedicated to providing personalized care and exceptional results.
Plastic Surgeon in Cancun, Mexico for Lipo360

Dr. Alicia Benavides

Dr. Nain Maldonado
Is Liposuction Right for You?
Ideal Candidates: Liposuction is suitable for individuals with localized fat deposits who are in good overall health.
Not a Weight Loss Solution: It's essential to understand that liposuction is not a substitute for weight loss; instead, it contours specific body areas.
Realistic Expectations: Patients must have realistic expectations about the results and understand the potential risks involved.
Post-Pregnancy Contouring: Liposuction can help new mothers achieve pre-pregnancy body contours.
Non-Smokers Preferred: Non-smokers have better healing potential and are preferred candidates.
What to Expect During the Liposuction in Cancun, Mexico
Initial Consultation: Discuss your aesthetic goals, medical history, and expectations with our surgeon.
Procedure Day: You'll be prepped for surgery, and the procedure will be performed using advanced techniques.
Recovery Period: Aftercare instructions will be provided for a smooth and successful recovery.
Follow-up Appointments: Regular follow-up appointments will be scheduled to monitor your progress and address any concerns.
Enjoy Cancun: During your stay, explore the beauty of Cancun and relax on its mesmerizing beaches.
1. Q: What is liposuction, and how does it work?
A: Liposuction is a cosmetic procedure that removes stubborn fat deposits from specific areas of the body using a suction technique, resulting in improved body contours.
2. Q: Is liposuction safe in Cancun, Mexico?
A: Yes, liposuction in Cancun is safe when performed by experienced plastic surgeons at reputable clinics like Riviera Institute, with modern facilities and rigorous safety protocols.
3. Q: How long is the recovery period after liposuction?
A: The recovery period varies depending on the extent of the procedure and individual healing. Generally, patients can resume light activities within a few days, but complete recovery may take several weeks.
4. Q: Are there any side effects or risks associated with liposuction?
A: Like any surgical procedure, liposuction carries some risks, including bruising, swelling, and minor discomfort. Serious complications are rare when performed by skilled surgeons following proper guidelines.
5. Q: Can liposuction replace a healthy diet and exercise?
A: Liposuction is not a weight-loss solution or a substitute for a healthy lifestyle. It is designed to contour specific areas of the body that are resistant to diet and exercise, enhancing overall appearance.
Ready to begin your journey to a more confident you? Book your consultation at PlacidWay Medical Tourism today and unlock the possibilities of our Liposuction Package in Cancun, Mexico with Riviera Institute for Plastic Surgery. Experience the art of body contouring in a picturesque paradise! Click contact us button below to get started:

Related Experiences:
Liposuction in Cancun, Mexico
Liposuction in Mexico City
Liposuction in Mexicali, Mexico
Liposuction in Tijuana Mexico
Achieve Beautifully Shaped Body with Liposuction in Mexico!
Liposuction in Merida, Mexico
---