LotusRain Naturopathic Medicine and IV Clinic
San Diego, United States
5210 Balboa Ave Suite F, San Diego, CA 92117

Focus Area: Best Naturopathic Clinic | LotusRain in San Diego | Integrative Medicine | Naturopathic Medicine | Integrative Oncology | San Diego | California | USA
Best Naturopathic Clinic, LotusRain in San Diego, IV NUTRITION, INTEGRATIVE CANCER CARE, ALTERNATIVE INTEGRATIVE SOLUTIONS, San Diego, CA, USA
Profile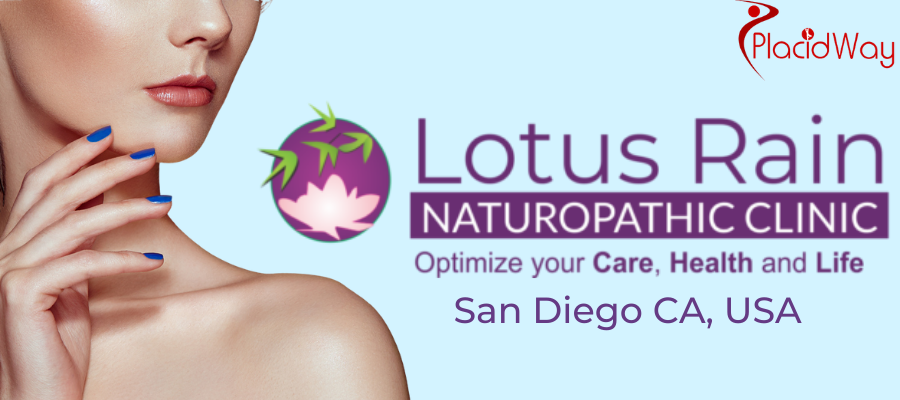 Best Naturopathic Clinic - LotusRain in San Diego, CA, USA
LotusRain IV Therapy and best Naturopathic Clinic. A Premier Integrative Medical Practice & Wellness Center in San Diego, California providing the best services for Integrative Internal Medicine, Naturopathic Medicine, Integrative Oncology. In Addition to Many Alternative Integrative Holistic Health Services & Solutions
Our approach to Integrative Medicine is to explore the full scope of physical, emotional, environmental, mental, social, and spiritual influences that affect each person individually. Our dedicated team of providers at our San Diego IV Therapy and Naturopathic Clinic invites you to a positive, light-filled space where we help you optimize your health.
LotusRain Health Services:
Naturopathic medicine is an eclectic approach to health that incorporates traditional diagnostic techniques with natural therapeutic modalities. Emerging in the early 1900's as a unique medical discipline, naturopathic medicine is presently experiencing unparalleled interest as a complete approach to optimal health.
A primary philosophical concept of naturopathic medicine is that the body has the unique ability to heal itself, given the appropriate set of conditions. An example of these conditions includes an optimal diet, customized nutritional supplementation, and herbal and hormonal support for essential organ function. With these improvements, the body is able to achieve a higher state of well-being and disease recovery.
Naturopathic doctors have extensive training in dietary management, nutrition, botanical medicine, hydrotherapy, detoxification, chelation, IV's, hormone balance, physical medicine and homeopathy.
Naturopathic Medical Services:
PRIMARY CARE VISIT
IV NUTRITION
INTEGRATIVE CANCER CARE
ALTERNATIVE INTEGRATIVE SOLUTIONS
Why Choose a Naturopathic Doctor?

Naturopathic physicians are trained to provide primary care and/or naturopathic specialty care, with expertise in the use of integrative therapies and drug-nutrient – drug-herb interactions. Currently, naturopathic physicians practice in a wide range of in-patient and out-patient settings, such as the Cancer Treatment Centers of America, and frequently serve as expert advisors in the field of Complementary and Alternative Medicine. At the national level, they have played prominent roles in organizations such as The White House Commission on CAM, the advisory board for the National Institutes of Health (NIH), National Center for Complementary and Alternative Medicine (NCCAM) and the Medicare Coverage Advisory Committee
Our Focus
At our San Diego Naturopathic Clinic, we welcome people of all ages with a wide range of health concerns including:
Depression, Anxiety and Attention Deficit Disorders

Thyroid Conditions

Autoimmune Conditions: Arthritis, Lupus, MS

Digestive Disorders: Crohn's Disease, Ulcerative Colitis, Irritable Bowel Syndrome, GERD

Skin Conditions: Acne, Eczema, Psoriasis

Diabetes

Cardiovascular Conditions, Heart Disease, High Blood Pressure

Parkinson's Disease and Multiple Sclerosis

Chronic Fatigue and Fibromyalgia

Food and Environmental Allergies

HIV/AIDS

Cancer

Women's Health: Difficult Menopause, Premenstrual Syndrome, Endometriosis, Polycystic Ovaries

Chronic Yeast Infections

Men's Health Concerns: Benign Prostatic Hypertrophy, Infertility, hormone insufficiency

Weight Management and Optimal Aging Concerns
If you need more information about the treatments and procedures do not hesitate to contact us.