DDS Dental Costa Rica
Dental Care in San Jose, Costa Rica at DDS Dental Clinic
San Rafael, Escazú Escazú San José, San Jose,Escazu, Costa Rica

Focus Area:

Dental Work in San Jose, Costa Rica | DDS Dental Clinic | Dental Implants | Crowns | Veneers | Fillings | Root Canals | Smile Makeover
DDS Dental Costa Rica Profile Overview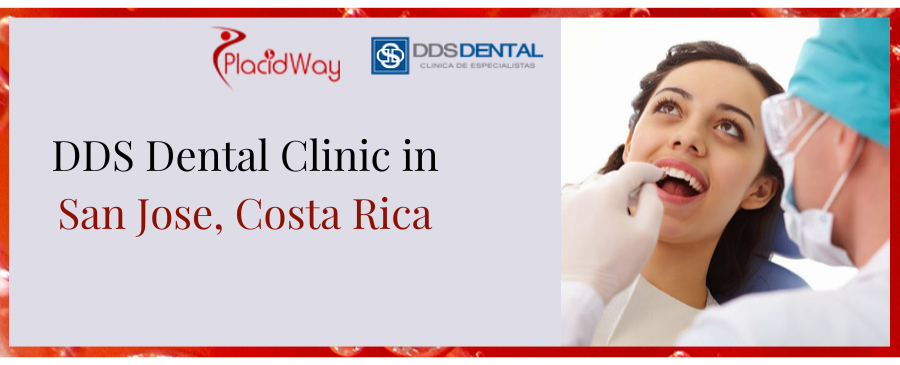 About

DDS Dental Clinic -

World-Class Dental Care Center in San Jose, Costa Rica
DDS Dental is located in San Jose, Escazu, Costa Rica, 20 minutes away from Juan Santamaria Airport. The dentist specializes in the following areas: Prosthodontics, Dental Implants, Periodontal Plastic Surgery, Endodontics, Oral Surgery, Maxillofacial Surgery and Pediatric Dentistry. The clinic follows the ADA (American Dental Association) regulations for high safety and hygiene standards. Also, dentists use the latest technologies and techniques to give their patients a smile they deserve.
Comfortable and modern facilities are designed to provide their patients with state-of-the-art dental treatments and personalized attention. You will find free Wi-Fi, internet access, and TV cable in the waiting room in this facility. Dentists at DDS Dental graduate from top universities, including Baylor College of Dentistry, Tufts University, and LSU. The clinic treats various dental problems for local and international patients for over 15 years successfully.
Clinic Name: DDS Dental

Procedure: Dental Implants, Dental Veneers, and Maxillofacial Surgery

Location: San Jose, Escazu, Costa Rica

Dentists: DR. Vinicio Prada, and DR. A. Enrique Gonzalez.
There are numerous benefits you gain by choosing dental implants and dental veneers in San Jose at DDS Dental clinic, such as:
Safe and effective dental treatment

Recognized by the American Dental Association (ADA)

Use the highest quality materials

Highly qualified dental specialists

Comfortable stay at modern facilities

Bilingual support

Cost-savings

Post-operative follow-up

Vacation in exotic Costa Rica along with dental treatment
You can find the following dental services available at DDS Dental in San Jose:
Dental implants, veneers, bridges, dentures and other dental procedures cost up to 75% less in San Jose, Costa Rica, than in the USA and Canada. You can contact our Customer Care team if you want to know DDS Dental latest prices for dental work in San Jose. Get the accurate price for your specific dental procedure by clicking the button below

Highly Experienced Dentists at DDS Dental Clinic in San Jose, Costa Rica
The best dentists in San Jose, Costa Rica provide safe and effective smile solutions to their patients. They only use the highest quality materials to ensure you gain perfect and natural-looking teeth.
Here are the dentist specialists at DDS Dental:
DR. VINICIO PRADA DDS, Specialist in Prosthodontics
Education:
1985 - 1990 Doctor in Dental Surgery. University of Costa Rica (UCR). San Jose, Costa Rica.

1992 - 1994 Graduate Studies as a Specialist in Prosthodontics at Louisiana State University. New Orleans. USA.

Participation as a speaker at different conferences and clinical tables in Costa Rica, Colombia, Mexico, Panama, and the United States.

Publications in prestigious specialized magazines, such as Implant Dentistry and Journal of Prosthetic Dentistry.
DR. A. ENRIQUE GONZALEZ DDS, Specialist in Periodontics and Dental Implants, emphasizing Periodontal Plastic Surgery.
Education:
1992 Graduated as Doctor of Dental Surgery. University of Costa Rica (UCR). San Jose Costa Rica.

2002 Training Program in the Specialty of Periodontics and Implant Surgery at Baylor College of Dentistry. Dallas, Texas, USA.

2002 Master of Science from Baylor College of Dentistry. Dallas, Texas, USA.

2003 Periodontics Board Certification. Specialty in Periodontics.
Experience:
1993 - 1999 Social Service in the Costa Rican Social Security Fund (CCSS), Department of Dentistry. San Jose Costa Rica.

1997 - 1999/2005 to date Professor in the Department of Periodontology of the Faculty of Dentistry, University of Costa Rica. San Jose Costa Rica.

2000 - 2002 Clinical Instructor, Predoctoral Clinic at Baylor College of Dentistry. Dallas, Texas, USA

2002 to date Private practice limited to periodontics and implants at DDS Dental. San Jose Costa Rica.
Other dentist names include:
DR. ALEJANDRO SAENZ DDS, Oral and Maxillofacial Surgery Specialist

DR. ROLANDO GUZMAN DDS, Ortodontics Specialist

DR. PAOLA CARRANZA DDS, Endodontic Specialist
You will be thrilled with your new smile and confident that choosing DDS Dental was the best investment you've ever made. Get a low-cost dental implants, tooth filling, dentures, cosmetic dentistry, and other procedures by booking your consultation with highly qualified DDS Dental dentists in San Jose, Costa Rica. Contact us today for more information!

---
---
Reviews
Ma J

Excellent customer service and specialists prepared and efficient, recommended 100 percent.

DDS Dental Costa Rica

Oct 05 2022
---
Dentistry Related Packages
Dentistry Related Experiences