PlacidWay Bolivia Medical Tourism
Medical Travel, Bolivia Medical Travel, Medical Tourism Services Bolivia, Cancer Treatments, Orthopedic Treatments, Cardiac Care, Diabetes, Dental Treatments, Fertility, Organ Transplant, Medical Treatments Bolivia, Alternative Medicine Bolivia, Obesity, Bolivia?

, Santa Cruz, Bolivia

Specialty:

Addiction Treatment, Alternative Medicine, Anti Aging, Ayurveda, Cancer Treatment, Chronic Diseases, Cosmetic/Plastic Surgery, Dentistry, Detox, ENT, Executive Healthcheck, Eye/Lasik Care, Fertility Treatment, General Medicine, General Surgery, Gynecology Treatment, Hair Transplantation, Heart Care/Surgery, Laparoscopic Surgery, Laser Surgery, Medical Spa Treatment, Neurology, Obesity/Bariatric Surgery, Organ Transplant, Orthopedic/Knee Surgery, Pediatric Treatment, Radiology/CT Scans, Rehabilitation, Robotic Surgery, Skin Care, Spine Care/Surgery, Sports Medicine, Stem Cell Therapy, Urology, Vascular Surgery, Weight Loss Program, Yoga/Meditation

Focus Area:

Bolivia Medical Tourism | Surgery | Treatments | Hospitals in Bolivia | Global Health Care Centers | Affordable Medical Procedures Bolivia
PlacidWay Bolivia Medical Tourism Profile Overview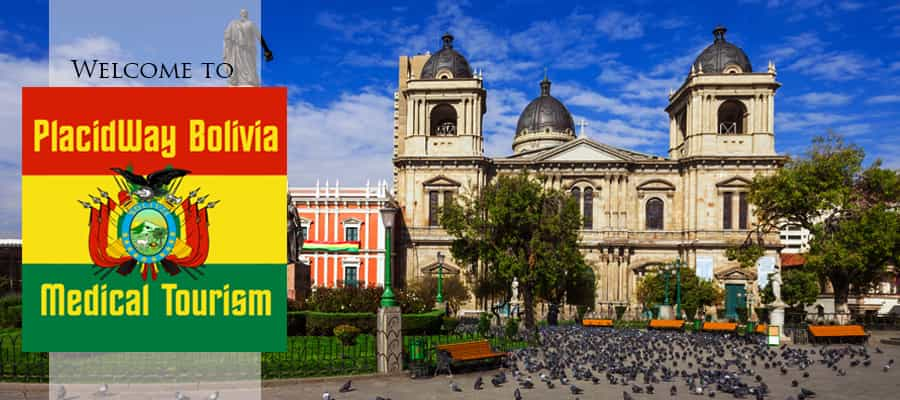 Welcome to PlacidWay Bolivia Medical Tourism
PlacidWay Bolivia Medical Tourism is an all-inclusive Medical Tourism Services Facilitator, with the main goal of offering its patients comprehensive, high-quality medical solutions, advice, information and guidance throughout the entire medical journey in Bolivia. The country borders both Peru and Brazil and is full of culture and history that offers amazement for those interested in Spanish culture.
Placidway Bolivia Medical Tourism helps medical tourists to access high-quality medical treatment at a fraction of what they would otherwise pay at home. If patients decide to choose Placidway Bolivia Medical Tourism, they will enjoy the comfort of knowing that they will be well taken care of. The doctors we collaborate with are highly trained physicians, working in high tech and modern facilities.
PlacidWay Bolivia Medical Tourism has partnerships only with the best physicians in the country. We work with accredited clinics and hospitals. Also, technology plays an important role in today's medical care. Therefore our clients will only benefit from the latest technological equipment and flawless healthcare infrastructure.
Bolivia is growing a reputation for their excellent treatments for medical procedures, so medical tourists can take advantage of the top-quality care and treatment they'll receive as a patient and as a tourist.
Medical Treatments Offered
PlacidWay Bolivia Medical Tourism offers a comprehensive list with available treatments, procedures, and surgery options. We will help you in finding the most convenient medical option for you for medical treatments such as:
Cosmetic Surgery
Orthopedics
Cancer Treatments
Stem Cell Therapy
Fertility Treatments
Chronic Diseases Procedure
Heart Care & Surgery
Dentistry
Eye LASIK care
Laparoscopic Surgery
Robotic Surgery
Obesity Surgery
Gynecology Treatments
Reconstructive Surgery
Organ Transplant
Why choose us?
We offer direct support with the help of our network partners
We will guide and assist you throughout your entire medical experience in Bolivia
You will only be offered top-quality treatments and procedures, performed with modern equipment
We offer you access to accredited clinics and hospital
We will help you in making the right decision for your health
We are dedicated to our work, and our goal is to make you feel comfortable and safe during your entire medical journey
We can help you find the best medical option for you and have a wonderful medical experience! Get in touch with us!

---
Popular Medical Centers
ATH by Edutech is one of the leading Medical Facilitator of travel to Cuba for lung cancer treatments and many other patologies. Cuba is committed to providing world-class healthcare services to its patients. Advanced Health Technologies by Edutech is a Medical Tourism Provider with alliances in the successful Cuba Medicine model with operation base in the city Puebla, Mexico
Abdominoplasty from $2310
Facial Implants from $2500
Facial Implants from $1200
Face Lift from $1500
Face Lift from $2400
Liposuction from $1450