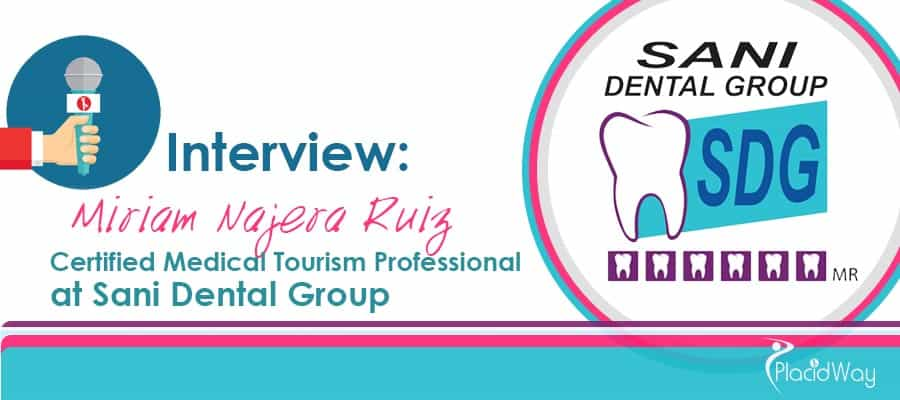 Interview with Miriam Najera Ruiz
Sani Dental Group has grown from being a 1 office building with 3 chairs to a 3 building Group with more than 30 doctors and a variety of specialties. The growth was not only in the number of medical staff but also on accreditations and recognition from Medical Tourism's most important associations such as the MTA, SECTUR (in Mexico) and others. Sani Dental has more than 25 years of experience in the industry.
Miriam Najera Ruiz, Certified Medical Tourism Professional with an experience of 2 and a half years in the Medical Tourism Industry and 3 years in the Tourism field, tells during an interview with PlacidWay about Sani Dental Group's vision and mission in the Medical Tourism Industry. Miriam Najera Ruiz has recently graduated from an MBA with specialty in Marketing, double degree in Marketing and Tourism and received a certification from the MTA as an International Medical Tourism Professional.

PlacidWay: Please describe which is Sani Dental's most wanted treatment/therapy and why.
Miriam Najera Ruiz: The Laser therapy to sterilize the area and prevent infections is the most common treatment for our patients, as it also stimulates the tissue, especially after surgeries such as dental implants. LANAP is requested and recommended for periodontal disease or patients with history of gingivitis. Maintenance and after care of the All on 4/Diem 2 Systems are recommended once a year.
PlacidWay: How is Sani Dental perceived locally, as well as internationally in general?
Miriam Najera Ruiz: We are perceived as a prestige company that offers quality and reachable dental treatments to the market; we are known as a cutting edge company that tailors treatments to the individual needs of every patient because we understand each patient is unique.
PlacidWay: How do patients you cater can benefit when choosing your facility?
Miriam Najera Ruiz: They can benefit from the vast experience from our large staff of specialists in every area when addressing any dental need. To provide a custom made dental product with the best quality we have an on-site laboratory with the know-how of the art lab techniques. On the monetary, they can save up to 70% comparable with the US and Canada costs.
PlacidWay: How do you think Sani Dental sets apart from other medical centers?
Miriam Najera Ruiz: What sets us apart from other medical centers are the extra services we are offering such as lodging and transportation logistics and a personal patient coordination specialist that will guide the patient towards the best dental treatment, time frame and explain what to expect from their medical experience.
Another thing that really separates Sani Dental Group from other medical centers is technology available on site; our patients will also find the best equipment such as CAD-CAM technology creating their prosthesis.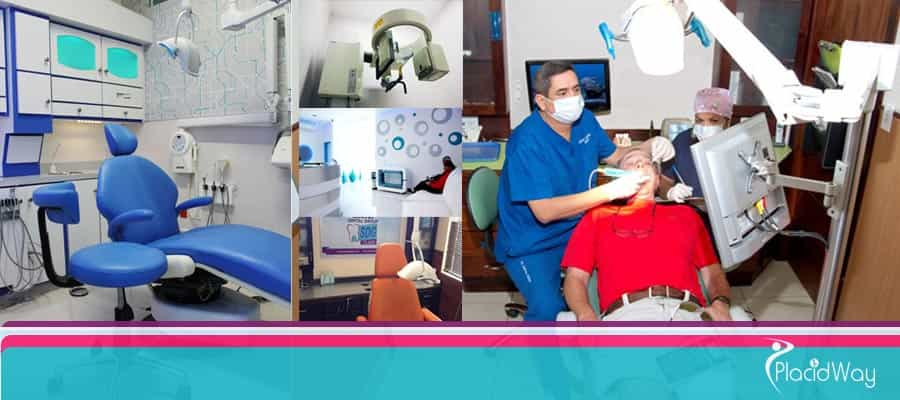 PlacidWay: What are the challenges and risks involved in your business specifically from Medical Tourism perspective?
Miriam Najera Ruiz: The main challenge is the difference between the home town of the patient and our clinic. Being able to give the patient the confidence of having a medical procedure away from home is never easy. There's always a risk when someone engages in any kind of medical treatment, but it's important that our patients know about the support they will have with Sani Dental Group.
PlacidWay: What kind of services does Sani Dental Group offer and what should the patient pay for (not included in the sty, meals, transport, all inclusive)?
Miriam Najera Ruiz: Our courtesy services are: pick up transportation from the nearest international airport (Yuma, Arizona), local transportation (in town), lodging depending on their treatment and personal patient coordination before and after their treatment.
What the patient needs to pay as additional services may be general anesthesia (sedation), the insurance form and transaction fee when paying with credit/debit card.
PlacidWay: Is your clientele more of insurance, corporate clients (employer sponsored) or more individuals?
Miriam Najera Ruiz: Individual patients are most common.
PlacidWay: What issues have you encountered since entering the medical tourism market?
Miriam Najera Ruiz: Sani Dental Group is not really a clinic that caters international patients from time to time. We have been working exclusively with Medical Tourism since we started in Los Algodones.
It is hard to point out an 'issue'. Of course, being in the medical industry there are risks involved. Being able to have so many international patients is a sign of trust that we are in fact experts, and that we will offer them support (sometimes even better than at home) and communication even after the treatment takes place.
PlacidWay: What do you think the patients should know when opting to travel for dental treatments at Sani Dental?
Miriam Najera Ruiz: Patints should be aware of the medical process that we have at Sani Dental. It is important for them to know that we need their medical records before deciding upon a certain treatment. Patients should also know that we will look after their health, and that will lead a lot of our decisions; several patients try to determine themselves how long they have to be in Mexico, or try to rush things and even try to skip protocols that are necessary.
PlacidWay: Finally, a few words on your most recent developments/therapies/services that are very unique to Sani Dental Group.
Miriam Najera Ruiz: We always try to be on the forefront of dental procedures and technologies. We have the latest technology on the market to produce ceramic and zirconium crowns (KAVO Machine), Zirconzhan technology to produce the Prettau Structure Fixed Denture, as well as CT Scan & Panoramic digital X Rays machines and Picasso technology to offer Laser Dentistry.
Something that makes Sani Dental Group very unique is our International Patient Coordination Office which offers communication and logistics like no other in the market.

For more information about the dental procedures and techniques offered by Sani Dental Group, click the button bellow and get the answers to your questions.