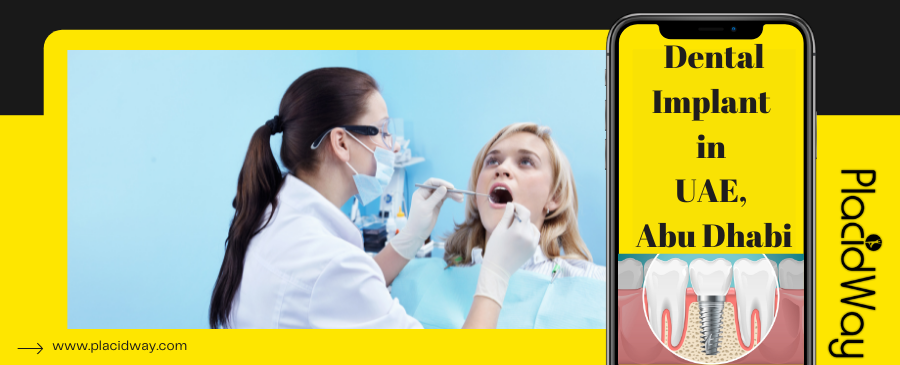 Dental implant procedure not just provides you with an improved and amazing smile, but also boosts your personality with loads of confidence. Dental Implants guarantee the substitution of a single tooth or different teeth and anchor a total set with denture adjustment in a solitary day. The most recent advances in dentistry have made it conceivable to put a dental embed and reestablish with the last substitution crown, bridge or dentures quickly in one day and guarantee you can leave the center with your new smile.
If you plan to get this treatment done abroad, then Abu Dhabi, UAE can be a great choice. Here you will learn why you should get dental implants in Abu Dhabi, UAE.
Dental Implants Cost in Abu Dhabi, UAE
A tooth implant cost in Abu Dhabi depends on what you want to choose. The average dental implant in Abu Dhabi price is around $1,200. The lowest dental implant price is $150 and can go as high as $1200. The price depends on the number of teeth you are going for dental implants for.
UAE Dental Implants Cost Comparison with the US and Canada
| | |
| --- | --- |
| Country | Dental Implant Cost |
| United States | $3,000 - $6,000 |
| Canada | $4,600 - $6,000 |
| Abu Dhabi, UAE | $1,200 |
Dental Implants Procedure
Dental Implants Procedure is usually a 2-3 steps process and it requires 2 trips to the medical tourism destination chosen.
In the standard dental implant procedure, and as this is an outpatient procedure, local anesthesia is usually adequate. During the procedure, small holes are drilled into the jaw site where a tooth has been lost or removed to insert a titanium screw that will hold the dental implant in place.
This hole will be slowly and carefully enlarged to insert the implants. The implant site can heal before the new artificial tooth is attached. This procedure may take from three to six months to heal. After that period, your dentist will complete the procedure by placing a crown restoration. The healing process will depend on many factors such as your jawbone structure, age, and general oral health.
Types Of Dental Implants
Individual Implants: Single implants of either titanium or zirconia, with an abutment and a porcelain or zirconia crown

Implant-Supported Bridges: These bridges are held in place by individual implants instead of crowned teeth.

Removable Implant-Supported Overdentures: Implants snap into place and hold down these dentures.

All On 4/All On 6: A whole jaw's worth of teeth is held down by either four or six implants.
Why Choose Dental Clinics in Abu Dhabi for Teeth Implants?
Many medical centers are offering dental implants in Abu Dhabi, UAE. Thus, you must be very careful to choose the best one that matches your needs perfectly. Almost every center will claim that they have the best price and doctor, but you should do your own research. Most importantly, make sure that the center you choose has legal permission to conduct the treatment procedure. Therefore, you must check if the center is licensed and accredited.
Top Clinic for Dental Implants in Abu Dhabi
UAE has been emerging as a hub of medical tourism in recent years and NMC Royal Hospital in Abu Dhabi has already set a badge of excellence with its huge base. NMC Healthcare is also recognized as the biggest healthcare company as well as a globally acclaimed healthcare service provider in the UAE. The hospital is committed to offering best-in-class patient care for individuals and it has earned the trust with personalized care and a customer-centric approach. 
What Should Be Included in The Package of Dental Implants in Abu Dhabi, UAE?
You must carefully check the dental implant package details in Abu Dhabi, UAE. Choose the right package according to your specific needs. Generally, a package for the dental crown will include a scan for implant planning, implant, abutment, crown, medical center fee, doctor fee, etc. However, your expenses like staying at the hotel, airport pick up and drop, food, etc. are generally excluded from the package.
Dental Implants in Abu Dhabi, UAE Reviews
You should also search for patients with the same treatment as your chosen center. Through their reviews and testimonials, you will learn about their experience. You can also speak with a few of them and gather data supporting the treatment or check the before and after pictures.
Dental Implants Before and After in UAE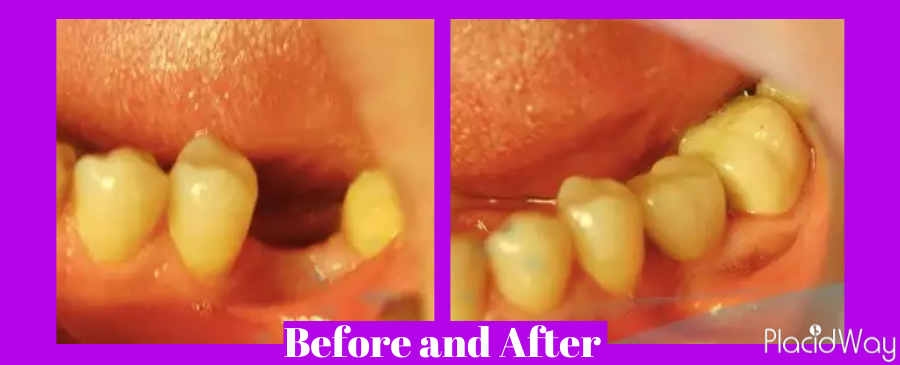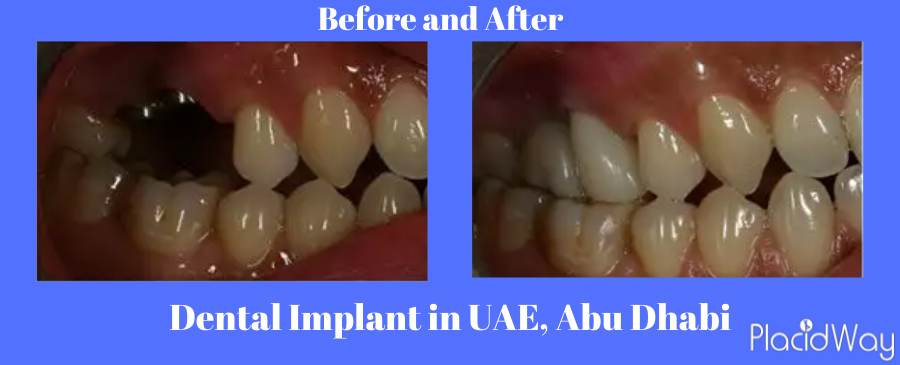 FAQs for Dental Implants in UAE
What are dental implants?
Dental implants are the most regular approach to supplant missing teeth. Typically made of titanium, dental implants are intended to supplant the root construction of missing teeth, offering help and dependability for substitution teeth. They are the longest-enduring solution accessible. 
A dental implant is a substitution tooth comprised of three sections: the root, abutment, and crown. The root is regularly made of titanium, an abutment or post is utilized as a connector, and then, at that point, a porcelain crown is put on top as your substitution tooth.
Do UAE's workplaces utilize present-day, innovative gear for dental implants?
Our checked workplaces are exceptional with the most recent indicative hardware, i.e., X-beam machines, 3D cone pillar computerized imaging, and modern ZirkonZahn frameworks to create amazing dental prostheses.
Is Dental Implants Procedure Painful?
The bottom line is that you shouldn't feel pain when getting dental implants. Nor should you feel much discomfort throughout recovery.
How do I care for my dental implants?
They require the very same consideration as normal teeth: everyday brushing and flossing, along with ordinary dental tests and professional cleanings.
Are dental implants removable like dentures or do they stay in your mouth?
No, dental implants are fixed determinedly in the bone and allow teeth to be supplanted in a way that is nearest to regular teeth.
Questions to Ask Your Doctor before Going for Tooth Implant in Abu Dhabi
You must think logically and prepare a list of questions you would ask the doctor before going to his medical center. Here is a list of five important questions you can ask the doctor before your dental implant procedure.
What are the steps involved in dental implant surgery?

What is the itinerary of my dental implant treatment?

What are the post-procedure therapies included in the package?

Have you successfully done similar procedures before?

Does your clinic have all the required accreditations?
Choose Low-Cost Dental Implants in Abu Dhabi Today!
If you want to know more about the available, affordable dental implant packages in Abu Dhabi, UAE, you can send us your queries by clicking on the contact button below.