Dentaris, a leading dental clinic in Cancun, Mexico has become increasingly popular for a variety of dental treatments in this beautiful vacation destination. Dentaris offers a variety of services for locals and international travelers vacationing on their beautiful beaches.

Services include dental implants, orthodontics, prosthetic, smile makeovers and endodontic procedures. Staff at Dentaris is experienced in treating adults, children and teens in one of the most gorgeous vacation spots in the world.



"I've been coming to Dentaris from the United States for three years now. The service I have received has been far superior to that in the US - and at a much lower price.I have had a root canal, crowns and cosmetic work. All done perfectly. I can't say enough positive things about the place," says Sam C. of Philadelphia.

Not only is the facility known for its excellence in expertise and qualifications, but for the friendly and compassionate services offered. Most people are naturally afraid of going to the dentist, but staff at Dentaris does their best to make every patient who walks in the door feel comfortable.



"I want to thank Dr. Joaquin Berron for my new teeth, he has given me back a beautiful and the esthetics match perfectly with the shape of my face. Dr. Berron is a professional who has bothered to study to make their patients happy. A thousand thanks. I come from Dallas, Texas, just to see him, and I leave with perfect teeth every time," says another dental patient named Maria Esther Namur.

Dentaris has been a leading dental clinic in the Cancun region since the early 1990s with offices in Cancun and Playa Del Carmen. Offering porcelain crowns and bridges, veneers, tooth whitening and a variety of cosmetic dentistry techniques, the facility has garnered a well-earned reputation as an excellent dental provider.

Dr. Joaquin Berron and other dental experts at Dentaris have received excellent training in esthetics and implant dentistry. Dr. Joaquin Berron is the coordinator of the Implant and Aesthetic Fellowship in the Prosthodontics Department at Louisiana State University, and specializes in prosthetic dentistry ( smile makeovers) and implant dentistry.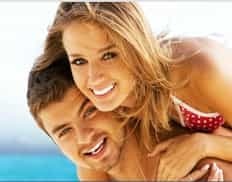 "In February 2010, I tripped on an uneven sidewalk and did a face plant," writes another patient named Sally. "I thought my teeth were ruined beyond repair. Over the course of 10 months, I had extensive dental work done by Drs. Arrechedera and Dr. Berron, including extractions, root canals, bone grafts, crowns, bridges and implants. I've never had more than minor discomfort from any of these procedures, and the end result is amazing! I am delighted with the work these superb dentists have done for me, and the price has been very affordable."

These are just a few of the many testimonials former patients offer regarding the quality and compassionate care provided by Dentaris. "We are extremely pleased to offer such excellence, quality and compassionate care for dental patients traveling south of the border for their dental and cosmetic dental needs," says Pramod Goel, CEO and founder of PlacidWay, an international medical provider and resource about Dentaris.

For more information regarding Dr. Joaquin Berron, the Dentaris dental clinic or visiting Cancun, Mexico for dental or medical needs, visit PlacidWay.com