Dr. Muge Yargici, Prosthodontist, Dentist - Istanbul, Turkey
Ozel Etemoglu Agiz ve Dis Sagligi Poliklinigi, Atakoy Towers 7-8-9-10. Kisim E-5 No:20 7th Floor Bakirkoy, Istanbul, Turkey
Istanbul, Turkey
Speciality:
Prosthodontist, Dentist,
Degree:
Istanbul University, School of Dentistry, Istanbul, Turkey 2019
Focus Area:
Dr Muge Yargici | Istanbul | Turkey | Tower Dental Clinic
---
About - Dr. Muge Yargici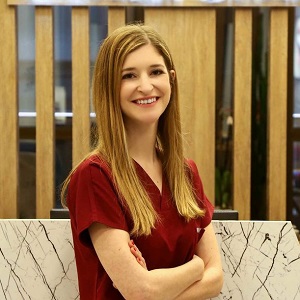 Dr. Muge Yargici is the best dentist for your dental needs! With over five years of experience as a Prosthodontist in Istanbul, Turkey, Dr. Yargici is an expert in the field of dental implants, prosthesis, dentures, and crowns. She has vast knowledge and experience in these areas to ensure you receive the highest quality care.
Dr. Yargici is passionate about providing her patients with the best possible treatment for their dental needs. She always takes the time to listen to patients and understand their oral health goals. She is committed to staying up-to-date on the latest developments in dentistry, so she can provide his patients with the most advanced treatments available.
She is currently working at Tower Dental Clinic. At this clinic, she and her team strive to provide the most modern and efficient dental care possible. They are dedicated to providing the highest quality care in a safe, comfortable, and friendly environment. This clinic provides patients with a wide range of treatments, from general dentistry to cosmetic procedures.
She is the member of the Turkish Prosthodontics Association and the European Academy of Esthetic Dentistry. Her passion for her work, her expertise, and her dedication to providing the best possible care to her patients make Dr. Yargici one of the most respected dentists in Istanbul.
In addition, her commitment to lifelong learning and research make her highly respected in the dental field. If you're looking for an experienced and knowledgeable dentist in Istanbul, look no further than Dr. Muge Yargici at the Tower Dental Clinic! With her expertise and dedication to providing excellent care, she is sure to meet all of your dental needs.
Now, you can schedule your appointment with top doctor for dental treatments in Istanbul, Turkey at PlacidWay. Click contact us button below for more information:

---
Tower Dental Clinic reviews
Raad q

NEVER TRUST THEM THE WORST JOB DONE !!!

After I mad 25 crowns with them and went back to the uk
Pain never stopped couldn't eat or drink couldn't support any hot or cold water touching my tooth
I was in pain killers for over 3 weeks

They reserved my a new ticket to come back to fix the damages they made
But even though they decided to make me 3 root canal for 3 tooth even though I had explained to them that the pain is in more than just 3 tooth I'm having pain in more than 7 or 8 tooth and needed to do root canal to all of them
But they wanted to do the minimum work and send me back to the uk

When they sold me the crowns to put on my teeth and take the money they said its
20 years garnered
But its not even 6 months and they stopped to recognise the job done !!!!! Absolutely not professional clinic

All they care about is to take the money .

and I'm still suffering and in pain in every day without any solution

and because they got me bake once to Istanbul without doing the full job
They say NOW it's psychological problem can you believe that !!!

And when I tell them that the dentist in the uk
Says that my tooth need to get the nerves out
At this level to stop having pain which is something they should do but they didn't

because they just won't to got the money and go to the new patient in the fastest time
Without doing the job as it should be done or taking care of the person in pain

They said that the English doctor are jealous
And bad mouth as they lose money
Because the Turkish doctor are better
Can you believe that again !!!!

I have all documents to prove my story and I'm putting some of the chatting between me and the brother of the owner of the clinic
( The manager of the clinic)
With his picture and phone number on the chatting on WhatsApp
The worst person you might deal with
Or trust at all

This clinic maybe use to be a good clinic in the past
but now they are one of the worst ever and can't be trusted as all they care about is your money and not your good health

Now I will sue them as soon as I can
and ask for a refund for the new cost for the damages the made me .
And now I must go to another dental clinic to fix the damages they had done and don't won't to recognise.
As it's impossible to live with this pain for long

NEVER TRUST THEM .. OR USE THEM
BAD DENTISTS AND WORST CLINIC

Jan 22 2023

Adil

My name is Adil from Canada, Montreal. I was with them a month ago. I did a complete dental implantation. Frankly, thank you and appreciation to this clinic. A special thank you to all the medical staff, assistants and drivers, all of them. A great welcome, appointments and very good service, I thank Sister Nisreen for everything, in all respects I thank her more. Thank you all for great service. I advise ⚘people to contact them⚘

Google

Jun 10 2022

Giovanni

Good service very friendly people we are very happy that we chose towers dental

Google

Jun 10 2022

mila

The clinic is great, everything perfectly clean, each of its workers, receptionists, doctors, nurses, interpreters, are wonderful people, who will make you feel very good, and will help you with any problem or doubt, do not be afraid to ask any type of dental treatment, I got veneers and implants, and I could not be more delighted....they are very professional, and they explain everything perfectly.

Google

Jun 13 2022

Anna

The welcome is very warm. I came for dental implants and was delighted by the professionalism and warm welcome from everyone. The steps are well explained in all languages. We are carefully monitored at each stage of the procedure and the result is there.

Google

Jun 14 2022

Jean

Overall I have mixed feelings about my experience at the clinic. On the dentistry part, although my care is not finished yet, I can say its very professional and I believe I will be happy with the final result.
The clinic staff is very welcoming and kind.
But I wish the communication was better and also less waiting time.
I came for implants on a first visit, and then was supposed to get crowns on a second trip 3 months later. But instead, we are already doing the crowns now, which I found out the night before we started and I was not prepared to pay this much now.
I also struggled to eat as some of the temporary teeth did not hold long enough.
I understand the difficulty of working with people coming from abroad, speaking different languages, etc... But still I think communication and waiting time could be improved.
But I guess the most important part is the dentistry and so far so good on that point.

Google

Jun 17 2022
---
Dentistry Related Packages
Dentistry Related Experiences
PlacidWay.com provides information and travel related services. We do not provide health care services. We provide information solely for informational purposes and do not endorse any particular health care provider or facility or any particular health care service or treatment. We are not affiliated with any health care provider or service and we are not responsible for any health care service. Please consult with your own domestic licensed health care provider before seeking the services of any health care provider you learn about via our site.
---