All on 4 Dental Implants in Antalya
Why Should I Consider the All-on-4 Implants in Antalya, Turkey?
Searching for a high-quality teeth replacement method? There are many affordable options abroad that will save you money and prevent bone loss. One of such is All on 4 Dental Implants in Antalya, Turkey.
If you are wondering Why Antalya, we will explain more in this guide, but here are the five key reasons:
Dental experts will help you get new teeth at reasonable prices;
The medical team will speak with you in English;
You will have a pleasant stay in the modernly equipped clinics;
Antalya is easily reachable since its airport is connected to major world cities;
You will have time to visit top tourist places in Antalya and relax on its Mediterranean beaches.
Here are other the things to consider in Antalya: 
Clinic: Denart Turkey Dental Centre
Procedure: All-on-4 Dental Implants
Cost in Antalya: From $4,220
Cost in Other Countries: From $15,500
Top Tourist Attractions: Kaleici - The old city of Antalya, Sapadere Kanyonu, Konyaalti Beach, and more.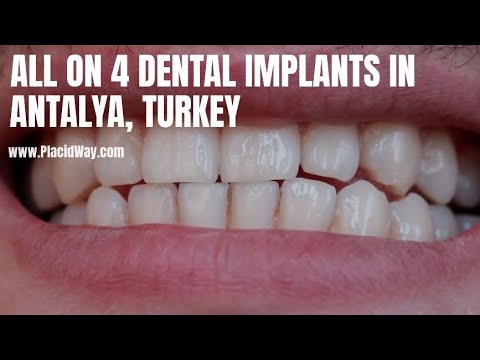 ---
What is the Cost of All-on-4 Dental Implants in Antalya, Turkey?
One of the most incredible benefits of choosing a smile makeover in Antalya is that you can save over 50% of your money. Because All on four dental implants cost in Antalya start from $4,220 and can go up to $8,000.
However, this procedure is over $15,500 in the UK, forcing patients to go to Turkey Antalya for more affordable treatment. Also, Americans postpone visits to the dentist due to the high dental costs, such as All-on-four implants at over $25,000 per jaw.
Price for the All-on-4 procedure in Antalya is a fraction of the price at home, including the additional expenses on flight and accommodation.
In the table below, you'll see prices in Antalya clinic compared to other countries:
All on 4 Dental Implants Centers Cost Comparison in Antalya, Turkey
| Provider | Procedure | Price |
| --- | --- | --- |
| Ozdemir Dental Center | All on 4 Dental Implants, Dentistry | $4220 |
| Ozdemir Dental Center | All on 4 Dental Implants, Dentistry | $7957 |
All on 4 Dental Implants Cost Comparison in Turkey

| Country | Procedure | Price |
| --- | --- | --- |
| United Kingdom | All on 4 Dental Implants, Dentistry | $15500 |
| United States | All on 4 Dental Implants, Dentistry | $25000 |
---
6 Best Dental Clinics in Antalya for Implants
There are numerous dental clinics in Antalya catering to international patients. They are modern and conform to international standards of hygiene and safety. You'll find that these clinics are well-equipped with state-of-the-art technology, which ensures safe and successful all-on-four treatment.
The clinics we partner with are accredited and employ only qualified staff. You can see the advantages of Antalya clinics in their profiles below, as well as clinic photos, patient reviews, and prices.
---
---
Dental Treatment in Antalya Reviews
---
Best Dental Implants Surgeons in Antalya, Turkey
Dentists in Antalya provide excellent dental care quality to international patients. They are implant specialists and offer All on 4 implants at a high success rate such and low cost.
Antalya dentists are members of international professional organizations, including the International Congress of Oral Implantologists (ICOI). You can rest assured that you'll receive top-notch dental care and a follow-up after the procedure.
Contact us to know the details about Antalya dentists. We will help you find the right dentist for your oral health needs.
---
During Dental Vacation in Antalya Explore Top Attractive Places
Antalya is a popular holiday destination visited by millions of tourists every summer. In addition to an attractive vacation, patients take advantage of the trip to get their teeth fixed and pay less than back home.
Here are the top tourist attractions to explore during your stay in Antalya for dental care:
Explore Antalya's Old Town Kaleici
Relax on Konyaalti Beach
Take Day Trip to Aspendos
Walk around the Ruins of Termessos
Admire the Yivli Minare
Stroll through Hadrian's Gate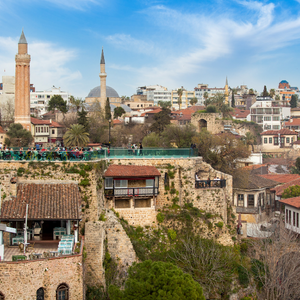 Yivli minaret and tea garden in old town Kaleici - Antalya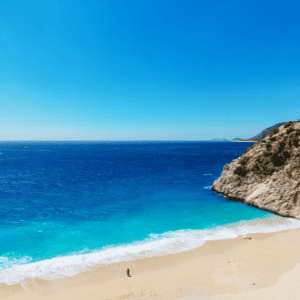 Mediterranean Coast in Antalya
---
Book Your All on 4 Dental Implants in Antalya Today!
Take a trip to Turkey's Mediterranean Region to get teeth replacement at a low cost. Book with PlacidWay your All-on-4 dental implants in Antalya while enjoying a fabulous holiday in this attractive summer resort.
Request a free quote or contact our Customer Care Team if you'd like to know more.
---