Dental Tourism in Romania
Why Travel to Romania for Dental Care?
Dental care is an essential part of our general health. But it can sometimes be costly to fix your teeth, especially if you live in North America, Australia, or some European countries. Therefore, getting dental procedure in a less developed country is worth your trip. Today, we explore Dental Work in Romania as an affordable, safe, and quality option.
Why Romania, you may ask. Because the country offers a wide range of dental services to international patients at high-tech facilities. Dental work in Romania will help you stay within your budget even when you pay for travel and hotel stays.
Since some treatments take several days, you could spend your free time between dentist visits enjoying a vacation in Romania. You want to know what to expect if you opt for dental treatment in Romania, so we have included a summary of this guide below.
Clinic: Bucharest British Dental Place and DENTOCLINIC
Procedure: Dental Work
Dental Implants Cost in Romania: $410
Cost in Other Countries: From $2,750
Top Tourist Places: The Danube Delta, Bran Castle, Palace of Parliament, and others.
---
Cost of Dental Work in Romania
The cost of dental care in Romania is the main factor why international patients come here. You can save between 40-80% on dental costs in Romania compared to the US, UK, and Germany.
In the United States, dental implants cost around $3,500 and in Germany over $2,750 per tooth. In Romanian clinics, a single tooth implant will cost you only $410 on average. Keep in mind that private clinics in Romania offer the same high-quality dental procedures as developed-country clinics.
Getting your teeth fixed in Romania can help you save more than half the costs back home. To compare how much dental work in Romania costs vs other countries, see the table below:
Dentistry Centers Cost Comparison in Romania
| Provider | Procedure | Price |
| --- | --- | --- |
| Bucharest British Dental Place | Dental Implants, Dentistry | $412 |
| Bucharest British Dental Place | Dental Crowns, Dentistry | $412 |
| Bucharest British Dental Place | Dental Veneers, Dentistry | $412 |
| DENTOCLINIC | Root Canal, Dentistry | $75 |
| DENTOCLINIC | Dentures, Dentistry | $430 |
| DENTOCLINIC | Dental Braces Abroad, Dentistry | $626 |
Dentistry Cost Comparison in Romania

| Country | Procedure | Price |
| --- | --- | --- |
| Germany | Dental Implants, Dentistry | $2750 |
| United Kingdom | Dental Crowns, Dentistry | $850 |
| United States | Dental Implants, Dentistry | $3500 |
| United Kingdom | Dental Veneers, Dentistry | $600 |
| United Kingdom | Dentures, Dentistry | $1900 |
---
State-of-the-art Clinics in Romania
As a part of the European Union, Romania invests in its healthcare system and clinics infrastructure which attracts thousands of medical tourists. Dentists in Romania have undergone sufficient training and are proud members of prestigious dental institutions locally and abroad.
Dental clincis in Romania we present to you below is run by a team of medical specialists dedicated to providing high-standard dental services to foreign patients.
The technology these clinics use is up to date and includes 3D Diagnostics, CEREC restorations, and CAD/CAM among many others. You'll find other facilities, former patients reviews, and top dentists who work in these clincis in more detail below.
---
---
FAQ for Dental in Romania
If you want to learn more about affordable dental prices in Romania, read the following FAQs.
What is the Average Price of Dental Veneers in Bucharest, Romania?
Show More
Dental Veneers Cost in Bucharest, Romania Dental veneers are an efficient and appreciated aesthetic dental solution, able to completely transform and improve the patient's smile. They're made of materials that look just like the natural teeth. Dentists use them to correct various aesthetic imperfections such as tooth shade or shape. The procedure allows the patients to choose any shade of white, regardless of their natural tooth color. Dental veneers are recommended to people with unaesthetic dental gaps, stained teeth, dental traumas, asymmetrical teeth or dental crowding. The average price for Dental Veneers in Bucharest, Romania is $370. The final price will be established after the surgeon will examine you and will determine exactly what type of procedure you need, how long the procedure will take and what implant materials and medical equipment will be used. The price will also depend on the clinic and the surgeon's experience that you will choose. Factors that Affect the Price of Dental Veneers in Bucharest, Romania You can reach Bucharest, Romania to get the Dental Veneers treatment conveniently. Before you plan to travel to this nation, you should be aware of the factors that can affect the package price. Have a look at the factors that can affect the overall cost of the treatment. Number of tooth requiring veneer Material chosen for veneers (the radiance and quality of the veneers depends of the materials used) Age of the patient and his/her jaw flexibility Experience and qualification of the dentist What should be expected from the Dental Veneers procedure in Bucharest, Romania? Romania has become the home of a number of world-class healthcare institutions offering the Dental Veneers procedure at affordable price. Here, you can receive the Dental Veneers procedure through highly experienced cosmetologists and supporting medical staff. How Much You Can Save by Receiving Dental Veneers Treatment in Bucharest, Romania? The average price for Dental Veneers in most of the leading countries may range between $500and $1,500 approximately. However, you can receive the same treatment here in Bucharest, Romania at around $370. So, you can save more than $1,000 by choosing Bucharest in Romania as your preferred medical tourism destination for the Dental Veneers procedure. Approximate Cost of Dentistry Variations in Bucharest, Romania Teeth Whitening $260 Dental Crowns $320 Other Costs to Consider If you are preparing for the overall expense of the Dental Veneers treatment in Bucharest, Romania, you have to consider some other associated expenses as well. These expenses are: Hotels and accommodation Food and drinks during stay Airfare and transport Travel Insurance These are the estimated costs and you should not grant it as the final cost of the Dental Veneers treatment in Bucharest, Romania. However, you can always ask for the free quotes and check how much you can save by going to Bucharest, Romania for the Dental Veneers.
How much does Dental Implants Cost in Arad, Romania?
Show More
Dental Implants Cost in Arad vary depending on different factors, but the average price is around $620. The factors that can affect Dental Implants final cost are Your health condition, Type of materials used, A number of visits needed until the treatment are complete, The equipment used and The clinic you choose. For Dental Implants each patient needs to be treated with care and attention, with a treatment plan developed according to his/her needs and budget. In Arad you can find cutting-edge technology, excellent dental treatments, and highly professional teams of experts. The Dental Implants packages offered in Arad, Romania offer patients many benefits besides the treatment, such as airport pick up, hotel transfer, consultation and case manager assistance among others. Not taking care of your dental problems can lead to tooth loss and serious health issues. When you choose a dental clinic in Arad, Romania makes sure that the facility can address your specific needs. Some procedures require besides a steady hand of the dentist, years of expertise and training and specialized equipment. Questions to Ask Your Dentist Before Dental Implants in Arad There are several questions that you can ask your dentist before making your choice. The answers will help you figure out if a dentist is the right dental expert for you. How many years of experience do you have performing Dentistry? How often have you performed Dental Implants? What are the advantages and disadvantages of Dental Implants? What about the risks and complications? Are you certified? Are you a member of any Dentistry association or society? What if something goes wrong during Dental Implants procedure? What if I am not happy with Dental Implants results? Romania is a well-known tourist and medical destination in the world. International travelers take advantage of the historic touristic attractions that they can explore, as well as the medical expertise in the area. Dental care in Romania is one of the best and safest, especially in cities such as Arad. Find out more about the best dentists in Arad, Romania! Contact us and choose the best dental specialist!
---
Best Dentists in Romania
The work of a Romanian dentist can be compared to the UK or US dentist. Since Romania dentist must finish medicine school to begin working, the best dentists choose to undergo extensive training abroad. They are also members of prestigious international institutions which brings trust in patients opting for a specific procedure.
Another factor you should consider when finding the right dentist in Romania are reviews of previous patients. But worry not, because our placidWay team will help you choose the best Romanian dentist for your desired dental goal.
Therefore, contact our team to know more.
---
Dental Tourism in Romania - Best Things to do
Romania is famous for its breathtaking mountains, stunning architecture, and magnificent castles among which Bran's or Dracula's castle is the most famous. You can do a lot in this country between your dental appointments.
Explore the wilderness in the Carpathian-Mountain-Chain of Romania, numerous national parks, or UNESCO world heritage sites.
Here are some interesting must-see tourist places in Romania:
Wooden Churches of Maramures
The Danube Delta
Sucevita Monastery
Transylvanian Alps
Peles Castle
Palace of Parliament
Sighisoara Historic Center
Bran Castle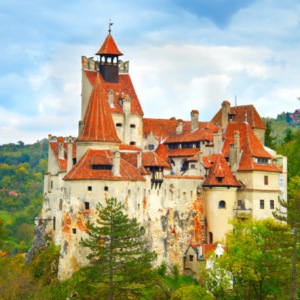 Bran Castle Transilvania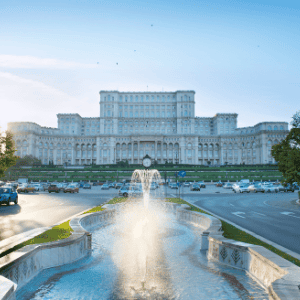 Bucharest Parliament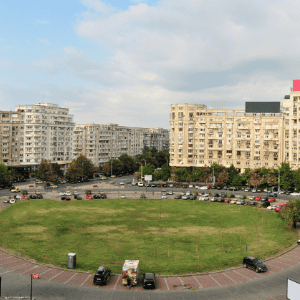 Bucharest, Romania
---
Book Your Dental Travel in Romania Today!
Dental work in Romania is significantly cheaper compared to western countries. Here you'll have new, healthy teeth and a relaxing vacation at the price you can afford.
Contact us for a free quote or other queries you may have!
---