Dental Crowns in Dominican Republic
Benefits of Choosing Teeth Crowns in Dominican Republic
Would you like to improve your smile in an exotic Latin American country at affordable prices? Now it is possible with Dental Crowns in Dominican Republic! By choosing a tooth crown in this Central American country you'll get the following benefits:
Cost savings up to 80%
Professional dental work by certified dentists
Comfortable treatment at reputable clinics
New confident smile with quality dental crowns
An exotic vacation in the tropical Dominican Republic
All this can be yours at just a fraction of the American price. Fix your teeth aesthetics and enjoy a lovely holiday in this beautiful paradise! Keep reading our guide to find out more.
---
How much is a crown in Dominican Republic?
Dental crowns cost in Dominican Republic $350 on average. This is up to 70% cheaper than Canadian crowns of $1,000 and up to 90% more affordable than the $1,750 cost per tooth in the USA.
Even when you factor in travel, accommodation, and tourist activities costs, Dominican Republic crowns remain a more economical option. Let's see the following table for more details on prices.
Dental Crowns Cost Comparison in Dominican Republic

| Country | Procedure | Price |
| --- | --- | --- |
| Canada | Dental Crowns, Dentistry | $1000 |
| Dominican Republic | Dental Crowns, Dentistry | $350 |
| United States | Dental Crowns, Dentistry | $1750 |
---
Best Dental Crowns Clinics in Dominican Republic
Dental clinics in the Dominican Republic are accredited by the A.D.A. organization and adhere to rigorous safety and hygiene criteria. Besides, they employ only highly qualified medical staff who specialize in various dental procedures.
Clinics we partner with have a long history of working with international patients. Therefore, they adapt their services to the high standards such as you can find in clinics in America.
Below are the profiles of the two best clinics in the Dominican Republic for smile restoration. We suggest you read more in the following links before deciding which is the best clinic for your dental health:
Top Center
At Hispadent, since 2012 Jose Alonso, MD, DDS. and our staff are trained to give excellence dental care in Santo Domingo, Dominican Republic. Our head office Doctor, Jose Alonso DDS is one of the Best Dental Specialists in Santo Domingo. Internationally Awarded and Credentialed Dentist in Santo Domingo, Internationally Trained in the best universities from Europe and United States. Holding Degree in General Medicine, Doctor in Dental Surgery Degree, Implant postdoctoral Degree, Cosmetic Dentistry postdoctoral Degree. We are Members of the Following USA Dental Associations: American Dental Association American Academy of Cosmetic Dentistry American Academy of Implant Dentistry American Academy of General Dentistry.
Top Center
Dental Studio Spa, situated in Santo Domingo, Dominican Republic provides the latest services in dental technology. The caring and healing touch of the doctors makes the whole experience extraordinary for the patients.
---
Dental Work in Dominican Republic Reviews from Real Patients
---
Top Clinics for Dental Crowns in Dominican Republic Q&A
Looking for dental clinics in Santiago de Los Caballeros for dental crowns? Read the following answer to see which clinics in this Dominican Republic town offer affordable and high-quality dental care for your needs.
Which are the top Dental Crowns clinics in Santiago De Los Caballeros, Dominican Republic?
Show More
You will find many Dental Crowns clinics in Santiago De Los Caballeros, Dominican Republic, all offering their patients high quality, affordable and safe dental treatments.Each of these centers offers a comprehensive array of dental treatments, including dental implants, dental crowns, dental veneers, dentures, cosmetic dentistry, teeth whitening, dental braces, tooth extractions, sinus lift and many more.Choosing the best dental clinics in Santiago De Los Caballeros, Dominican Republic can be quite challenging, taking into consideration the numerous options that you have. Here is a list of questions that you should ask the clinic before making your final decision:What certification, both national and international, does the dentist who will perform Dental Crowns services have?Does the dentist or assistant speaks English (or my language)?Which dental laboratory you use? What are their compliance with international standards?Can I speak to any former patients from my country to find out about their experience at your clinic?Where dental school the dentist went and can I see their certification?What experience does the clinic have performing Dental Crowns?Over the past years Dominican Republic has become one of the top dental tourism destination when it comes to dental treatments. Many medical tourists from all over the world come here to take advantage of the high quality and affordable dental care. Santiago De Los Caballeros has numerous top dental clinics in Santiago De Los Caballeros, Dominican Republic and more medical providers have started to offer attractive packages to their customers.Find out more about the best Dental Crowns in Santiago De Los Caballeros, Dominican Republic! Contact us and choose the best Dentistry clinic!
---
Dental Crowns Dentists in Dominican Republic
Dentists in Dominican Republic are active members of The American Dental Association (ADA), the American Academy of Cosmetic Dentistry (AACD), and other organizations. They use state-of-the-art technology and equipment for dental procedures to provide patients with safe and quality dental care.
Regular training in the country and abroad helped Dominican Republic dentists achieve positive results in various dental treatments. Want to read some former patients' reviews and know more about your dentist in the Dominican Republic?
Reach out to our Customer Care team for more information.
---
Dental Tourism in Dominican Republic - Explore Top Tourist Spots
Millions of tourists visit the Dominican Republic to meet its unique culture, breathtaking natural beauty, and tasty local food and drink. The country is settled in the Caribbean which promises stunning beaches and mountain streams. Santo Domingo, the capital, has a vibrant nightlife and historic buildings from the Spanish colonial era.
The Dominican Republic has eight international airports well-connected with major cities worldwide. Only 4-6 hours of flight separate travelers in America and Canada from the Dominican Republic, which is negligible considering the quality of care and rest you receive here. In addition, plane tickets and accommodation are also very affordable here.
Accommodation options in the Dominican Republic include luxury beach resorts, budget hotels, and rental apartments. On the other hand, Dominican Republic has many private dental clinics offering high-quality services at affordable prices. Dental tourists from USA and Canada come here for dental crowns, implants, and other dental work they can't afford at home.
A combination of dental treatment with the holiday is a big plus for many people who look forward to a relaxing vacation in tropical environments such as the Dominican Republic. The best places to explore here include
Bavaro Beach, Punta Cana
Calle el Conde (Zona Colonial) in Santo Domingo
Puerto Plata & Playa Dorada
Las Galeras beaches
27 Waterfalls of Damajagua
Bahia de Las Aguillas in Jaragua National Park
Parque Nacional del Este, a UNESCO World Heritage Site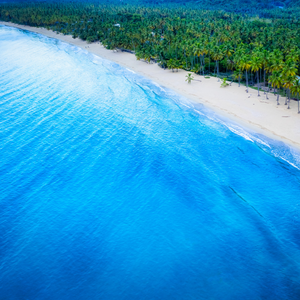 Dominican Republic, Caribbean Sea
---
Opt for Dental Crowns in Dominican Republic Today!
Dental Crowns in Dominican Republic will truly help you achieve the desired smile, stay within your budget, and experience the tropical getaway you deserve!
Do you have more questions about a dental trip to Dominican Republic? Feel free to contact us anytime to learn more!
---