Facelift in Mexico City, Mexico
Rewind the Aging Process with Facelift in Mexico City
Concerned about the growing signs of aging on your face? Although it's a natural process, we would all want to stay and look younger than we are. A facelift in Mexico City could be the solution you are seeking.
Thousands of women undergo rhytidectomy or facelifts to improve their facial appearance at a more affordable price in Mexico City than back home. The Mexican capital has world-renewed cosmetic surgeons and clinics providing good-quality plastic surgery.
Facelift surgery is generally performed to minimize wrinkles, lines, and sagging skin appearing on the face as you age. It also helps the skin to restore its elasticity and return to a smoother condition. You will retrieve the youthfulness and look rejuvenated again.
You must be in good health in order to have a facelift procedure. Before the surgery, your doctor will examine you and let you know the available options. 
We will help you find the right clinic, surgeon, and package plan in Mexico City for your budget and cosmetic needs. Keep reading to find out more.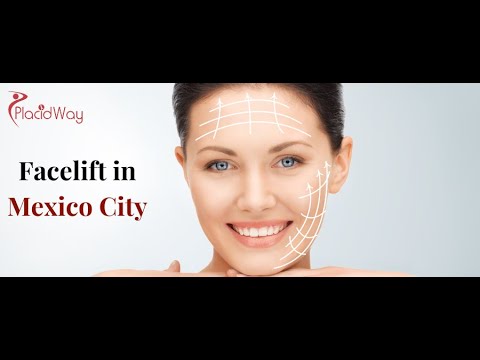 ---
All-Inclusive Medical Packages for Facelift in Mexico City
Our PlacidWay team offers cost-effective cosmetic surgery packages in Mexico City for your comfortable trip and stay. The packages usually contain services like facelift surgery with a night stay in the clinic (if needed), all medical fees (doctor, nurses, anesthesiologist), bilingual assistance, and round transfer (airport/clinic/hotel).
This is especially helpful for you as an international patient to have a relaxing trip, not worrying about necessary things. We ensure you receive patient-centered care and a doctor's follow-up after the surgery.
Therefore, contact us to get your facelift package in Mexico City today!
---
How much is a facelift in Mexico City?
Facelift in Mexico City cost around $5,200 at our recommended clinics. This is between 30% and 50% less expensive than the prices in America and Canada. For example, you'll pay over $8,000 in the USA while $11,000 will cost you in Canada.
Even when you include the trip and accommodation expenses, it is more affordable to go to Mexico City for a rhytidectomy procedure. You will get the same quality of care from certified plastic surgeons here as you would in the United States but at a more reasonable price.
Let's see the cost comparison table for more details.
Face Lift Cost Comparison in Mexico

| Country | Procedure | Price |
| --- | --- | --- |
| Canada | Face Lift, Cosmetic/Plastic Surgery | $11000 |
| Mexico | Face Lift, Cosmetic/Plastic Surgery | $5200 |
| United States | Face Lift, Cosmetic/Plastic Surgery | $8000 |
---
Top 6 Clinics in Mexico City for Facelift
We partner with world-class facilities in Mexico City offering high-quality cosmetic surgery at lower prices than in the United States or Canada. The clinics utilize the latest technology and materials to help patients get effective and safe plastic surgery such as rhytidectomy.
Thousands of women and men from North America travel to Mexican's capital for successful procedures annually. We have gathered interesting former patient stories under each clinic profile for you to read and learn what to expect.
We also provide other useful information to make your research easier. Find out what services plastic surgery clinics in Mexico City offer, cosmetic surgery prices, and photos of the clinic.
---
Watch Video about Facelift in Mexico City, Mexico
Watch video below to get information about Facelift in Mexico City, Mexico. It will help you to make informed decision.
---
Plastic Surgery in Mexico City Reviews
---
Most Common Question about Facelift Cost in Mexico City
If you are wondering about the cost of Facelift in Mexico City and why it is more affordable than in North America, take a look at our answer below.
What is the cost of Face Lift in Mexico City, Mexico?
Show More
Having Face Lift in Mexico City, Mexico will cost you on an average $7000. The surgeon will be able to give you the final price after the first consultation when he/she will determine what type of procedure is needed, how long will it take, what materials will be used, etc. If you are from another country and you want to have Face Lift in Mexico City, Mexico you can also benefit from the many packages offered to international patients, which include airport pick-up, transportation to and from the hotel and clinic, pre and post operative care, case manager, translator, or even accommodation. By choosing Face Lift in Mexico City, Mexico you will find top plastic surgeons, accredited medical facilities, highly experienced medical staff, modern techniques and affordable prices. Besides all these you will also recover and relax in one of the most beautiful countries in the world. Finding the right plastic surgeon in Mexico City, Mexico for you can be hard. There are so many, each of them promising great results. But there are some questions that you can ask, which will help you find the right one for you. How many years of experience do you have performing Cosmetic/Plastic Surgery? What are the advantages and disadvantages of Face Lift? What about the risks and complications? How often have you performed Face Lift? What should I expect after the surgery? What if I am not happy with the Face Lift results? How long should I be staying for recovery? Are you certified? Are you a member of any Cosmetic/Plastic Surgery association or society? What if something goes wrong during Face Lift procedure? Mexico has won its reputation as one of the best destinations for medical tourism, offering superlative medical care in the plastic surgery field. Internationally accredited medical facilities are located in large cities such as Mexico City.  Surgeons and physicians in Mexico provide high class care and expertise to both local and international patients and most of them have been trained in Europe and the US. Below you can find some of the best plastic surgeons in Mexico City, Mexico that offer most affordable price for Face Lift.Find out more about the best plastic surgeons in Mexico City, Mexico! Contact us and choose the best plastic surgeon!
---
Best Facelift Doctors in Mexico City
Mexico City has world-recognized plastic surgeons with master's degrees and international association memberships. They have attended medical schools in the country and abroad and have many years of clinical practice.
Mexico City plastic surgeons are specialists in facelifts and other cosmetic procedures. They offer their services to both local and foreign patients at competitive prices.
The best doctors in Mexico City for facelift surgery are on par with their colleagues in the United States. That's why they are among the best not just in Mexico but also worldwide.
Contact our PlacidWay team to meet your facelift doctor in Mexico City today!
---
Why Should I Get Facelift in Mexico City?
A facelift in Mexico City is a great option for those living in nearby countries, such as the USA and Canada. The affordable facelift prices clubbed with top-quality care attract thousands of medical tourists per year. As a patient, you'll benefit from excellent healthcare facilities, highly qualified professionals, cost savings, and the ease of traveling to and from Mexico City.
In addition, international patients find Mexico City very attractive to explore. Therefore, you can take a couple of days off work to enjoy this vibrant Mexican capital before or after the surgery.
With the metro area population estimated at over 22 million, Mexico City is among the most populous world cities. You can reach Mexico City from all major North American cities by air or road. The easiest way is to take a 3-5 hour flight to Mexico City International Airport (Aeropuerto Internacional Benito Juárez).
Here are the best places to visit in Mexico City during your stay for facelift surgery:
Floating Gardens of Xochimilco

Zócalo - the Plaza de la Constitución (Constitution Square)

The massive Mexico City Metropolitan Cathedral (Catedral Metropolitana de la Asunción de María)

The Basilica of Our Lady of Guadalupe

El Museo Frida Kahlo

El Palacio de Bellas Artes (The Palace of Fine Arts)

Teotihuacan pyramid - The ancient Mayan ruins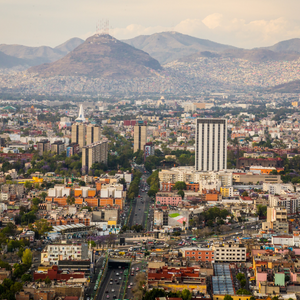 Mexico City, Mexico
---
Book Today Facelift in Mexico City with PlacidWay!
We hope that you found your clinic and surgeon who will perform a successful Facelift in Mexico City at an affordable price.
Get in touch with our Customer Care Team if you've any questions about facelift surgery in Mexico City. Or if you are ready to book a special package deal.
---