Package Details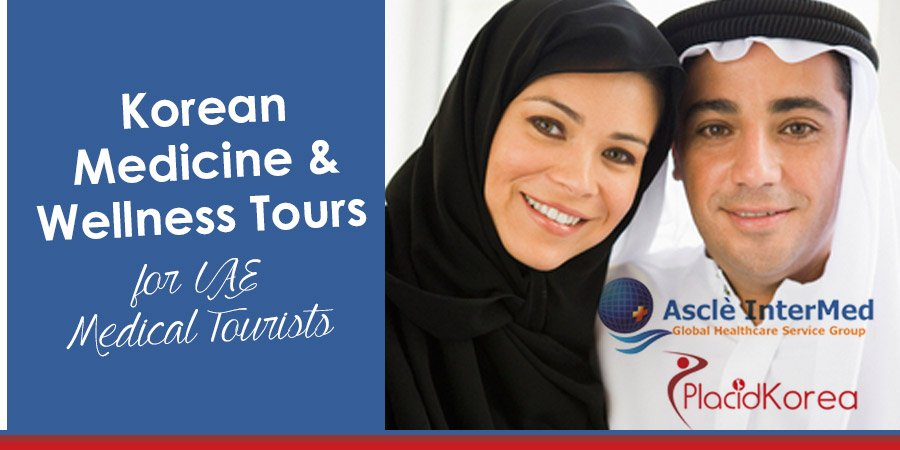 Korean Medicine and Wellness Tour
for UAE Medical Tourists
PlacidKorea - Asclè InterMed, Inc. is a provider of global health care related services with its main focus on business promotion of all the particulars associated with attraction of foreign patients and export of hospitals.
Therefore they have come up with a special medical program and wellness tour for patients flying from Dubai. The Korean Medicine and Wellness Tour offers 6 days of excellent medical care procedures and outstanding tourism services for 4 persons in the Asian country.

The package includes a translator, a guide, transportation, accommodation and meals. But airfare and some additional activity fees are not included.
During the 6 day stay, PlacidKorea - Asclè InterMed, Inc. have prepared a special schedule perfectly merging sessions of outstanding medical care procedures and touristic activities to guarantee an unique, Asian experience.
Day 1

Arrival in Seoul, South Korea

Seoul Night View Tour & Dinner

Dinner at a Jordanian Restaurant

Day 2

Medical Treatment with 5 Treatment Options

(Health Checkup, Women's Checkup, Skincare, Korean Medicine, Spine/Joint Checkup)

"Gyeongbokgung" Tour, One of The Palaces of Joseon Dynasty

Dinner at an Indian Restaurant

Day 3

Shopping at Coex Mall and Aquarium

Fusion Korean Traditional Musical "Fantastic"

Dinner at an International Restaurant

Day 4

Trip to GangWon Province:

Visit at 'Jeong GangWon', The Korean Folk Food and Culture Museum

Visit at BoKwang Phoenix Park

Day 5
Shopping Session at YeoJu Outlet
Day 6

Breakfast at Lotte Hotel "World"

Check-out

Return To Dubai, UAE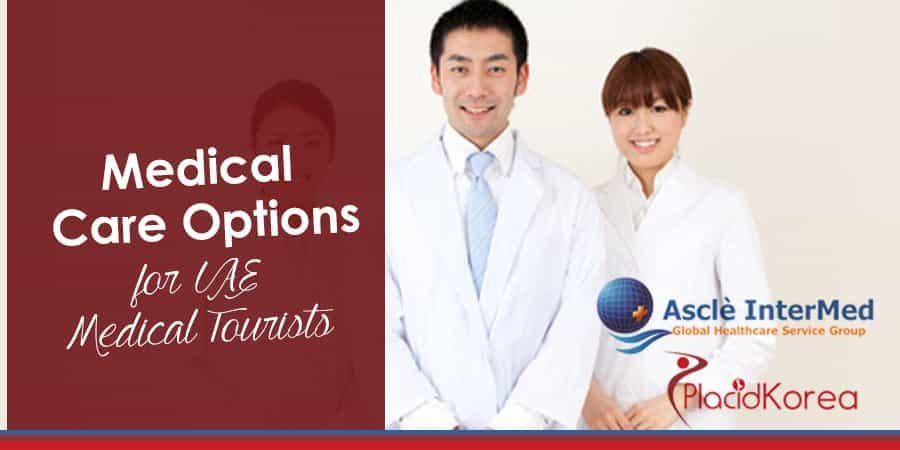 Medical Care Options During The Korean Medicine and Wellness Tour

Medical Program 1
Health Checkup (Cancer)
at Seoul National University Hospital, Seoul, South Korea
Price for Complete Health Checkup
Male: $2,307 USD
Female: $2,756 USD
Basic / Intensive
Designed for the early diagnosis of the most common diseases by ages
◈ Medical Consultation, Body Measurement, Blood Pressure, Ophthalmologic Tests, Dental Exam, Dietary Assessment
◈ Abdominal Ultrasonography
◈ Electrocardiography, Pulmonary Function Test, Chest X-ray
◈ Blood Tests
◈ Urinalysis, Stool
◈Vaccination Consultation
◈Sedative Gastric Endoscopy/Helicobacter, Tumor Marker
◈Sedative Colonoscopy/Blood Coagulation Test, Serum Pepsinogen, Abdominal CT/Visceral Fat Analysis,
◈Oto Rhinolaryngoscopy, Low Dose Chest CT, Thyroid Ultrasonography, Peripheral Blood Smear Test, Urine
◈Cotinine (Direct·Indirect Smoking Amount), Transrectal (Prostate) Ultrasonography
◈Sedative Colonoscopy/Blood Coagulation Test, Serum Pepsinogen, Oto Rhinolaryngoscopy, Thyroid Ultrasonography,
◈Peripheral Blood Smear Test, Breast Ultrasonography, HPV DNA Chip Test, Gynecologic Ultrasonography, Abdominal
◈CT/Visceral Fat Analysis, Low Dose Chest CT, Bone Densitometry/ Dorsolumbar Spine X-ray

Medical Program 2
Spine/Joint Check-up
at Wooridul Hospital, Seoul, South Korea
Region
Medical Procedures
Price
Spine Screening

Lumbar Region
Cervical Spine

$540 USD / region

Joint Screening

$540 USD / region

Medical Program 3
Women's Checkup
at Miz Medi Hospital, Seoul, South Korea
Women's Check-up
Couple Fertility Screening

1.Cervical Cancer Screening (PAP)

2. Pelvic Sono

3.Breast Ultrasonography

4.Thyroid Ultrasonography

5. Mammography

Female: Consultation, Fallopian tubes, Uterine Cancer Screening, Basic Blood Test, Basic Hormone Test, Ultrasonography

Male: Consultation, Semen examination, Intensive Semen Antibody Test, Urology Ultrasonography, Basic Blood Test, Basic Hormone Test

$600 USD
$1,500 USD - $2,000 USD

Medical Program 4
Skincare
at JK Plastic Surgery Center, Seoul, South Korea
This multi-skin whitening program will clarify and brighten your complexion giving you a clear and translucent skin. It will smooth away uneven skin tones and eliminate spots and freckles caused by the sun's ultraviolet rays.
Price:
Basic $990 USD
Premium $3,195 USD
This JK Plastic Surgery's patient specific Power Con program, is an exceptional treatment program designed to assist both male and female customers to recover from conditions such as, fatigue, lack of sleep, early symptoms of influenza, mental and physical fatigue.
Price:
Basic $1,125 USD
Premium $3,195 USD
This Patient-Specific Vital Therapy, designed by JK Plastic Surgery, is an excellent program to alleviate fatigue, stress and strengthen sexual functions, recommended for clients of all ages and gender wanting to improve their vitality.
Basic $1,080 USD

Medical Program 5.
Oriental Medicine
at Kwangdong Hospital of Traditional Korean Medicine, Seoul, South Korea
Treatment of Female Symptoms
Herbal Medicine (1 Month) : $360 USD ~
Basic Treatment (Acupuncture + Moxibustion + Phyto-steam treatment ) : $180 USD ~
Petite Facial Acupuncture: $144 USD
This type of acupuncture is also known as facial rejuvenation acupuncture or acupuncture facelift. Ultra-fine needles are inserted into or around specific wrinkles, acupoint and muscle points.
Benefits: collagen production, skin elasticity, puffiness removal and the skin tone improvement.
Recommended for: dull and tired looking skin, puffiness, sagging skin.
Immediate effects: freshened look, tone and elasticity improvement.
May occur some bruising.
No need for recovery time.
Duration of the procedure: between 1 and 2 hours.

PlacidKorea - Asclè InterMed is your ultimate resource for
the world-renowned Korean Medical Care!
For more information about the medical services provided by the Korean center, click the button below!