Tummy Tuck Package in Nuevo Progreso, Mexico
Package price starting from:
$3450
Treatment:
Cosmetic/Plastic Surgery, Tummy Tuck Surgery, Abdominoplasty
Location:
Calle Coahuila 210 Nuevo Progreso Tamaulipas, Mexico
Focus Area:
Tummy Tuck in Nuevo Progreso, Mexico | State of Art Medical Center
---
Transform Your Body with Our Expert Abdominoplasty Package in Nuevo Progreso, Mexico
Certified Specialists for Abdominoplasty Surgery in Nuevo Progreso, Mexico
We are a multidisciplinary team of highly specialized surgeons and doctors who are certified in different disciplines, and with over 30 years of experience to offer you the best service and results.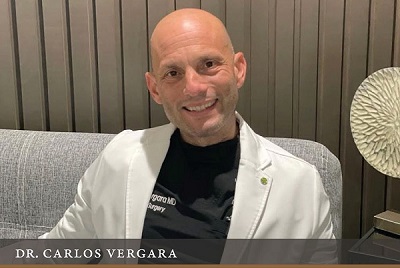 Specialization: Certified Aesthetic Surgeon
Aesthetic surgeon, master's degree in aesthetic medicine (AMNE) with 20 years of experience. He studied at the University of Monterrey and Valle de Bravo University. He is certified by the College of Masters in Cosmetic Surgery and the National Association of Aesthetic Medicine.
Common Questions about Abdominoplasty Surgery
Q: What does a tummy tuck do?
A: A tummy tuck, also known as abdominoplasty, is a surgical procedure designed to remove excess skin and fat from the abdominal area, and to tighten the underlying muscles to create a flatter, smoother abdominal profile. This procedure can address issues such as loose skin and stretch marks and restore abdominal muscle tone that may have been stretched or damaged due to weight fluctuations, pregnancy, or other factors.
Q: How long does tummy tuck last?
A: The results of a tummy tuck can be long-lasting, but they are not permanent. The effects of aging, weight changes, and other factors can cause the abdominal skin and muscles to stretch or loosen over time. However, the results of a tummy tuck can be maintained through a healthy diet and regular exercise, and many patients report being very satisfied with the results of their procedure for many years.
Q: Is a tummy tuck good for you?
A: Whether a tummy tuck is good for you depends on your individual circumstances and goals. If you have loose or sagging skin in the abdominal area or have stretched or weakened abdominal muscles due to weight fluctuations, pregnancy, or other factors, then a tummy tuck may be a good option for you. It is important to have a thorough consultation with a qualified plastic surgeon to determine if a tummy tuck is the best procedure for your needs, and to discuss the risks, benefits, and potential outcomes of the procedure.
Q: How painful is a tummy tuck?
A: After a tummy tuck, you can expect some discomfort and swelling in the abdominal area, which can be managed with pain medication prescribed by your doctor. Most patients report that the pain is manageable and that they are able to return to their normal activities within a few weeks after the procedure. However, the pain level can vary depending on the extent of the surgery, and some patients may experience more discomfort than others. Following your doctor's instructions for post-operative care is essential to help minimize discomfort and promote healing.
Book Your Tummy Tuck Package in Nuevo Progreso, Mexico Now!
Whether you want to restore your pre-baby body, remove excess skin after weight loss, or boost your confidence, our tummy tuck procedure can help you achieve your desired results. With affordable pricing and a commitment to safety and patient satisfaction, there's never been a better time to book your tummy tuck in Nuevo Progreso, Mexico. Let us help you transform your body and regain your confidence today!

Related Experiences:
Tummy Tuck in Guadalajara Mexico – Get Pre-Baby Bodies Back!
Tummy Tuck in Mexico City
Tummy Tuck in Merida Mexico – Get Flat and Firm Belly Now!
Tummy Tuck in Mexicali Mexico – Get Better Posture Now!
Tummy Tuck in Tijuana Mexico – Improve Your Body Shape!
Tummy Tuck in Cancun Mexico - Get Incredible Result Now!
---
Cosmetic/Plastic-Surgery Related Packages
Cosmetic/Plastic-Surgery Related Experiences