Affordable Spinal Surgery Packages in Mexicali, Mexico
Package price starting from:
$9250
Treatment:
Orthopedic/Knee Surgery,Spine Care/Surgery,Vascular Surgery, Chronic Cerebral Spinal Venous Insufficiency Liberation Treatment, Spinal Tumor Removal , Spinal Stenosis Operation, Spinal Fusion Surgery, Spinal Decompression, Open Laser Assisted Spinal Discectomy, Lumbar Spinal Stenosis, Chronic Cerebral Spinal Venous Insufficiency Liberation Treatment, Spinal Fusion
Focus Area:
Family Hospital | Mexicali | Mexico | Spinal Surgery
---
Spinal Surgery in Mexicali, Mexico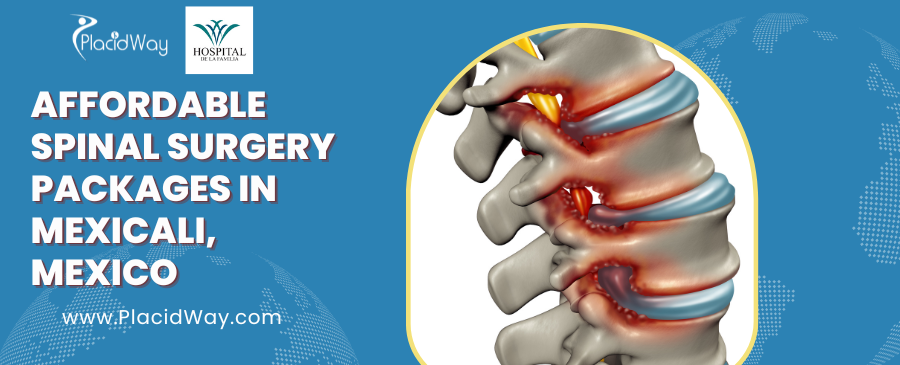 If you are looking for an affordable spinal surgery package that meets your needs, Mexicali, Mexico is the place to go. At Family Hospital in Mexicali, you can get high quality medical care with a price tag that won't break the bank. Now you can get improvement in your spinal condition while saving money. Our surgeons are highly qualified and experienced in the field of spinal surgery, so you can rest assured that you're getting top-notch medical care. Check below for more information about our affordable spinal surgery packages in Mexicali, Mexico.
Cost of Spinal Surgery Packages in Mexicali, Mexico
You can get spinal surgery in Mexicali, Mexico with the price starts at $9,250. Check our price detail below to learn more:
Spinal Surgery Pricing:
| | |
| --- | --- |
| Detail | Cost in USD |
| Decompression of Posterior Nerve Roots. – Artrodesis transpecular L4/L5. S1 | $9,250 |
| Material Required:  2 Rods, 6 Screws, 1 Crosslink, Bone Chip 15 cc, Matriz 5 Cc. | $5,500 |
| Total | $14,750 |
Price Comparison Vs. Other Countries
| | |
| --- | --- |
| City/Country | Cost in USD |
| United States | $45,800 |
| Canada | $28,700 |
Note: Price can change and vary depends on complexity of procedure and patient condition. Click button below for more information:

What is Spinal Surgery?
Spinal surgery, also known as "Back Surgery", is the surgical intervention of your Spinal Column to decompress, fix, or remove nerve blockages that is causing numbness, inmobility, and/or pain. Spine surgery is more common with patients over 50 years old, its symptoms can be Generic but they can also be caused by years of incorrect physical posture and/or accidents.
There are several Spinal Surgical Procedures available to help patients get rid of symptoms. The type of procedure that is best for you will depend on your condition. Not all procedures are reccomended for all conditions, it's important that we review your Bone Density CT scan, MRI images/report in to determine which Spinal Surgical Treament will solve your condition.
Important Facts:
3 Board Certified Neurosurgeon are Present (Dr. Hernandez - Pena & Team)

All Spinal Procedures are performed with Nerve conduction study (Technology to see Nerve location & management during surgery, massively reducing nerve risk)

Our Specialist have had experience with 90% of Spinal Procedures 
Advantages of Choosing Orthopedic Surgery in Mexicali, Mexico
Affordable cost

Access to the latest medical technology and treatments

Highly specialized orthopedic surgeons with extensive training and experience

International accreditation standards

Minimum wait time for surgeries due to ample hospital beds

Quality of care that is on par with US standards

Patient friendly services such as free consultations and preoperative evaluations
Spinal Surgery Inclusions:
All surgical fees, operating rooms fees, material used
All Doctor fees, Anesthesia/Anesthesiologist
Up to 4 consultation(s) with Specialist (1 before & 3 post-surgery)
3 nights (1 before & 2 after surgery)
Hospital services while in hospital (Nursing care, Meals & Meds)
Concierge services (Medical Travel Assistance)
Ground transportation within Mexicali or Calexico for pick-up / drop offs
Spinal Surgery Exclusions:
Airfare (If necessary)

Pre-Ops ($250)

Medications ($100 estimate)

Hotel or Recovery Center Expense ($ 80 - $ 125 x night)

Depends on location/hotel of choice

ICU / Blood transfusions (If necessary)

Transportation from SD CA ($350) or Yuma AZ ($300) round trip.
Note:
Total Extras (Airport Transport, Pre-Ops, Meds, 5 Extra Nights ) - $ 1,200

GRAND TOTAL - $15,950 (with 7 Nights All-Included Except Meals)
How to Pay:
Certified Cashier's Check to: Portofino Consulting Services

Visa/Mastercard or American Express (3% terminal fee will apply)

Paypal: (Email Protected)

Venmo: Carlobg

Bank : Wells Fargo Bank (For Wire Transfers or Direct Deposits)

Cash
Itinerary of Trip:
The schedule is based on an estimated time-frame.
DAY 1
Arrive, Check-in, Pre Ops, rest (Night 1) Let us know if you need airport transportation.
DAY 2
Surgery in AM, rest in Hospital (Night 2)
DAY 3
Eligible to leave to a Hotel (1 night included at Extended Suites or Similar)
Day 3 - 7
Hotel Stay (We'll discuss this to see what is the best hotel for you or Recovery House)
DAY 8
Eligible to go back home , If you need transportation to Airport, we can assist you with it, just let us know how you plan to arrive
Spinal Surgery Pre-Op Test:
A complete physical examination

Urine sample to test for any infection

Blood tests to assess your overall health

Electrocardiogram (EKG)

Chest X-Ray
Payment Options: Cash, credit cards, and personal and travelers' checks.
Note: The center may require a money deposit once a patient decides to book the surgery.
Best Orthopedic Surgeon in Mexicali, Mexico at Family Hospital
Dr. Alejandro Montan – Orthopedic Surgeon in Mexicali, Mexico
Graduated of the UABC Faculty of Medicine in Mexicali, Mexico.

Specialized in Orthopedics and Traumatology at Hospital de Traumatology and Orthopedics Lomas Verdes.
Educations and Trainings:
Advanced Trauma Life Support

Pathology Management of the Hip, Femur, and Knee

Foot and Ankle Pathology

Attends educational seminars in Orthopedics

Language: Spanish and English
About Family Hospital | Hospital de la Familia in Mexicali, Mexico

Family Hospital has been featured in international publications such as The New York Times, French TV, Current TV, and China news. Approximately 40% of patients get treatment live or work in the U.S. For this reason, Hospital de la Familia has turned a strong focus in providing the best Medical Tourism service. 
In 2003, Hospital de la Familia (Family Hospital) was created by an elite group of specialists seeking a higher standard of medical care that was on demand in the region. Most of the founding specialists where Gynecologists, which brings to the attention that the hospital's initial name was "Hospital de la Mujer"
Hospital de la Familia is one of the elite hospitals in the city with some of the most recognized surgeons in the region. Located yards away from the US/Mexico border entry port II, The Family Hospital has by nature been a very attractive medical tourism destination due to its close proximity to the United States. Our experience has led us to continue our growth every year and it's all thanks to our awesome patients that continue to recommend us for being the best!
Hospital Rooms, Cafeteria & Chapel
Family Hospital offers 32 private patient rooms staffed by doctors and specialized personnel that understand how important it is to make you feel at home during your stay with us, even if its a few of hours or days.
Operating Rooms
5 complete surgery rooms, pre-operative and recovery rooms plus Adult & Pediatric IC Units.
What you can get:
Pick up transportation from San Diego, CA, Palm Springs, CA, Yuma, AZ or El Centro CA (Round trip)

Personal pick up from home or any location 150 miles from Mexicali, Mexico

Ground transportation from Hospital, Hotel, Doctors o­ce & pharmacy

After surgery information to take back home (FAQ's)

Itinerary Planning

Case Manager Assitance
Hospital de la Familia Real Patient Testimonials
"My experience at "Hospital de la Familia" has been that of dealing with a serious institution, where at all times it has ful­lled my needs and concerns..." by Carolina Valles.
Why Choose Mexicali, Mexico for Spinal Care?
In Mexicali, Mexico, you can get top-notch spinal surgery at a fraction of the cost back in the U.S. Spinal surgeons in Mexicali are highly qualified and trained to provide quality care for patients with all types of spine issues, from herniated discs to degenerative conditions. The hospitals and facilities in Mexicali offer state-of-the-art equipment and some of the latest innovations in spine surgery, so you can be sure that you'll receive the best possible care.
In addition to quality and affordability, Mexicali offers a convenient location for those seeking spinal surgery. Located just minutes away from San Diego, California, it makes for an easy trip for those who are looking for medical treatments. The cities in Mexico near Mexicali provide a variety of accommodations and activities for visitors to enjoy during their stay, so you can make the most of your recovery time.
FAQ about Spinal Surgery in Mexicali, Mexico
Q:  Is Spinal Surgery available in Mexicali?
A: Yes! Mexicali is home to some of the best spinal surgeons in Mexico. With highly trained and experienced professionals, patients can rest assured that they are receiving top-notch care. Mexicali has a wide variety of spinal surgery options available including minimally invasive techniques, robotic-assisted surgery, and reconstructive spine procedures.
Q: What you can expect during Spinal Surgery?
A: Before the surgery, your surgeon will perform a thorough evaluation of your medical history and physical condition. During the procedure, you may be given anesthesia to ensure that you remain comfortable throughout the process. Depending on the type of spinal surgery you are receiving, your doctor may use a combination of cutting-edge technologies such as microscopes, X-rays and/or computer guidance systems to ensure a successful outcome.
Q: What type of recovery can I expect after spinal surgery?
A: Recovery times vary depending on the complexity of the surgery performed. Generally speaking, some pain and discomfort is to be expected after any type of major surgical procedure. Your doctor will provide you with specific instructions to follow for your particular case and should be followed carefully. Also, it is important to note that any type of physical activity should be avoided until you have been cleared by your surgeon. Additionally, a comprehensive rehabilitation program may also be recommended in order to ensure the best possible outcome.
Q: When should I contact a spinal surgeon?
A: If you are experiencing persistent back pain, numbness or tingling in your arms and legs, or difficulty walking or standing up, it is important to contact your doctor right away. Your doctor will be able to diagnose the cause of your discomfort and recommend an appropriate treatment plan. If you are considering spinal surgery, it is best to discuss the risks and benefits with your doctor before deciding on a course of action.
Get FREE QUOTE for Spinal Surgery in Mexicali, Mexico at PlacidWay!
At PlacidWay, we understand that medical care should be accessible to everyone. That's why we offer FREE QUOTE for spinal surgery in Mexicali, Mexico. Our experienced customer representative will help you find the best quality and affordable healthcare facility for your needs. Click contact us button below to get started:

Related Experiences:
Spine Surgery in Mexico - Your Relief from Back Pain!
Spine Surgery in India - Get Safe and Effective Care
Choose Spine Surgery in Turkey at an Affordable Price
---
Orthopedic/Knee-Surgery Related Packages
Orthopedic/Knee-Surgery Related Experiences