Dental Crowns Package in Tijuana, Mexico by Advanced Smile Dentistry
Package price starting from:
$250
Treatment:
Dentistry, Dental Crowns
Focus Area:
Advanced Smile Dentistry | Tijuana | Mexico | Dental Crowns
---
Revamp Your Smile with Dental Crowns in Tijuana, Mexico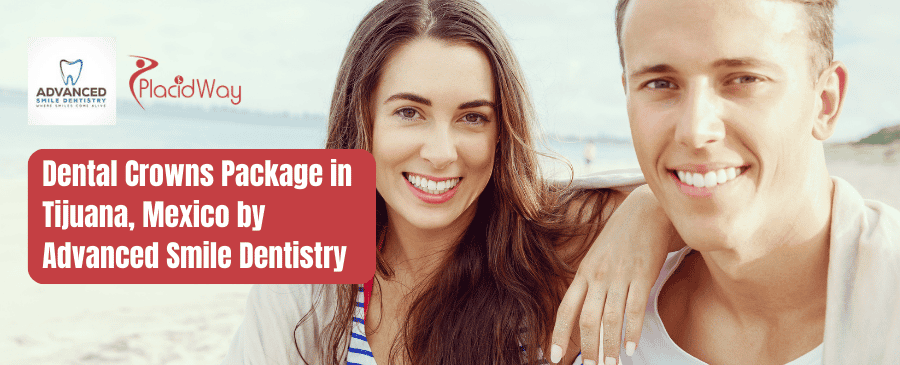 Embarking on a journey to restore your smile and dental health is a significant decision, and it's crucial to choose the right destination for this transformation. The Dental Crowns Package in Tijuana, Mexico, offered by Advanced Smile Dentistry, combines affordability, quality, and the charm of Tijuana's cultural backdrop. Check our package details below for more information.
You can get dental crowns package in Tijuana, Mexico by Advanced Smile Dentistry with the price starts at $250. Please refer to our price list table below:
| | |
| --- | --- |
| Location | Cost in USD |
| Tijuana, Mexico | $250 |
| United States | $1,500 |
| Canada | $1,000 |
Note: price may change and vary depends on complexity of procedures and patient conditions. Click FREE QUOTE button below to learn more.

Cost-Efficiency: Dental treatments in Tijuana are notably more affordable than in many Western countries, without compromising quality. The substantial cost savings make it a compelling choice for those seeking top-notch dental care without the exorbitant price tag.
Highly Skilled Dentists: Advanced Smile Dentistry boasts a team of experienced, well-trained professionals. The clinic's dentists are proficient in the latest dental techniques and technologies, ensuring patients receive the highest level of care.
State-of-the-Art Technology: The clinic is equipped with cutting-edge dental technology, facilitating precise and efficient treatments. From digital X-rays to 3D imaging, you can trust that your dental procedures will be carried out with the utmost accuracy.
Scenic Location: Tijuana's picturesque surroundings provide a serene and enjoyable backdrop for your recovery period. With its beautiful landscapes and proximity to the Pacific Ocean, you can relax and rejuvenate while undergoing treatment.
Convenient Access: Tijuana's proximity to the US border ensures easy travel for international patients. This accessibility makes it a convenient choice for those traveling from the United States and beyond.
The dental crowns comprises a comprehensive examination, consultation, X-rays, tooth preparation, dental impressions, custom crown fabrication, and professional fitting. The process commences with a thorough assessment of your dental health and a consultation to discuss your specific needs. X-rays are taken to provide a detailed view of your teeth, ensuring an accurate diagnosis. Tooth preparation involves precise shaping to accommodate the crown, and dental impressions are then made for the fabrication of custom crowns that fit seamlessly. Finally, the crowns are expertly fitted, guaranteeing optimal comfort and aesthetics.
Consultation: A comprehensive assessment by the dentist to determine your individualized treatment plan and address any questions or concerns you may have.
X-rays: Essential for an accurate diagnosis, these images are a vital part of the treatment process and are included in the package.
Tooth Preparation: Precise tooth shaping for crown placement, ensuring a secure and comfortable fit for your new crowns.
Crown Fabrication: Crafting custom crowns using high-quality materials to match the color, shape, and size of your natural teeth.
Fitting: Professional placement of the crown to ensure optimal comfort and aesthetics. Your dentist will ensure the crowns are securely in place and that your bite is perfect.
Travel Expenses: Costs associated with transportation and accommodation are not part of the package. These expenses may vary depending on your location and preferences.
Additional Procedures: Any necessary treatments beyond crowns come with additional charges. If you require further dental work, it will be discussed with you, and a separate treatment plan will be created.
Medications: Prescriptions or pain relief medications post-treatment are at an additional cost. The specific medications needed for your recovery will be discussed with you by the dental team.
Special Materials: Opting for premium crown materials may incur an extra cost. Standard crown materials are included in the package, but premium options may be available at an additional charge.
Insurance: It's important to check with your insurance provider to understand what aspects of your treatment may be covered. Ensure your coverage for unexpected complications or follow-up care.
Dental Crowns Pre-Op Tests:
Dental Examination: To assess your current oral health and identify any issues that need to be addressed before the crown placement.
X-Rays: These images provide a comprehensive view of your dental condition, helping the dentist make informed decisions about your treatment.
Blood Tests: To ensure you're fit for the procedure and to identify any underlying medical conditions that may affect your treatment.
Allergy Testing: Crucial to ensure that the materials used in your crowns do not trigger allergic reactions. This testing helps to avoid any potential complications or discomfort.
Medical History Review: To identify any specific health concerns that need to be taken into account during your treatment. Your dentist will discuss any pre-existing conditions or medications you're taking to ensure your safety throughout the procedure.
Advanced Smile Dentistry is home to a team of skilled dentists specializing in various areas of dentistry, ensuring you receive the best care for your specific needs. The clinic takes pride in its experienced dental professionals who are dedicated to providing the highest standard of care. Whether you require general dental services, cosmetic procedures, or specialized treatments, the clinic has the expertise to meet your dental needs.
Dentists in Tijuana, Mexico

 

Dr. Alejandra Ponce

 

Dr. Julian De Anda
Best for those willing to travel for high-quality dental care: Tijuana's accessibility and quality dental services make it a great choice for those who are open to international travel.
A great choice for patients desiring natural-looking results: Dental crowns are designed to mimic the appearance of your natural teeth, providing a seamless and natural look that enhances your smile.
Ideal for those with damaged or misshapen teeth: If you have teeth that are cracked, chipped, discolored, or misshapen, dental crowns can effectively restore their appearance and function.
Suitable for patients seeking a cost-effective solution: Dental crowns in Tijuana offer exceptional value for the quality of care provided, making it an attractive option for budget-conscious individuals.
Recommended for individuals with good oral health and hygiene habits: To ensure the success of your dental crowns, it's essential to maintain good oral hygiene and attend regular dental check-ups.
What to Expect During Dental Crowns?
An initial consultation and thorough examination: Your dental journey begins with a comprehensive consultation. The dentist will discuss your goals and assess your oral health to determine the most suitable treatment plan.
Tooth preparation, which may involve local anesthesia: If your tooth requires reshaping or resizing to accommodate the crown, the dentist will administer local anesthesia to ensure your comfort during the procedure.
Dental impressions for precise crown fabrication: These impressions are crucial for creating custom crowns that fit your dental structure accurately.
Temporary crowns to protect the prepared teeth: After tooth preparation, temporary crowns are placed to safeguard your teeth until the permanent crowns are ready. These temporaries allow you to eat and speak without difficulty.
A follow-up visit for permanent crown fitting: You'll return to the clinic once your custom crowns are fabricated. The dentist will carefully remove the temporary crowns and secure the permanent ones in place, making any necessary adjustments for a perfect fit.
Aftercare instructions for optimal healing: Your dentist will provide you with detailed instructions on post-treatment care. This guidance will include advice on maintaining good oral hygiene, what to eat or avoid, and any medications you might need during your recovery.
FAQs (Frequently Asked Questions)
1. Are dental crowns in Tijuana, Mexico of the same quality as those in the United States?
Yes, dental crowns in Tijuana are of excellent quality, often made with the same materials and techniques, but at a significantly lower cost.
2. How long can I expect my dental crowns to last?
Dental crowns in Tijuana can last 10-15 years or more with proper care and maintenance, similar to crowns in other countries.
3. Is it safe to get dental crowns in Tijuana, Mexico?
Yes, it's safe. Tijuana is a popular destination for medical tourism, known for modern clinics and experienced dental professionals.
4. Can I choose the material for my dental crowns in Tijuana?
Yes, you can often choose from various materials, including porcelain, ceramic, or metal, depending on your preferences and budget.
5. How do I book a consultation for dental crowns in Tijuana, Mexico?
Booking a consultation is simple. Contact a reputable clinic like Advanced Smile Dentistry in Tijuana directly or go through medical tourism agencies like PlacidWay to schedule your appointment.
Book your consultation at PlacidWay Medical Tourism today and embark on a journey to Advanced Smile Dentistry in Tijuana, Mexico. Your radiant smile awaits with dental crowns! Don't miss out on the opportunity to experience world-class dental care in a beautiful and cost-effective setting. Whether you're looking to address dental issues or enhance your smile's aesthetic appeal, Tijuana is the place to be for top-quality dental services. Make the most of this opportunity to achieve the smile you've always wanted, all while enjoying the picturesque landscapes and rich culture of Tijuana, Mexico.

Related Experiences:
Dental Crowns in Dubai UAE
Dental Crowns in Juarez Mexico
Dental Crowns in Bogota Colombia
Dental Crowns in Colombia
Dental Crowns in Zagreb Croatia
Dental Crowns in Izmir, Turkey
---