Tummy Tuck Package by Medina Flores in Merida, Mexico
Package price starting from:
$4500
Treatment:
Cosmetic/Plastic Surgery, Tummy Tuck Surgery
Location:
Anexo CMA Consultorio 14. Calle 54 #365 Col. Centro. Merida Yucatan, Mexico, Mexico
Focus Area:
Medina Flores Plastic Surgery | Merida | Mexico | Tummy Tuck | Abdominoplasty
---
Achieve Your Dream Figure with Abdominoplasty in Merida, Mexico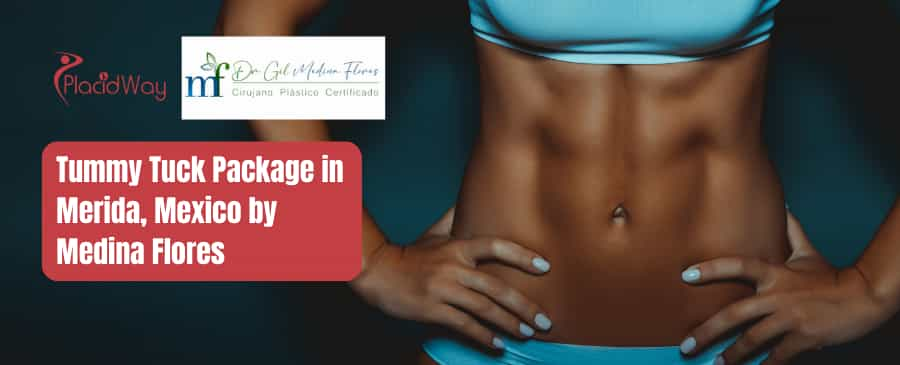 In the bustling city of Merida, Mexico, Medina Flores offers a remarkable Tummy Tuck Package that combines medical excellence and an exotic destination. This all-inclusive cosmetic surgery journey is designed to help you achieve the body of your dreams while exploring the vibrant culture and picturesque beauty of Merida. Under the expertise of Dr. Medina Flores, a highly skilled and experienced plastic surgeon, you can regain confidence and transform your appearance in this enchanting Mexican city.
You can get tummy tuck package in Merida, Mexico by Medina Flores with the price starts at $4,500. Check our price list detail below to learn more:
| | |
| --- | --- |
| City, Country | Cost in USD |
| Merida, Mexico | $4,500 |
| United States | $12,000 |
| Canada | $13,500 |
Note: price may change and vary depends on complexity of procedures and patient condition. Click free quote button below to learn more:

Cost-Effectiveness: Merida offers competitive prices for medical procedures, including tummy tucks, without compromising quality, enabling significant cost savings compared to other countries.
Experienced Surgeons: Dr. Medina Flores and his team possess extensive experience in performing successful tummy tucks, ensuring a safe and satisfying surgical experience.
Advanced Facilities: Renowned medical facilities in Merida are equipped with state-of-the-art technology and adhere to international healthcare standards.
Recuperation in Paradise: After the procedure, recover in the lap of luxury amidst Merida's splendid landscapes and warm hospitality.
Cultural Exploration: Embrace the rich heritage and traditions of Mexico as you embark on a memorable medical tourism journey.
Tummy Tuck in Merida, Mexico Before and After Results at Dr. Medina Flores
Witness the remarkable transformations achieved through tummy tuck procedures performed by Dr. Medina Flores. The before and after results demonstrate the surgeon's expertise in sculpting beautifully contoured abdomens, enhancing the natural shape of each patient.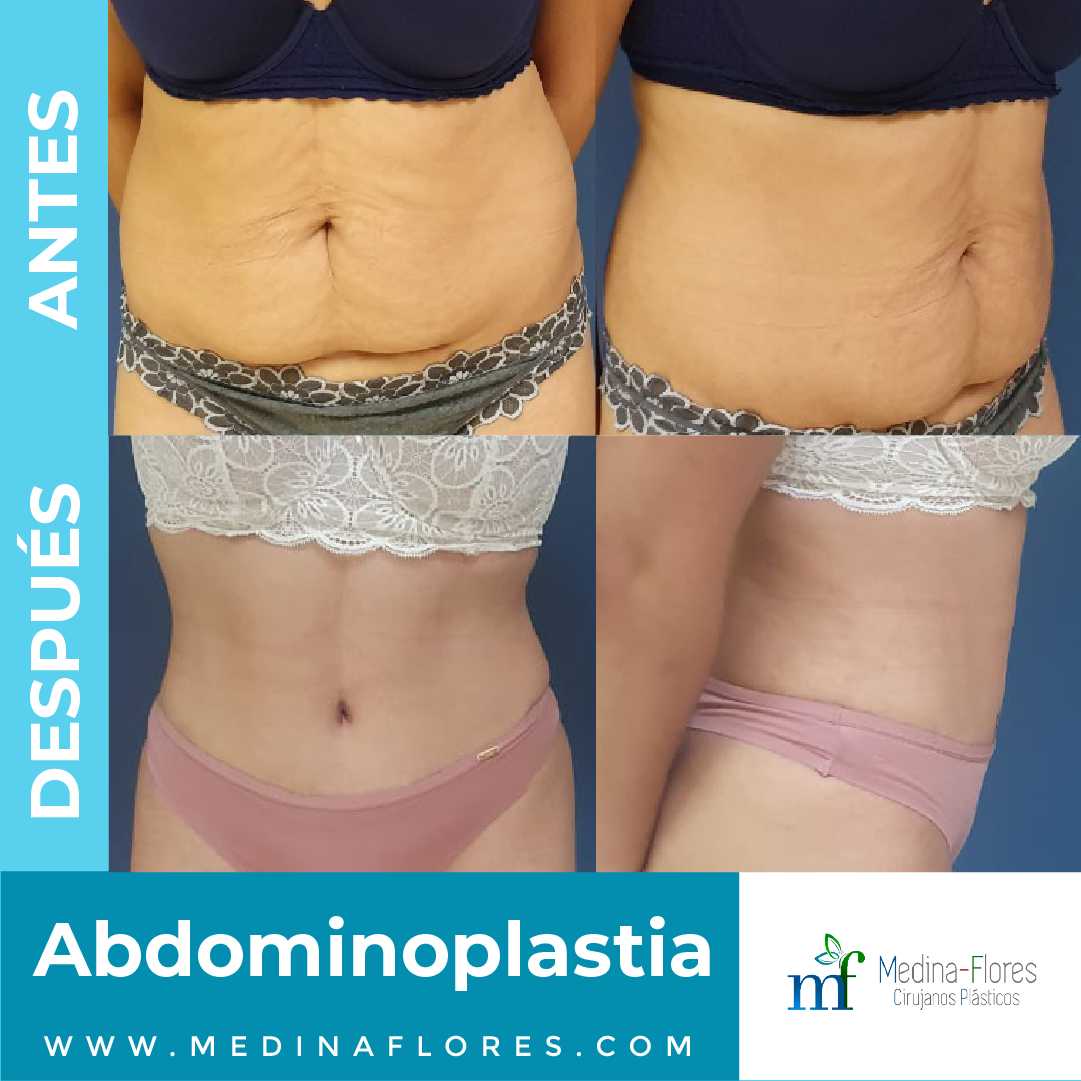 The Tummy Tuck procedure, also known as abdominoplasty, aims to remove excess skin and fat from the abdominal region, resulting in a firmer and more toned appearance. The surgery involves making incisions, repairing weakened muscles, and contouring the abdomen. Dr. Medina Flores will discuss the personalized treatment plan and guide you through the procedure with care and precision.
Pre-Operative Assessments: Thorough medical evaluations and consultations are conducted to ensure your suitability for the tummy tuck procedure.
Hospital Stay: Your stay at a top-notch medical facility is covered, offering a comfortable and safe environment for your recovery.
Surgical Procedure: The tummy tuck surgery, performed by Dr. Medina Flores, will be tailored to meet your specific needs and expectations.
Post-Operative Care: Comprehensive follow-up and aftercare support are provided to optimize healing and results.
Local Transportation and Assistance: Enjoy hassle-free transfers between the airport, hotel, and hospital, with a dedicated coordinator offering support throughout your journey.
Travel Costs: International travel expenses to and from Merida, Mexico, are not included in the package.
Accommodation: While the hospital stay is covered, accommodation outside the hospital is not included.
Additional Procedures: Costs associated with supplementary treatments or surgeries will be separate from the tummy tuck package.
Personal Expenses: Any expenses incurred for personal shopping, sightseeing, or leisure activities are not part of the package.
Complications Management: While rare, additional medical procedures required due to unforeseen complications may incur extra charges.
Tummy Tuck Surgery Pre-Op Tests
Blood Tests: To assess overall health and identify any pre-existing conditions that could affect surgery.
Physical Examination: A thorough evaluation of your medical history and current health status.
EKG/ECG: To monitor your heart's electrical activity and ensure safe anesthesia administration.
Imaging Studies: Such as ultrasound or CT scans, to visualize the abdominal area and plan the surgery effectively.
Smoking and Drug Use Screening: Identifying habits that might impact the surgery or healing process.
Dr. Medina Flores is a board-certified plastic surgeon with extensive experience in performing tummy tuck procedures. His dedication to patient safety, along with a keen eye for aesthetics, has earned him a reputation as one of Merida's leading cosmetic surgeons. Dr. Flores is committed to achieving natural-looking results that exceed patients' expectations.
Plastic Surgeon in Merida, Mexico for Abdominoplasty

Dr. Gilberto Medina Flores

• Plastic surgeon, aesthetic and reconstructive

• Specialty in Craniofacial Surgery

• Certified Plastic Surgeon 1978

• Ced. Prof. 6240072 UNIMAYAB

• Ced. Specialty 10554897 UDG

• Advertising Notice: N 223301202A0119
Is Tummy Tuck Right for You?
Suitable candidates for a tummy tuck are individuals with loose abdominal skin and weakened muscles due to factors like pregnancy, weight fluctuations, or aging.

Those seeking an improved body contour and increased self-confidence may benefit from this procedure.

It is essential to have realistic expectations and be in good overall health before considering the surgery.

Dr. Medina Flores will conduct a thorough assessment to determine your candidacy for the procedure.
What to Expect During the Tummy Tuck
Anesthesia Administration: Before the procedure, anesthesia will be administered to ensure your comfort and safety during surgery.
Incision Placement: Dr. Medina Flores will strategically place incisions to minimize visible scarring.
Tissue Removal and Muscle Repair: Excess skin and fat will be removed, and weakened abdominal muscles will be repaired to create a firmer, toned look.
Incision Closure: The incisions will be meticulously closed, leaving you with a well-contoured abdomen.
Recovery Guidance: Post-surgery, you'll receive detailed instructions to promote proper healing and maximize results.
Q: What is a Tummy Tuck, and who is an ideal candidate?
A: A Tummy Tuck, or abdominoplasty, is a cosmetic surgery that removes excess skin and fat from the abdomen, tightening the muscles for a firmer appearance. Ideal candidates are individuals with loose skin due to pregnancy, weight loss, or aging.
Q: How experienced is Dr. Medina Flores in performing Tummy Tucks?
A: Dr. Medina Flores is a highly experienced and board-certified plastic surgeon in Merida, Mexico, with a successful track record in performing Tummy Tuck procedures, delivering natural-looking and satisfying results.
Q: What sets Merida, Mexico, apart as a destination for Tummy Tuck surgery?
A: Merida offers the perfect blend of high-quality medical facilities, skilled surgeons like Dr. Medina Flores, and a rich cultural experience. Patients can recuperate in a beautiful city with a warm climate and explore its vibrant heritage.
Q: How long is the typical recovery period after a Tummy Tuck in Merida?
A: The recovery period varies for each patient, but most individuals can return to light activities within 2-4 weeks. Full recovery and the final results may take several months.
Q: Is it safe to travel to Merida, Mexico, for a Tummy Tuck during the COVID-19 pandemic?
A: Merida has implemented strict health and safety protocols to ensure the well-being of patients. Medical facilities adhere to international guidelines, making it safe to travel for a Tummy Tuck in the city.
Ready to embark on your transformational journey? Book a consultation today with PlacidWay Medical Tourism and discover how the Tummy Tuck Package in Merida, Mexico, by Dr. Medina Flores can bring out the best version of yourself. Don't miss the opportunity to combine world-class healthcare with a memorable cultural experience in this captivating city. Click free quote button below to learn more:

Related Experiences:
Tummy Tuck in Merida, Mexico
Tummy Tuck in Mexico City
Tummy Tuck in Mexicali Mexico – Get Better Posture Now!
Tummy Tuck in Guadalajara Mexico – Get Pre-Baby Bodies Back!
Tummy Tuck in Tijuana Mexico – Improve Your Body Shape!
Refine Your Figure with Tummy Tuck in Mexico
---