Package Details

Highly Affordable Liposuction Package in Puerto Vallarta, Mexico
Liposuction is a preferred combined process that does a lot of work in a single cosmetic procedure. It is a one-time technique to reshape your body. The procedure brilliantly reshapes the desired areas of your body by getting you rid of the excess fat and skin that anyhow was impossible to be eliminated from your body by diet and routine physical exercise.
Qualified and experienced cosmetic surgeons at Puerto Vallarta, Mexico apply multiple body sculpting techniques to give you a lean and toned figure. Liposuction is, in fact, a combination of Liposuction, Breast Augmentation, Abdominoplasty, required Body Lift and Implant procedures. It includes thigh lifts and buttock lifts as well.
Factors that Affect Package Price
Age of the patient

Body Mass Index of the patient

Procedures' Expected Time and Effort

Amount of time and effort required of the surgeon

Cost of anesthesiologist's services

Preoperative laboratory fees

Operating room fees

Equipment used in the process

Elastic compression garments, etc
Benefits of Liposuction 
One procedure can target many areas of the body

Stubborn areas

are finally improved

Safe techniques

Significantly improved comfort

Long lasting

results

Flattens figure

Improves appearance and confidence

Tightens loose muscles

Reduces stress urinary incontinence

Ventral hernia correction

Better posture

Get an affordable treatment within world-class facilities
Complexity Level: Medium
Cost:  Cost of Liposuction at Puerto Vallarta in Mexico starts from approximately $1,500. However, the treatment cost may vary according to the condition of the patient.
Note: Final prices are determined after physical evaluation and laboratory report analysis.
Length of Stay: Same day procedure. if you are getting a lot of fat removed, the doctor may advise you to stay overnight in the hospital.
Inclusions
Exclusions
List of Required Pre-Op Tests
Note: The laboratory tests are done at least 7-10 days prior to the procedure. The particular tests are prescribed after a complete physical evaluation of the patient.
Payment Options: Cash, credit card, wire transfer
Note: The center may require a money deposit once a patient decides to receive the treatment from the clinic.
How to Get There
Puerto Vallarta is well connected to the major cities. The airport is also connected to a number of global cities. Flights from Canada, Central America, US, Mexico City, South America, Central America, Europe, Russia and Cuba land here.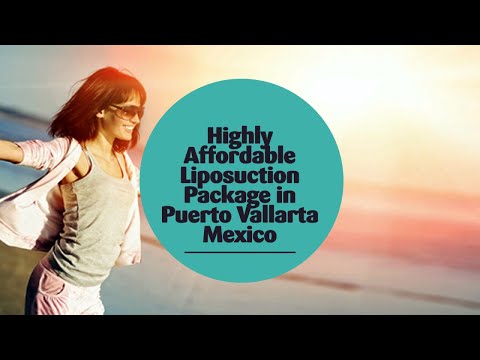 For more details on Liposuction at Puerto Vallarta in Mexico, please click the button below