Breast Implant Package in Cancun Mexico by Dr. David Estrada
Package price starting from:
$5700
Treatment:
Cosmetic/Plastic Surgery, Breast Implants, Breast Augmentation
Location:
Ave Sayil Esquina Enrique Suavignac Malecon Tajamar Cancun, Mexico
Focus Area:
Dr David Estrada | Cancun | Mexico | Breast Implant | Breast Augmentation
---
Get Your Dream Curves with Breast Augmentation in Cancun, Mexico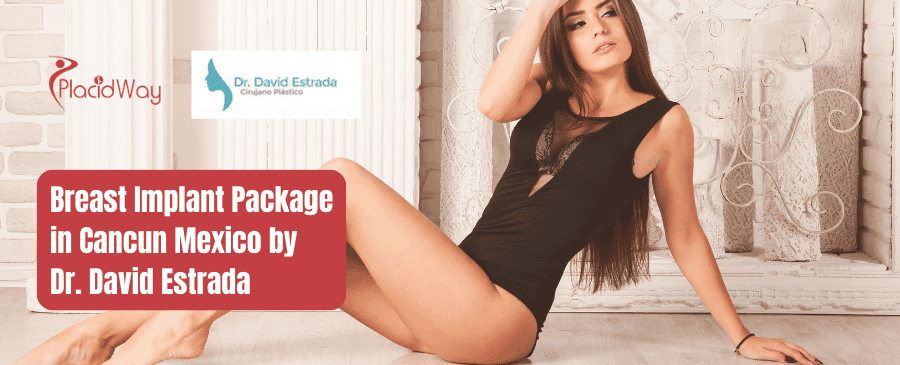 Welcome to the world of transformative beauty! If you've been considering enhancing your curves and boosting your confidence, look no further than the exceptional Breast Implant Package in Cancun, Mexico, skillfully provided by the renowned Dr. David Estrada. Let's delves into the fantastic advantages of choosing this treatment in the vibrant city of Cancun, the comprehensive overview of the procedures, inclusions and exclusions of the package, pre-op tests, details about the esteemed doctor, treatment suitability, before and after results, and what to expect during the treatments. Embark on this journey to a more confident you!
You can get breast implant package in Cancun Mexico by Dr. David Estrada with the price starts at $5,700. Check our price list detail below for more information:
| | |
| --- | --- |
| City, Country | Cost in USD |
| Cancun, Mexico | $5,700 |
| United States | $10,000 |
| Canada | $12,500 |
Note: price may change and vary depends on complexity of procedures and patient conditions. Click free quote button below to learn more:

Affordable Excellence: Cancun, Mexico, is known for its world-class medical facilities that offer top-notch breast implant procedures at a fraction of the cost compared to other countries.
Experienced Surgeons: Dr. David Estrada, a skilled and experienced cosmetic surgeon, leads the procedure, ensuring utmost precision and exceptional outcomes.
Breathtaking Destinations: Beyond the surgery, you get to recover in the paradise-like surroundings of Cancun, with its pristine beaches and rejuvenating ambiance.
State-of-the-Art Facilities: Medical centers in Cancun boast cutting-edge technology and adhere to stringent international medical standards.
Seamless Medical Tourism Experience: The city provides excellent hospitality, making medical travel a hassle-free and enjoyable experience.
Breast Implant in Cancun Mexico Before and After Images
Under Dr. Estrada's expertise, patients experience remarkable transformations. Before undergoing the procedure, patients receive a detailed understanding of the expected outcomes through 3D imaging and simulations. After the surgery, patients enjoy fuller, shapelier, and more proportionate breasts, leading to a boost in self-confidence and body image. Check before after images below to see amazing result from verified patients: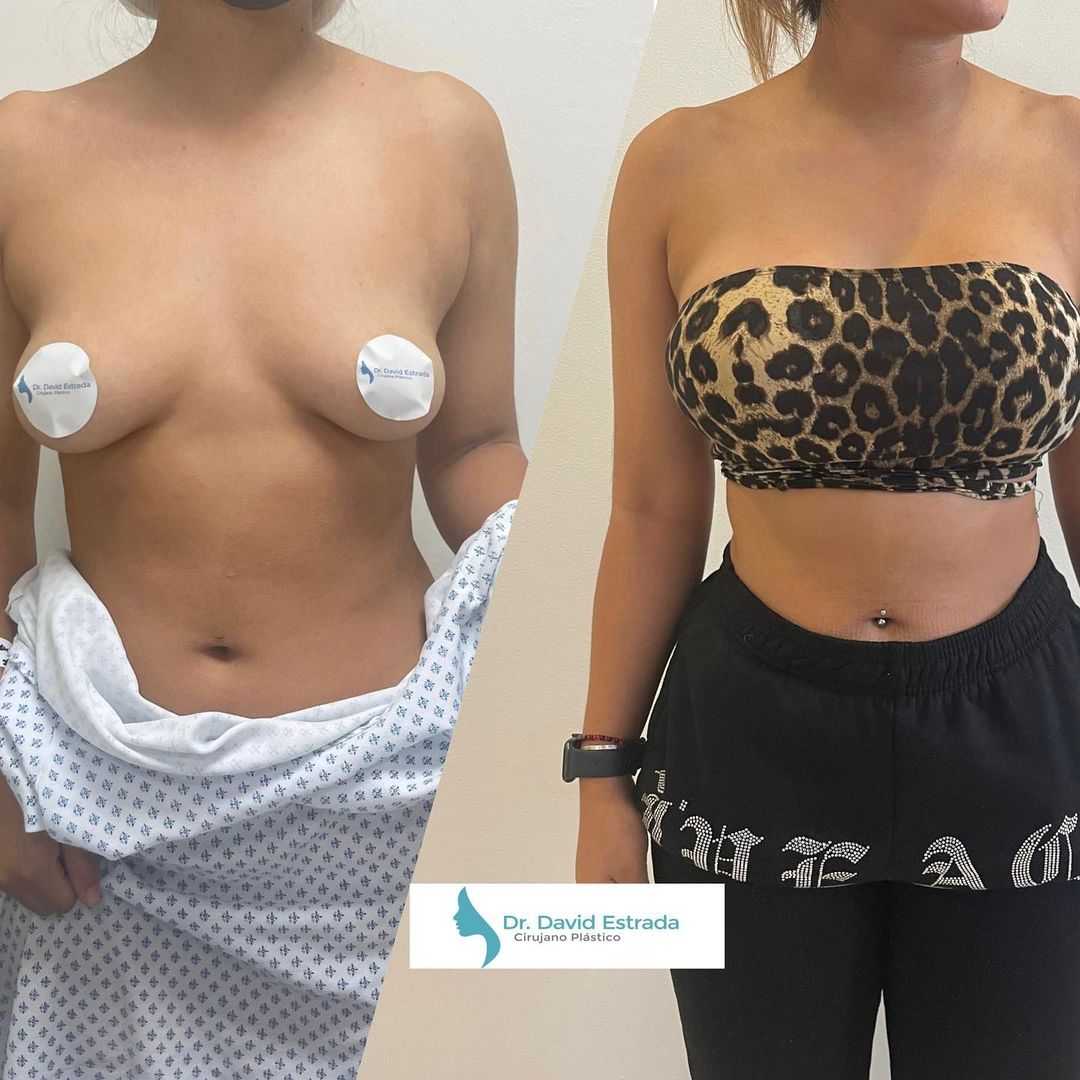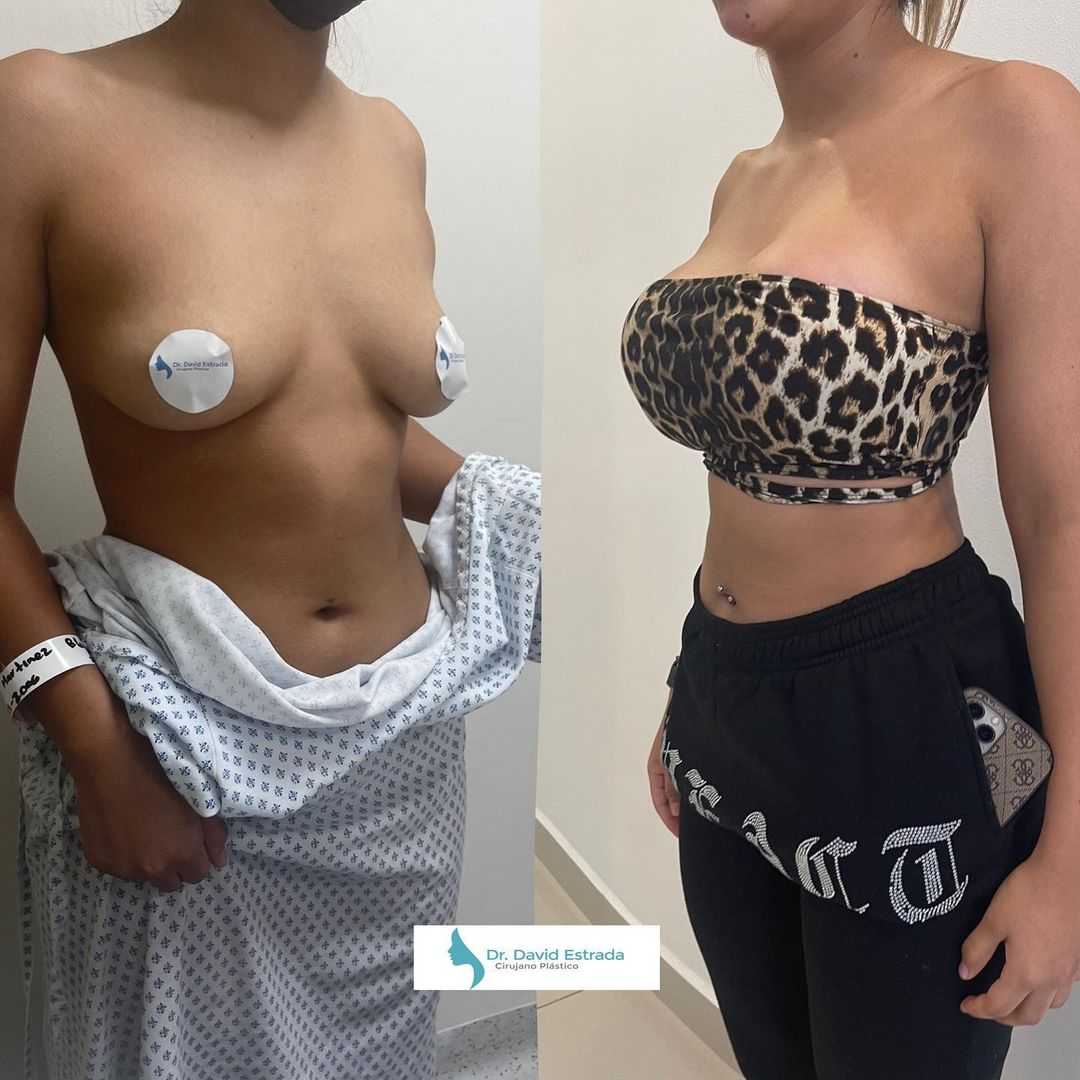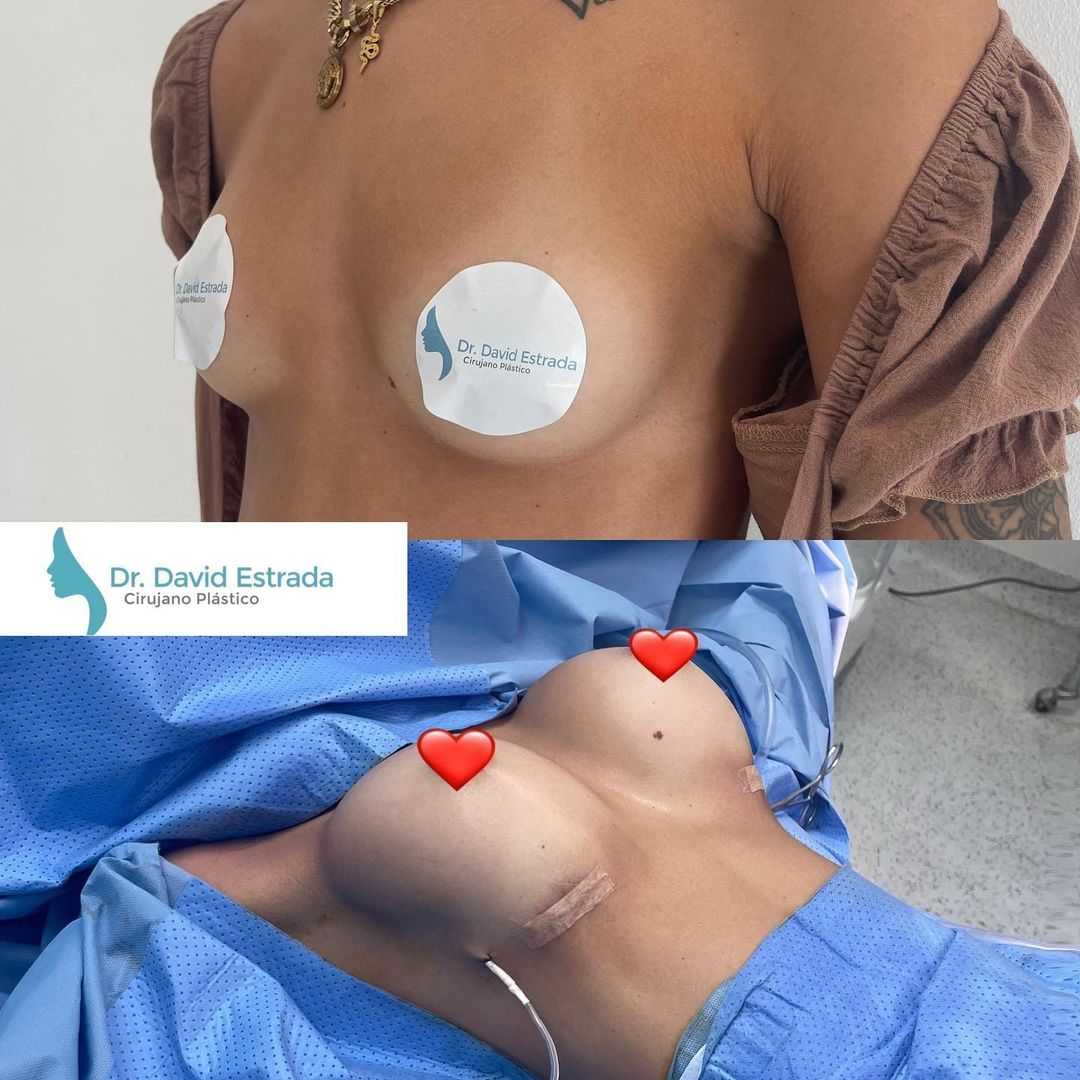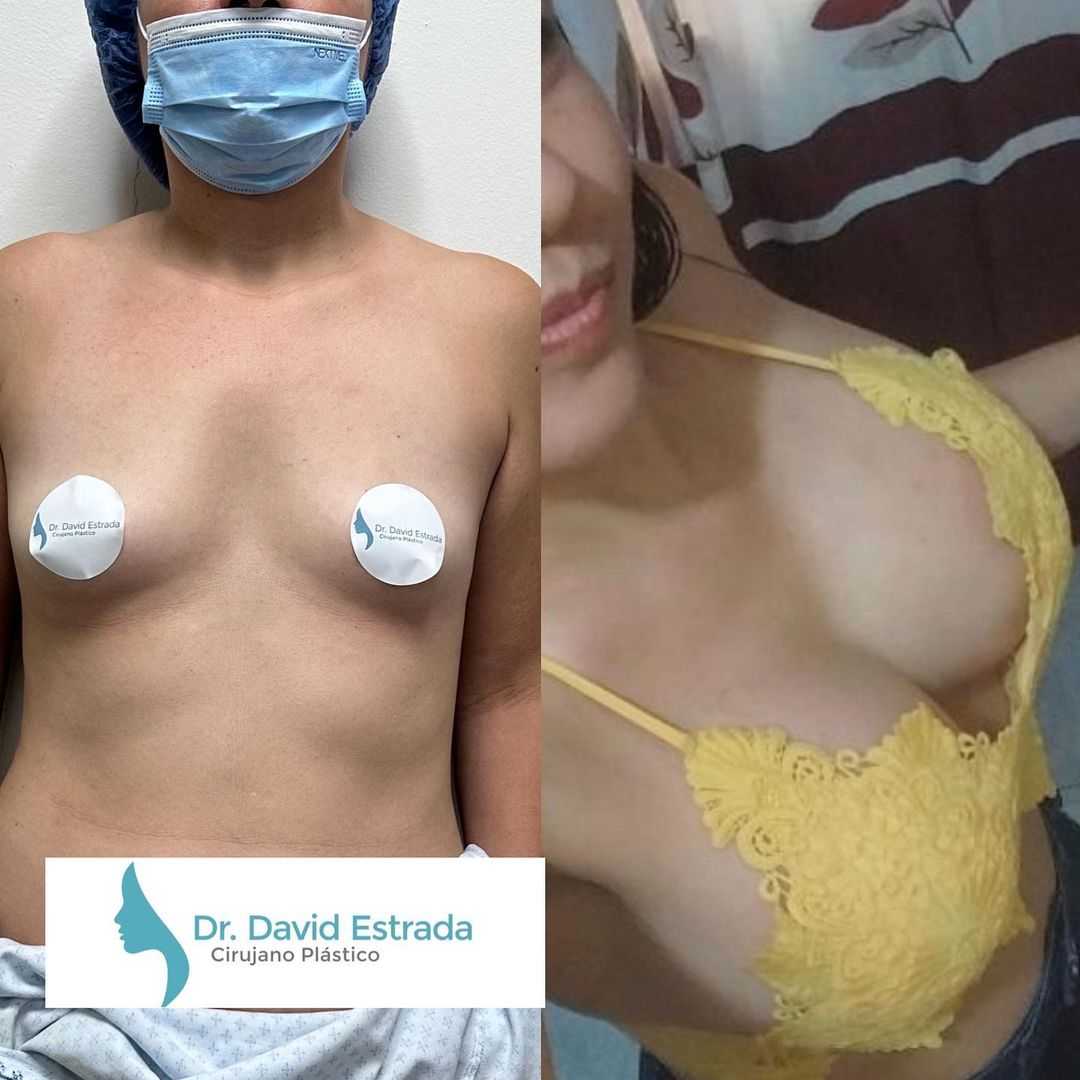 The breast implant package offers a comprehensive and tailored approach to breast augmentation. Dr. David Estrada conducts a personalized consultation to understand your goals and body type, helping you select the ideal implant size, shape, and material. The surgery is typically performed under general anesthesia and may involve saline or silicone implants. Dr. Estrada employs advanced surgical techniques, ensuring minimal scarring and quick recovery. The procedure takes around 1-2 hours, and patients can return to light activities within a few days, experiencing fuller and natural-looking breasts.
Consultation and Assessment: Dr. Estrada conducts an in-depth evaluation, discussing your expectations and recommending suitable options.
Surgery and Medical Fees: All surgical expenses, including the use of the medical facility, anesthesia, and surgeon's fee, are covered.
Implants and Medications: The package includes high-quality breast implants and necessary medications during and after the surgery.
Hospital Stay: Enjoy a comfortable hospital stay with attentive medical care post-surgery.
Transportation and Concierge: Transfers between the airport, hotel, and hospital are provided, and a dedicated concierge assists throughout your medical journey.
Travel Expenses: The package does not cover the cost of airfare or other travel-related expenses.
Accommodation: Accommodation costs are not included; however, assistance can be provided in finding suitable lodging options.
Additional Treatments: Any supplementary treatments or medications not related to breast augmentation will be billed separately.
Personal Expenses: Incidental expenses, such as meals and entertainment, are not part of the package.
Complications and Revisions: Costs arising from unforeseen complications or revisions, if required, are not included.
Breast Implant Surgery Pre-Op Tests
Physical Examination: A thorough physical assessment is performed to evaluate your overall health and candidacy for the procedure.
Mammogram and Ultrasound: Breast imaging tests are conducted to assess breast health and anatomical considerations.
Blood Tests: Routine blood tests ensure that your blood counts and general health parameters are within normal ranges.
Cardiac Evaluation: For patients over 40 or with specific health conditions, a cardiac evaluation may be recommended to ensure safety during surgery.
Discussion of Medical History: A detailed discussion about your medical history helps identify any potential risks and ensure a safe procedure.
Dr. David Estrada is a prominent and highly skilled cosmetic surgeon with a distinguished track record in breast augmentation. With years of experience, Dr. Estrada stays updated with the latest advancements in the field. His patient-centric approach, attention to detail, and dedication to achieving natural-looking results have earned him a reputation as one of the finest in the industry.
Breast Implant Doctor in Cancun, Mexico

• Experienced Cosmetic Surgery Specialist for Nose, Face, Breast and many more.

• International Society for Quality in Health Care (ISQua)
Is Breast Implant Right for You?
Suitability: Breast implant is suitable for those seeking enhanced breast size, improved shape, and balanced proportions.
Physical Health: Candidates should be in good physical health, free from any underlying medical conditions that could pose risks during surgery.
Realistic Expectations: Having realistic expectations about the results is crucial, and Dr. Estrada will discuss what is achievable during the consultation.
Emotional Well-being: Candidates should be emotionally stable, understanding that the procedure aims to enhance self-confidence but may not address deeper emotional issues.
Non-Smokers: Non-smokers are preferred, as smoking can hinder healing and increase the risk of complications.
What to Expect During the Breast Implant Surgery?
Consultation: A detailed consultation with Dr. Estrada to discuss your aesthetic goals and understand the procedure.
Surgery Day: The surgery is typically performed under general anesthesia, ensuring a painless experience.
Recovery: Following surgery, patients rest and recover at the hospital, with medical professionals monitoring their progress.
Post-Op Care: Dr. Estrada provides post-operative instructions and support for a smooth recovery.
Follow-Up: Regular follow-up appointments are scheduled to assess healing and address any concerns.
Q: Is Breast Implant surgery in Cancun, Mexico, safe?
A: Yes, Breast Implant surgery in Cancun is safe. The city boasts modern medical facilities, experienced surgeons, and adheres to international quality standards, ensuring a secure and successful procedure.
Q: How long does the Breast Implant procedure take in Cancun, Mexico?
A: The Breast Implant surgery typically takes around 1 to 2 hours to complete. It is a relatively quick and efficient procedure with minimal downtime.
Q: Are Breast Implants in Cancun, Mexico, customizable to my preferences?
A: Absolutely! Dr. David Estrada provides personalized consultations, discussing your desired results, body type, and aesthetic goals. This customization allows for the perfect choice of implant size, shape, and material.
Q: What is the recovery time after Breast Implant surgery in Cancun?
A: The recovery time varies from person to person, but most patients can return to light activities within a few days. Full recovery typically takes a few weeks, during which you'll be advised to avoid strenuous activities.
Q: How long do Breast Implants last in Cancun, Mexico?
A: Breast Implants in Cancun are designed to be long-lasting. While they are not considered permanent, with proper care, they can last for many years, providing you with beautiful results and enhanced confidence. Regular follow-ups with your surgeon are essential to monitor the implants' condition.
Experience the journey to a more confident you with a FREE CONSULTATION for Breast Implant in Cancun, Mexico, exclusively at PlacidWay! Our expert team, led by renowned Dr. David Estrada, is committed to understanding your aesthetic goals and guiding you through the personalized options available. Discover the beauty of Cancun's medical tourism and its world-class facilities, all while enjoying the picturesque surroundings of this vibrant city. Take the first step towards your dream curves and book your free appointment today!

Related Experiences:
Breast Augmentation in Cancun, Mexico
Breast Implant in Cancun, Mexico
Breast Augmentation in Monterrey Mexico
Breast Implants in Guadalajara, Mexico
Breast Augmentation in Guadalajara, Mexico
Breast Augmentation in Merida Mexico
---