Best Stem Cell Therapy for Joints at PRMEDICA in Cabo San Lucas, Mexico
Treatment:
Stem Cell Therapy, Stem Cell Therapy for Joints
Location:
Carretera Transpeninsular Km.25, Plaza Paseo Esperanza L3, Cerro Colorado, San José del Cabo, BCS 23405, Mexico, Mexico
Focus Area:
Stem Cell Therapy for Joints | Stem Cell Therapy for Knees | Stem Cell Therapy for Joints Cost | PRMEDICA Inc. | San Lucas | Mexico
---
Stem Cell Therapy for Joints, Stem Cell Therapy for Knees, Stem Cell Therapy for Joints Cost, PRMEDICA Inc, San Lucas, Mexico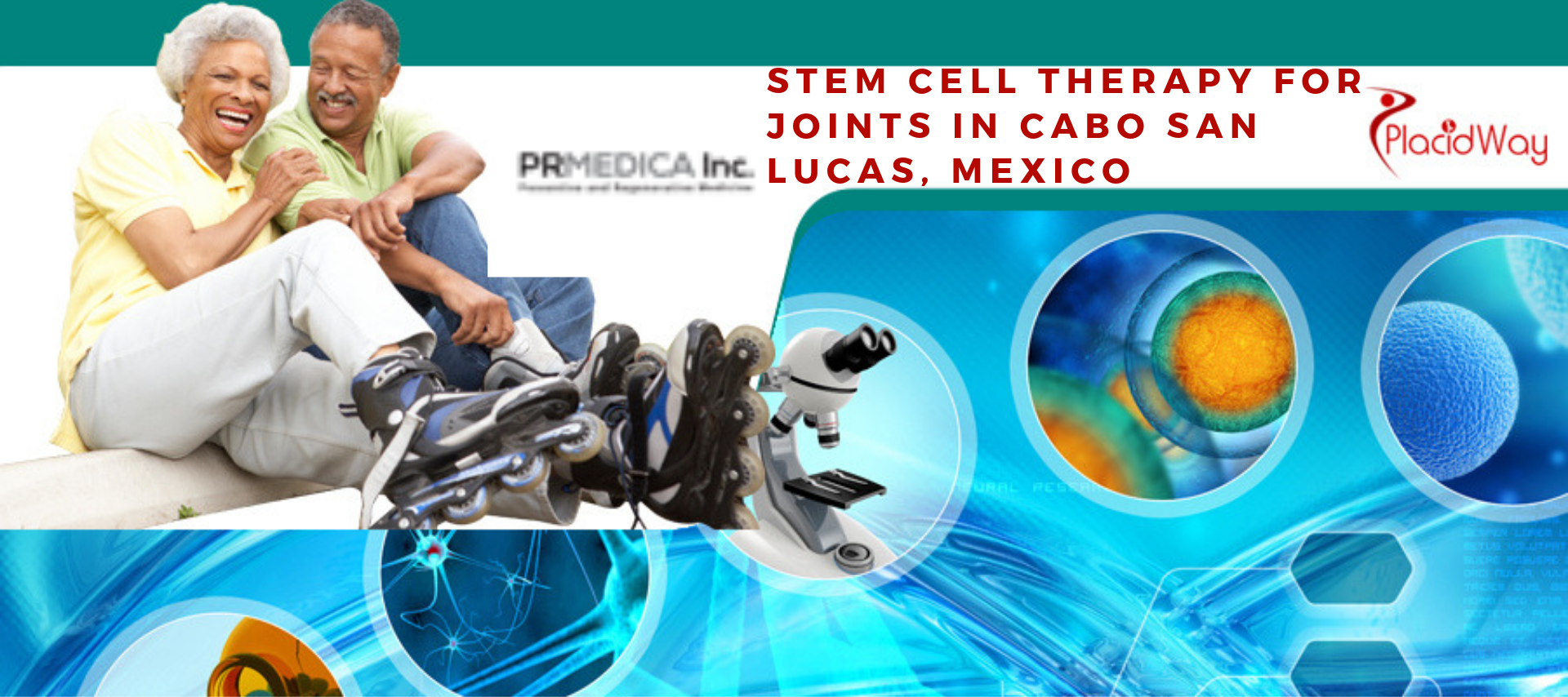 Best Stem Cell Therapy for Joints at PRMEDICA in Cabo San Lucas, Mexico
When the articular cartilage on joint surfaces gradually deteriorates, it results in the degenerative joint disease symptoms. The function of the cartilage is to provide protection to our joints and let them move smoothly. If articular cartilage does not function properly, raw joint surfaces roughen one another and erode away rapidly. This results in Arthrosis in different joints of the body such as
Neck

Shoulders

Hands

Elbows

Back

Feet

Ankle
Treatment of Joints with Stem Cell Therapy
Arthrosis on the main articulations can be treated using stem cell treatment. There is no need for general anesthesia, as it is a simple non-surgical treatment. PRMEDICA provides excellent degenerative joint disease treatments with high rates of success. They have prepared an advanced protocol to treat joint conditions after vigorous research and it has been very successful as well.
How PRMEDICA Performs Stem Cell/Exosome Joint Injection Procedure
Clinical consultation and detailed orthopedic assessment initiate the process. Then the suitability of stem cell treatment is determined after some crucial tests such as complete blood work, Xrays, ultrasound and/or MRI imaging.
For the treatment of pain, swelling and soft tissue injuries, ozone therapy sessions might be indicated, which is followed by preparing the joint for the injection. This helps to place the stem cells targeting the tissue that needs replacing or repairing.
Depending on the patient's condition, the physician suggests what amount of exosomes and stem cells should be used in each joint that required to be treated. The amount ranges between 25 and 50 million mesenchymal stem cells plus 1 to 5 ml. of exosomes. These therapeutic doses depend on the severity of the condition and are proven to give optimal results.
Each syringe of stem cell/exosome is mixed with the ozonated platelet-rich plasma of the patient, which is drawn and centrifuged on the same day. This powerful anti-inflammatory gas and the tissue regenerative potential of stem cells mixture helps the joints to heal on their own. Further, the exosomes help to differentiate the stem cells´ differentiation.
The physician then injects it into the affected joint under the guidance double doppler ultrasound, which ensures that the injection is administered on the exact location with absolute precision. If required, the physician may apply local anesthesia and/or mild relaxing.
To help the cartilage restore faster, the patient is given a mineral and vitamin supplement. As a part of this treatment procedure, PRMEDICA also recommends the Stem Cell Booster implant which is injected with a petite needle under the skin of the belly. This booster implant is derived from placenta and freeze-dried stem cells. It boosts the process of healing by nourishing the injected stem cells and improving stem cell supply.
Benefits of Stem Cell Therapy for Joints
The procedure is painless

It's a viable option for patients who want to avoid or postpone knee replacement surgery

It doesn't involve a lengthy and painful recovery period

Low risks of tissue rejection
What is the Cost of Stem Cell Treatment for Joints at PRMEDICA, Cabo San Lucas, Mexico?
Cost of the Stem Cell Therapy for Joints at PRMEDICA is $3,500.
Inclusions
Comprehensive treatment for 1 joint. Includes
Ozonated prp and stem cell injection

Ultrasound examination/ guidance

3 ozone sessions

Stem Cell Booster Implant and bloodwork
Exclusions
Hotel or recovery house

Preoperative lab work

Airfare
Why Choose PRMEDICA Inc.?
First and only regenerative medicine clinic in the region with more than 10 years of experience
Uses donor Mesenchymal Stem Cells and Exosomes for repairing damaged tissue and restoring metabolic and neurological functions
PRMEDICA is affiliated with Instituto de Terapia Celular (ITC), a leading stem cell provider with main labs, in Guadalajara, Mexico
PRMEDICA is affiliated with CBCells, a Mexican corporation in Guadalajara dedicated to stem cell research and development
PRMEDICA is also affiliated with Kimera labs, a US biotechnology company that develops perinatal exosome products for research and therapeutic purposes
The medical team is selected meticulously to meet the highest standards
At PRMEDICA the patient comes first. Provides a wide selection of options including treatment and accommodation

.
For more information on Stem Cell Therapy for Joints at PRMEIDICA in Cabo San Lucas, Mexico, click the button below!
Related Experiences:
Anti-Aging Stem Cell Therapy in Cabo San Lucas - Regain Youthful Skin!
Stem Cell Therapy for COPD in Tijuana Mexico
Stem Cell Therapy in Cancun, Mexico
Stem Cell Therapy for Anti-Aging in Mexico City
Stem Cell Therapy for Anti-Aging in Juarez, Mexico
Stem Cell Therapy for Parkinson's Disease in Guadalajara, Mexico
---
Stem-Cell-Therapy Related Packages
Stem-Cell-Therapy Related Experiences