Package Details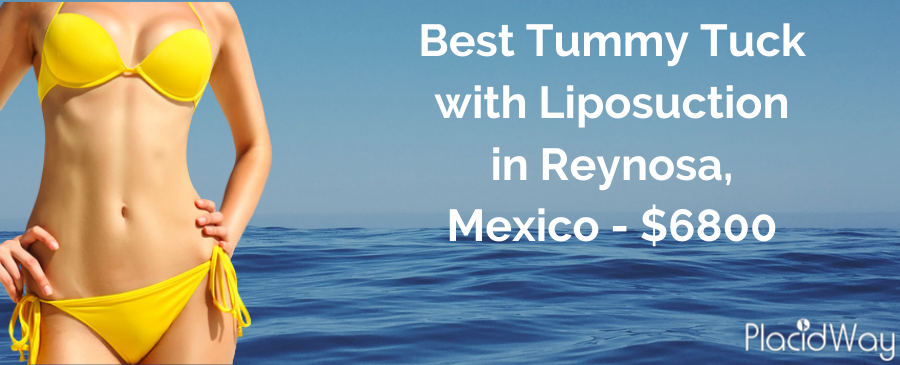 Do you have excess fat or loose skin in your abdomen and you cannot get rid of it? Tummy Tuck in Mexico with Lipouction in Reynosa at hospital los lagos may be the best solution you need. This corrective medical procedure process eliminates free skin and abundance fat utilizing a strategy called Pull and Tighten and Liposuction. To get a very much conditioned mid-region a well as compliment and firmer stomach that can endure forever, Tummy Tuck a medical procedure is what you want.
Defination of Tummy Tuck With Liposuction
Tummy Tuck and liposuction are two of the most popular cosmetic surgery procedures. They are both used to improve the appearance of the body, but they work in different ways. Tummy Tuck surgery is used to remove excess skin and fat from the stomach area. Liposuction is used to remove pockets of fat that are resistant to diet and exercise. Both procedures can be performed separately or together, depending on the needs of the patient. Tummy Tuck surgery is typically recommended for patients who have loose skin after weight loss or pregnancy. Liposuction is often recommended for patients who have stubborn areas of fat that they would like to slim down. If you are considering either of these procedures, it is important to consult with a board certified plastic surgeon to discuss your goals and expectations.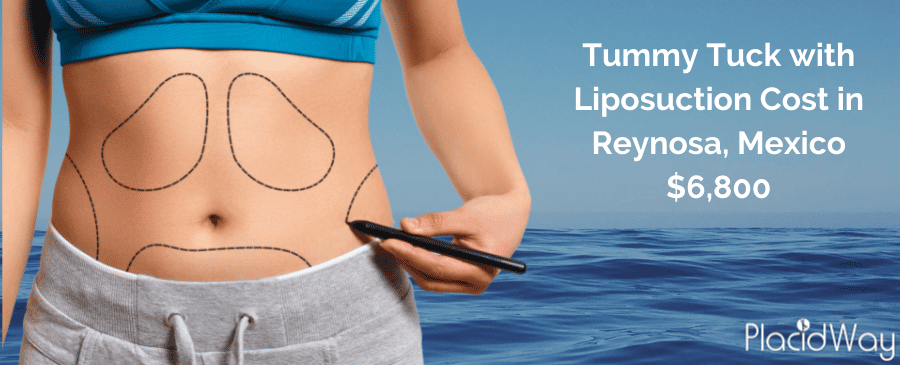 Compared to the US where a Tummy Tuck + Liposuction costs is around $11,000. However, in Reynosa, Mexico tummy tuck with liposuction cost is $6,800.
| | | |
| --- | --- | --- |
| Country | Procedure | Cost |
| Reynosa, Mexico | Liposuction with Tummy Tuck | $6,800 |
| United States | Liposuction with Tummy Tuck | $15,000 |
Note: Price can change and vary depend on complexity of procedure and patient current condition. Please follow Price Policy of this clinic.
Tummy Tuck with Liposuction Procedure is a procedure in which the surgeon makes an incision in the lower abdomen and removes excess skin and fat. Then, liposuction is used to sculpt the abdominal area. Tummy Tuck with Liposuction can be performed as an outpatient procedure, or it may require an overnight stay in the hospital. The length of the surgery depends on the extent of the procedure. Tummy Tuck with Liposuction is a major surgery, so it is important to have realistic expectations and to follow your surgeon's instructions. You will likely need to take some time off from work and avoid strenuous activity for several weeks after the surgery. Tummy Tuck with Liposuction can help you achieve a flatter, more contoured abdomen and a healthier lifestyle.
Below you can find the advantages of having tummy tuck with liposuction together.
The plastic surgeon can concurrently address exercise-resistant fat along with repairing muscle tissue and eliminating loose skin.

No need for two separate surgeries. You will get the benefits of both the procedures in a single surgery and will have only one recovery period.

Combining tummy tuck and liposuction can maximize the results of body contouring in a way that is not really possible if you opt for any one procedure.

Loose skin and excess fat go hand-in-hand in most cases. When both these concerns are treated together, the result is definitely most effective and efficient.
Here you can find inclusions for tummy tuck with liposuction package in Reynosa, Mexico by Hospital Los Lagos:
Hospitalization 

Medical Fees 

Anesthesiologist 

Post-Surgical Consultation 

1 Faja 

1 Massage 
Check below information of exclusions for tummy tuck with liposuction package in Reynosa, Mexico by Hospital Los Lagos:
Airfare 

Accommodation 

Laboratories  

Transportation
Here you will see the pre-operation test before the tummy tuck with liposuction procedure:
Complete blood count

Pregnancy test

Hematocrit

ECG, etc
Length of Stay: 7-10 Days
Note:
All the prescribed laboratory tests should be completed at least 7-10 days before the operation. Laboratory tests will be prescribed after a thorough check-up of the patient.
Payment Option: Cash, wire transfer, credit card
Note:
The clinic may ask you for an advance money deposit once you decide to receive the treatment.
Here you can find the best plastic surgeon performing tummy tuck with liposuction in Reynosa, Mexico at Hospital Los Lagos
Doctor Name: Dr. Jose Luis Villarreal Arroyo (Certified Plastic Surgeon)
Experiences and Certifications:
Surgeon with more than 25 years of experience in Plastic and Reconstructive Surgery.

Professor at the Graduate University.

Specializes in VASERsmoothTM equipment and 4D HD Liposuction procedures.
Reynosa, Mexico is most ideal decision for Medical Tourism objective, as it impacts the recuperating and improvement of the patients. Reynosa, Mexico is considered as a piece of the most grounded and the best clinical the improvement business regions that welcome you with its surprising climatic conditions and overall standard quality. Patients can get: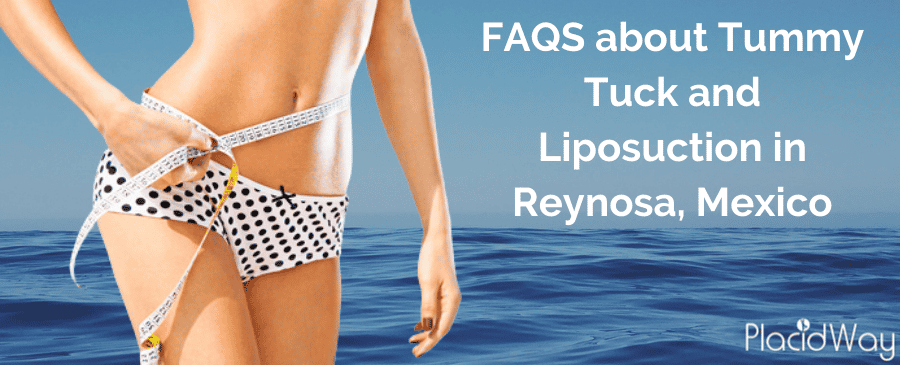 Answers to common questions  about Tummy Tuck and Liposuction:
What's the difference between a full and mini tummy tuck?
Both full and mini abdominoplasties involve the tightening of abdominal muscles and the removal of excess skin. The main difference is that the full tummy tuck is typically employed to rejuvenate the areas both above and below the belly button whereas the mini tummy tuck is generally confined to the lower abdomen below the belly button.
What is recovery like?
Following tummy tuck surgery, drain tubes will need to be left in place for about one week. Most patients experience some bruising and/or swelling, though these symptoms should subside over the course of a few weeks. The majority of individuals are able to return to non-strenuous jobs or activities after about one to two weeks; however, heavy lifting and/or strenuous physical labor should be avoided for at least six to eight weeks. To help facilitate healing, patients are often encouraged to walk around as soon as they feel comfortable enough to do so.
​Difference between a tummy tuck and liposuction?
A tummy tuck removes excess skin and tightens loose abdominal muscles to achieve a flatter abdomen.
Liposuction is a body contouring procedure that uses suction to remove isolated pockets of subcutaneous fat.
How many KG of fat can be removed through Lipo?
The maximum amount of fat that can be removed safely in the first sitting is around 3.6 to 4 KG (8 Pounds)
If the patient wants more fat to be removed, the procedure should be done in separate schedules.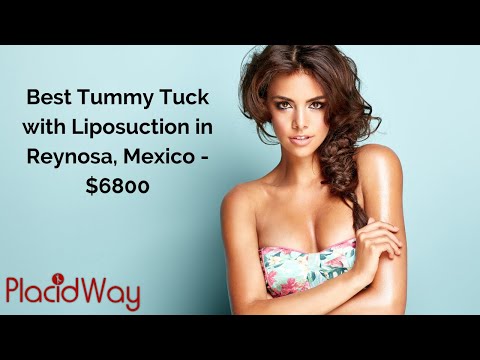 Selecting tummy tuck with liposuction in Reynosa, Mexico by Hospital Los Lagos will give you satisfactory outcome. Best surgeon in Reynosa, Mexico by Hospital Los Lagos will guarantee you with comfort. If you want to start you consultation or if you have other questions, feel free to click button below:
Related Experiences:
Tummy Tuck in Merida Mexico – Get Flat and Firm Belly Now!
Tummy Tuck in Tijuana Mexico – Improve Your Body Shape!
Tummy Tuck in Guadalajara Mexico – Get Pre-Baby Bodies Back!
Tummy Tuck in Cancun Mexico - Get Incredible Result Now!
Liposuction in Tijuana - Choose Mexico for Liposculpture
Tummy Tuck in Mexicali Mexico – Get Better Posture Now!