Package Details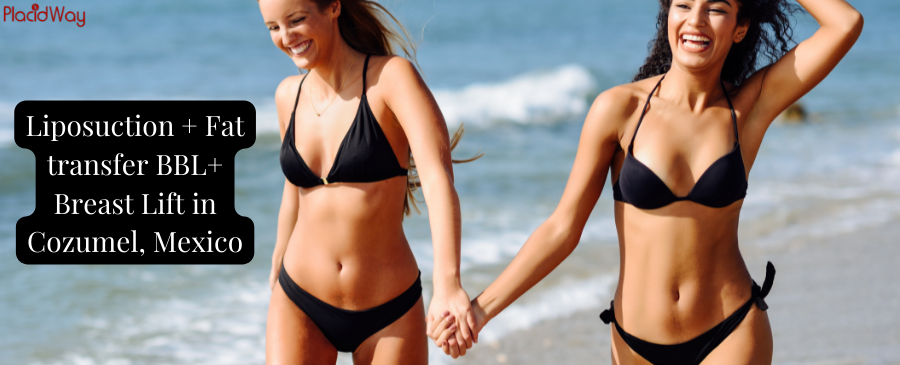 Liposuction + Fat transfer + BBL+ Breast Lift Package in Cozumel, Mexico
Rejuvenation Clinic in Cozumel Mexico offers a comprehensive package that includes Liposuction (high definition) including arms and inner thighs + Fat transfer bbl+ Mammoplasty augmentation at $8,500! If you choose all the procedures at once, you get the whole package for only $7,000!
Rejuvenation Clinic is a well-known plastic surgery clinic in outstanding Cozumel, souranded by white-sand beaches. It is a world-class clinic that attracts thousands of American and Canadian patients each year.
Liposuction is an effective fat-removal surgery with a 90% success rate. A plastic surgeon usually performs this procedure on your hips, abdomen, buttocks, arms, and under the face to improve their shape.  
Liposuction is the right choice for patients with excess fat that can't be removed with other methods. This Plastic Surgery can help you achieve the desired body shape and improve your confidence.
Liposuction Cost in Cozumel by Rejuvenation Clinic 
The package in Cozumel that includes lipo + BBL + breast lift is only $8,500. While in the US and Canada you would have to pay over $6,000 just for liposuction.
Take a look at our cost comparison table below to check the prices.
| | | |
| --- | --- | --- |
| | | |
| | Lipo Surgery + BBL + Fat Transfer + Breast Lift | |
| | | |
| | | |
Note: For more information about the final price, make sure to contact the clinic directly. The price may vary depending on your condition and the complexity of the surgery.
Advantages of Cosmetic Procedures in Cozumel, Mexico by Rejuvenation Clinic 
Safe plastic surgery 

Removes excess fat permanently 

Improves your general health 

Improves your physical appearance 

Boosts your confidence
Preop and postop consults

Clinic's fees

Medical staff fees

Pre and post consultations
Payment Options: Cash, Credit Card, or Checks.
Best Plastic Surgeons 

in

 Cozumel at R

ejuvenation Clinic 
Rejuvenation clinic has certified plastic surgeons who have over 5 years of experience. Here are some of the best surgeons:
Eduardo Rubio Ruiz MD, Board Certified by the National Anesthesiology Council

Aldo Giovanni Diosdado Jaime MD, State Representative of the Mexican Board of Aesthetic Surgery in Quintana Roo
Cozumel Mexico is the largest inhabited island in Mexico and the oldest in the Caribbean. It is located 12 miles off the eastern coast of the Yucatan Peninsula.
While on this beautiful Mexican island for plastic surgery, make sure to explore its breathtaking beauty, such as:
The vibrant San Miguel city

Exotic beaches like Paradise beach

Mr. Sancho's Beach Club

Chankanaab Adventure Beach Park
FAQs about Cosmetic Surgery in Cozumel 
What should I expect after the Liposuction procedure?
First, you should expect to have bruising, swelling, and soreness for a few weeks. But long-term results are better and consist of improving your general health, self-esteem, and body shape.
Are the results of Liposuction permanent?
The results of liposuction can be permanent if you take care of yourself as your doctor prescribed. Follow a diet plan that includes lots of fruits and veggies, whole grains, and low-fat dairy.
Also, exercise regularly and stay physically active.
Am I a good candidate for Liposuction?
You are a good candidate for liposuction if you have realistic expectations. This means you need to apply aftercare so that you don't regain fat.
You can expect to have great results from lipo surgery if  
You are of good overall health  

Have at least 30% of your ideal weight 

Have firm, elastic skin 

Don't smoke.
What is the recovery process from lipo, bbl, and breast lift surgery?
The recovery process from plastic surgery depends on the complexity of the surgery, your aftercare, and your overall health. Most people can return to their daily activities within a few days.
However, every person is different and you should consult your doctor about this.
Board-certified surgeons in Cozumel will help you get the body shape you have dreamed of. At Rejuvenation Clinic, we offer you an all-inclusive package for Liposuction + BBL + Breast Lift. If you choose to have all these procedures in one surgery, you get a discount price. Contact us now to get your free quote!

Related Experiences:
Brazilian Butt Lift in Mexicali, Mexico
Brazilian Butt Lift in Tijuana, Mexico - Your Butt Lift Solution
Liposuction in Tijuana - Choose Mexico for Liposculpture
Achieve Beautifully Shaped Body with Liposuction in Mexico!
Choose Attractive Brazilian Butt Lift BBL in Mexico
Brazilian Butt Lift in Cancun, Mexico - Best Prices and Clinics!