Rhinoplasty in Tijuana by CIPLASTIC
Package price starting from:
$3600
Treatment:
Cosmetic/Plastic Surgery, Nose Surgery Rhinoplasty
Location:
Calle 5ta. Emiliano Zapata #7867 Zona Centro, C.P. 2200 Tijuana B.C. Tijuana Baja California, Mexico
Focus Area:
Rhinoplasty | Nose Job | Tijuana | Mexico | CIPLASTIC | Plastic Surgery | Cosmetic Surgery
---
Effective Package for Nose Job in Tijuana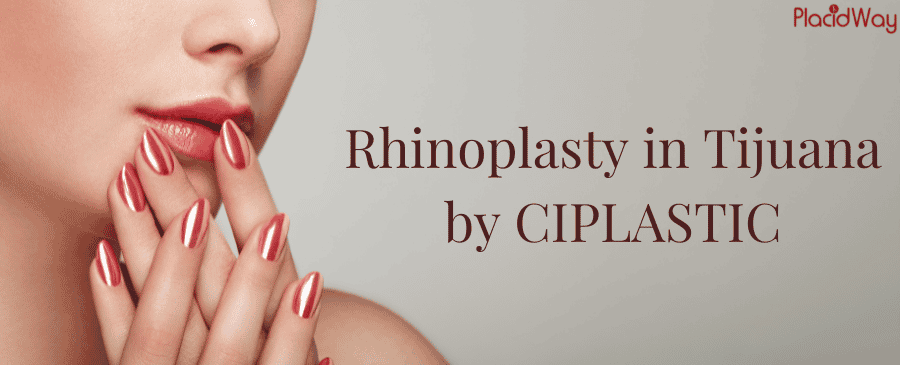 Affordable Package for Rhinoplasty in Tijuana
Change your nose shape, enhance facial aesthetics, and improve your breathing with an affordable package in Tijuana offered by a world-class clinic. Get the desired nose look and explore Tijuana - a town on the US-Mexico border. Save up to 60% compared to US and Canada prices.
CIPLASTIC is the best cosmetic surgery clinic in Tijuana providing effective plastic surgery to international patients. It has modern facilities and comfortable rooms for your pleasant stay.
What is Rhinoplasty Procedure?
Rhinoplasty, commonly known as a "nose job" is a cosmetic procedure that solves the problem of patients who are not happy with their nose sizes or shapes. It also helps patients who have breathing problems which can have negative impacts on sleep and overall daily life.
Cost of Rhinoplasty in Tijuana by CIPLASTIC
Nose Job in Tijuana, Mexico cost only $3,600. The same quality of procedure costs over $10,000 in America and Canada.
| | | |
| --- | --- | --- |
| Country | Procedure | Cost |
| Tijuana, Mexico | Rhinoplasty | $3.600 |
| United States | Rhinoplasty | $15,000 |
| Canada | Rhinoplasty | $10,000 |
Note: For more information about the final price, make sure to contact the clinic directly. The price may vary depending on your condition and the complexity of the surgery. 

Advantages

of Choosing Rhinoplasty in Tijuana
Have better-shaped nose

Enhance the balance and harmony of your face

Improved breathing

Reduced sinus pressure
Medical expenses

Transportation 

1 night in the hospital

Pre-op consultation and post-op consultations
Payment Options:  Cash, Credit and Debit Cards.
Best Plastic 

Surgeons

 in Tijuana, Mexico by Ciplastic
Find out who are the best cosmetic surgeons for rhinoplasty in Tijuana, Mexico by Ciplastic:
Dr. Hermes Pelayo Certified Plastic Surgeon 

Dr. Edgar Serrano Garcia 
Certifications and Accreditations: 
AMCPER: Asociacion de Cirugia Plastica, Estetica y Reconstructiva

ASPS: American Society of Plastic Surgeons
ISAPS: International Society of Aesthetic and Plastic Surgeons

CMCOEM: Colegio Mexicano de Cirugia para la Obesidad y Enfermedades Metabolicas AC
Why Choose Nose Job in Tijuana, Mexico?
Tijuana is conveniently located on the US-Mexico border. This innovative town has American influence and offers many advantages to international patients.
Here are some things you can do in Tijuana:
Visit Culture and Arts of Mexico at Tijuana Cultural Center
Spend your time exploring Avenida Revolucion
Buy some fresh products from locals at Mercado El Popo
What to expect after a nose job in Tijuana?
The nose job is done under local anesthesia with sedation or general anesthesia, depending on how complex your surgery is. After the surgery, you'll be in a recovery room and may have to stay overnight which will your doctor decides.
Your doctor will let you know about your recovery process afterward.
What are the Risks of Rhinoplasty Surgery?
The most common risks of a nose job procedure include bleeding, infection, and an adverse reaction to the anesthesia. Talk to your doctor about how these risks apply to you.
Yes, Tijuana is a very safe city for rhinoplasty procedures. The clinic in Tijuana uses modern techniques to provide quality plastic surgery. Every year. thousands of American and Canadian patients visit this border town for affordable cosmetic procedures with wonderful results. 
Highly skilled plastic surgeons in Tijuana at CIPLASTIC are committed to their patient's well-being. Therefore, they offer a low-cost rhinoplasty package to help you improve your aesthetics and breathing. Contact us for more information:

Related Experiences:
Rhinoplasty in Tijuana
Rhinoplasty in Guadalajara, Mexico
Nose Job in Mexicali
Rhinoplasty in Mexico – Compare Clinics, Costs and Reviews
Rhinoplasty in Merida, Mexico
Rhinoplasty in Cancun, Mexico
---