Mommy Makeover in Bogota, Colombia by Dr. Felipe Castro
Package price starting from:
$6000
Treatment:
Cosmetic/Plastic Surgery, Mommy Makeover, Thigh Lift, Liposuction, Arm Lift
Focus Area:
Mommy Makeover Package | Dr. Felipe Castro Esguerra | Mommy Makeover | Arm Lift | Liposuction | Thigh Lift | Plastic Surgery
---
All-Inclusive Package for Post-Pregnancy Cosmetic Surgery in Bogota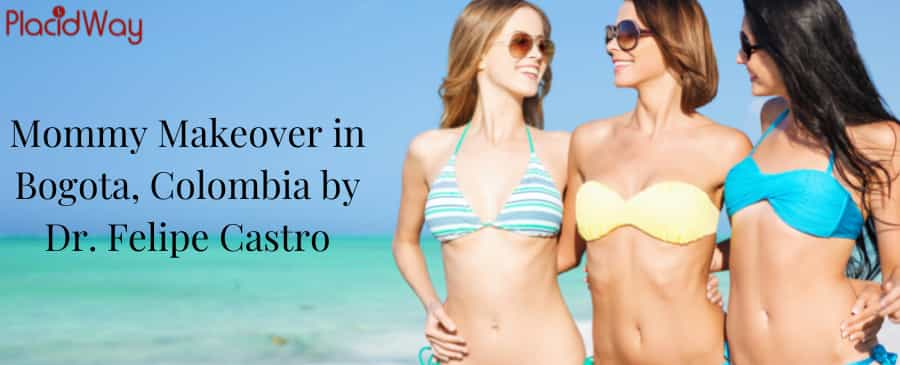 Best Package for Mommy Makeover in Bogota, Colombia
Want to restore your pre-baby shape? Need Lipo 360, Arm lift, & Thigh lift? This inclusive Mommy Makeover package in Bogota, Colombia can be yours for only $6,000!
Dr. Esguerra provides a cheap package for Mommy Makeover in beautiful Bogota. He offers a list of cosmetic procedures for the patients to boost their appearance and beauty. Best surgeon at this facility gives safe and high-quality treatment to satisfy his patients.
What is a Mommy Makeover Procedure?
Mommy Makeover combines cosmetic procedures to help you get the pre-pregnancy shape or figure you look for. This procedure includes a combination of procedures of the breast and abdominal areas to address post-pregnancy issues.
Procedures are often done at the same time to shorten recovery time. For example, thigh lift removes excess skin and fat from the thigh area while liposuction reshapes buttocks, thighs, and abdomen with loose excess fat or skin.
Cost of Mommy Makeover in Bogota, Colombia
Mommy makeover cost in Bogota $6,000 on average. In the US and Canada, this procedure is over $20,000. See the cost comparison table below.
| | | |
| --- | --- | --- |
| Country | Procedure | Cost |
| Bogota, Colombia | Mommy Makeover | $6,000 |
| United States | Mommy Makeover | $20,000 |
| Canada | Mommy Makeover | $21,500 |
Note: Price can vary depending on the procedure's complexity and the patient's current condition. Please follow the Price Policy of this clinic.

Advantages of Mommy Makeover in Bogota, Colombia
Improve your self-esteem

Long lasting result

No stretch marks

Get tight skin

No fat deposits on the belly

Overall skin healing and improvement

Affordable cost
Inclusions in Mommy Makeover Package in Bogota, Colombia
Surgeon Fees

Anesthesiologist Fees

Nurse and surgical assistant fees

OR admission 

Anesthesia Medications

Supplies and surgical materials

Recovery Room up to 4 hours

Controls for 3 months postoperative

PAL equipment
Exclusions in Mommy Makeover Package in Bogota, Colombia
Payment Options: Cash and Credit Cards.
Best Plastic 

Surgeons

 in Bogota, Colombia
Dr. Felipe Castro Esguerra is a renowned Plastic Surgeon in Bogota, Colombia. He has an extensive experience in a variety of cosmetic procedures. With Dr. Esguerra, you will find the highest safety and quality standards.
Dr. Castro Esguerra is dedicated to performing successful results of mommy makeover procedure in Bogota. He takes care of your well-being to obtain the results you expect and want.
Why Choose Mommy Makeover in Bogota, Colombia?
Bogota is the capital city of Colombia. It offers a wide range of attractions tourists love visiting. Wheater you love peaceful walking, traditional food, or you're a more adventurous person, you'll find it all in Bogota.
Here are a few places you can explore during your cosmetic surgery in Bogota:
La Candelaria
Cerro Monserrate
Plaza Bolívarhome
Andrés Carne de Res restaurant
FAQs about Mommy Makeover Surgery in Bogota
What are the pros of a mommy makeover surgery?
Mommy makeover consists of various cosmetic procedures that can help you reshape your body figure. Therefore, you should know which pros this surgery includes. Here we show some of the most usual:
You will be able to wear your favorite clothes

You'll regain your confidence

You'll restore a youthful look to your breasts and stomach
Am I a good candidate for a mommy makeover?
You are an ideal candidate for a mommy makeover procedure if 
You are of good overall health

Have a perfect body weight

You have realistic expectations and an optimistic look

You don't want to stay pregnant again
How painful is a mommy makeover?
Mommy makeover is not that painful since a surgeon uses general anesthesia during the surgery. If you have pain after the procedure, he will prescribe pain killers. Therefore, you'll feel safe and comfortable throughout your surgery and afterward.
When is the best time to get a mommy makeover?
After consultation with your doctor, he will tell you if the time is right to perform a mommy makeover. Usually, it takes up to a year after childbirth for your body to recuperate and be ready for the mommy makeover procedure.
Book Your Mommy Makeover Package in Bogota, Colombia Today!
Choose an all-inclusive Mommy Makeover Package in Bogota today and get the desired body look! Improve your physical appearance with the help of professional surgeons in Bogota at Dr. Felipe Castro clinic! Contact us for more information!

Related Experiences:
Liposuction in Colombia
Mommy Makeover in Colombia
Mommy Makeover in Nuevo Progreso Mexico
Mommy Makeover in Mexico City, Mexico
Mommy Makeover in Guadalajara, Mexico
Mommy Makeover in Antalya, Turkey
---