Dr. Victor Samano Liposuction Package in Cancun, Mexico
Package price starting from:
$4500
Treatment:
Cosmetic/Plastic Surgery, Liposuction
Location:
Pabellon Caribe, Av Nichupte #22 1st floor suite 110, Mexico
Focus Area:
Liposuction | Cancun | Mexico | Dr Victor Samano
---
Enhance Your Contour with Lipo360 in Cancun, Mexico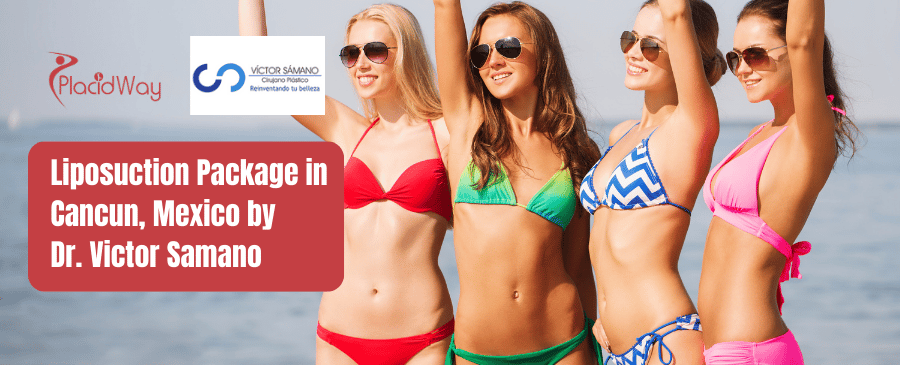 Liposuction, the popular cosmetic procedure designed to remove excess fat and sculpt the body, has become a sought-after treatment for those aiming to achieve their desired physique. When it comes to choosing a liposuction destination, Cancun, Mexico, emerges as a prime choice for medical tourists. Renowned for its stunning beaches, rich culture, and world-class healthcare, Cancun offers an ideal setting for a transformative experience. At the forefront of this transformative journey is Dr. Victor Samano, a highly skilled and experienced cosmetic surgeon who has successfully helped countless individuals achieve their aesthetic goals.
In this comprehensive package details, we'll delve into the advantages of choosing a liposuction package in Cancun, Mexico with Dr. Victor Samano, explore the various procedures offered, discuss package inclusions and exclusions, cover essential pre-op tests, assess whether the treatment is right for you, and provide an overview of the results you can expect. So, let's embark on this journey to rediscover your confidence and beauty!
You can get liposuction package in Cancun, Mexico by Dr. Victor Samano with the price starts at $4,500. Check our price list table below to learn more:
| | |
| --- | --- |
| City, Country | Cost in USD |
| Cancun, Mexico | $4,500 |
| United States | $15,000 |
| Canada | $8,000 |
Note: price may change and vary depends on complexity of procedures and patient conditions. Click free quote button below to learn more:

Expertise of Dr. Victor Samano: Dr. Samano's expertise and years of experience in the field of cosmetic surgery assure patients of receiving top-notch care and impeccable results.
State-of-the-Art Facilities: Cancun's medical facilities are equipped with cutting-edge technology, meeting international healthcare standards, ensuring a safe and comfortable environment for the procedure.
Affordable Liposuction Packages: With competitive pricing, liposuction packages in Cancun offer exceptional value, combining high-quality treatment with an exotic vacation experience.
Privacy and Discretion: Patients can enjoy a confidential journey, preserving their privacy throughout the entire process.
Post-Operative Recovery in Paradise: After the procedure, recover amidst Cancun's picturesque landscapes, aiding healing and rejuvenation.
Liposuction in Cancun, Mexico Before and After Results
Liposuction in Cancun, Mexico, with Dr. Victor Samano yields transformative results, sculpting the body and enhancing confidence. Patients can witness the remarkable difference in their appearance through before-and-after pictures.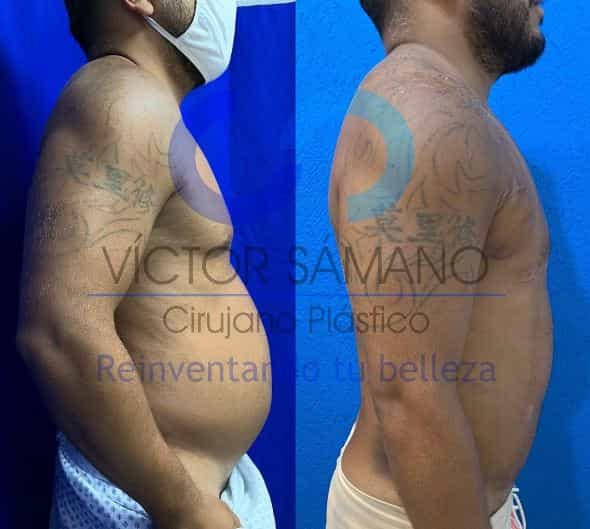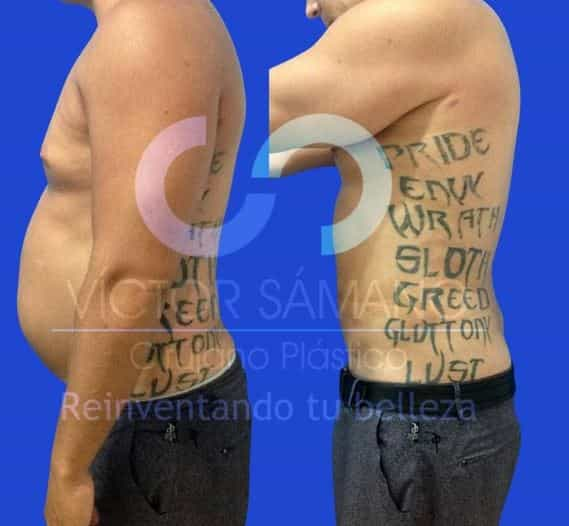 Liposuction is a versatile treatment that can target various areas of the body, such as the abdomen, thighs, arms, hips, and more. Dr. Victor Samano offers multiple liposuction techniques, including traditional liposuction, tumescent liposuction, and the innovative laser-assisted liposuction.
Personalized Consultation: Dr. Samano will conduct a thorough examination and discuss individual goals, tailoring the treatment plan accordingly.
Liposuction Procedure: The core of the package includes the liposuction treatment itself, utilizing the chosen technique to remove unwanted fat.
Anesthesia and Medications: Patients receive anesthesia during the procedure and necessary medications for a smooth recovery.
Post-Op Garments: Specialized compression garments are provided to aid in reducing swelling and optimizing results.
Follow-Up Appointments: Post-operative follow-up appointments ensure proper healing progress and address any concerns.
Travel and Accommodation: The package cost does not cover travel expenses and accommodation in Cancun.
Additional Treatments: If desired, additional treatments beyond liposuction may come at an extra cost.
Personal Expenses: Any personal expenses, such as meals and local transportation, are not included.
Complications Management: While rare, additional treatments for unexpected complications are not part of the package.
Revision Procedures: In case of revision requirements, additional fees may apply.
Liposuction Pre-Op Tests
Blood Tests: Routine blood tests evaluate overall health and detect potential risk factors.
Medical History Review: Understanding the patient's medical history helps tailor the procedure to individual needs.
Physical Examination: A comprehensive physical examination assesses the body's specific areas targeted for liposuction.
Imaging Studies: Imaging studies like ultrasound or MRI aid in planning the treatment approach.
Cardiovascular Evaluation: Ensuring a healthy cardiovascular system reduces surgical risks.
Get in touch now with Dr. Victor Samano, a distinguished and board-certified plastic surgeon in Cancun, Mexico, specializing in liposuction procedures. With a passion for aesthetic excellence and years of experience, Dr. Samano has garnered a reputation for delivering exceptional results to patients from around the world. His commitment to safety, advanced techniques, and personalized care ensures that each patient receives a transformative experience tailored to their unique needs. Trust Dr. Victor Samano to sculpt your body and enhance your confidence, making your liposuction journey in Cancun a remarkable and rewarding one.
Liposuction Surgeon in Cancun, Mexico

The Mexican Board of Plastic, Reconstructive and Aesthetic

The Ibero - Latin American Federation of Plastic Surgery

The International Society of Aesthetic Plastic Surgery
Is Liposuction Right for You?
BMI Assessment: A Body Mass Index (BMI) evaluation helps determine eligibility for liposuction.
Realistic Expectations: Patients should have realistic expectations and understand the potential outcomes of the procedure.
General Health: Overall health and any pre-existing medical conditions are considered during the assessment.
Fat Deposits: Liposuction targets localized fat deposits that are resistant to diet and exercise.
Psychological Evaluation: A psychological assessment ensures patients are mentally prepared for the procedure.
What to Expect During the Liposuction Procedure
Anesthesia: Before the procedure, patients will be administered anesthesia for a painless experience.
Incision: Tiny incisions are made to insert the cannula and suction out the fat effectively.
Fat Removal: Dr. Samano skillfully removes excess fat, sculpting the desired contours.
Recovery: Post-procedure, patients are monitored during recovery and guided on aftercare for optimal results.
Question: Is liposuction in Cancun, Mexico safe and effective?
Answer: Yes, liposuction in Cancun is safe and effective when performed by experienced surgeons like Dr. Victor Samano, in accredited medical facilities with modern technology and adherence to international standards.
Question: What areas of the body can be treated with liposuction in Cancun?
Answer: Liposuction in Cancun can target various areas, including the abdomen, thighs, arms, hips, buttocks, back, and even smaller areas like the chin and neck.
Question: What is the typical recovery period after liposuction in Cancun?
Answer: The recovery period varies depending on the extent of the liposuction and individual healing capabilities. Generally, patients can expect to resume light activities within a week and return to regular routines within a few weeks.
Question: Are the liposuction results permanent?
Answer: The fat cells removed during liposuction in Cancun do not return, offering permanent results. However, maintaining a healthy lifestyle, including regular exercise and a balanced diet, is essential to prevent new fat deposits in the treated areas.
Question: Can I combine liposuction with other cosmetic procedures in Cancun?
Answer: Yes, many patients opt to combine liposuction with other procedures like tummy tucks, breast augmentations, or Brazilian butt lifts for a comprehensive transformation. Dr. Victor Samano can discuss personalized treatment plans during the consultation.
Experience the transformative power of liposuction in Cancun, Mexico, with Dr. Victor Samano. Book your consultation now for a journey to rediscover your confidence and beauty! Click contact us button below to get started:

Related Experiences:
Liposuction in Cancun, Mexico
Liposuction in Mexico City
Liposuction in Mexicali, Mexico
Liposuction in Tijuana Mexico
Achieve Beautifully Shaped Body with Liposuction in Mexico!
Liposuction in Merida, Mexico
---