Dr Victor Samano Plastic Surgery Cancun
Best Cosmetic Surgery Clinic in Cancun, Mexico
Pabellon Caribe, Av Nichupte #22 1st floor suite 110, Cancun, Mexico

Specialty:

Anti Aging, Cosmetic/Plastic Surgery, Skin Care

Focus Area:

Dr. Víctor Sámano Plastic Surgery Cancun | Cancun | Mexico | Plastic Surgery | Cosmetic Surgery
Dr Victor Samano Plastic Surgery Cancun Profile Overview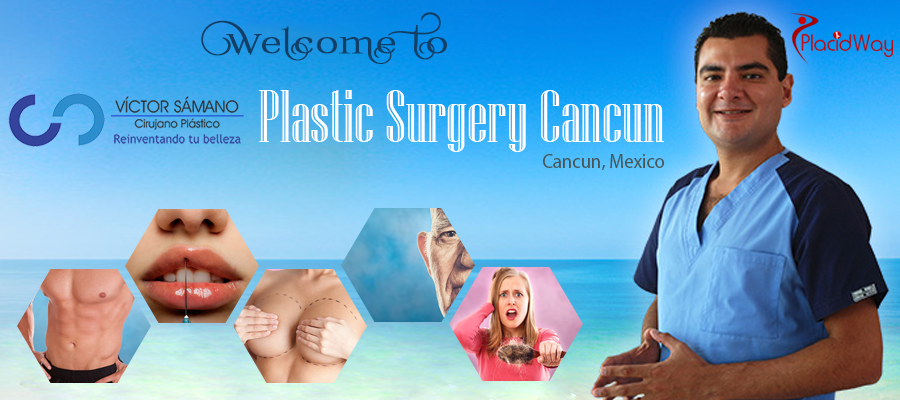 Located in lovely Cancun, Mexico, the Plastic Surgery Cancun Clinic is dedicated to providing various plastic surgery services and procedures to local and international patients. The clinic is equipped with the latest technology and offers full patient care to its patients. The hospital has a strong team of doctors who is beyond efficient, experienced and practiced in plastic surgeries.
The clinic is headed by Dr. Victor Samano, a reputable plastic surgeon certified by the Mexican Plastic, Aesthetic and Reconstructive Surgery Board and a member of the Ibero-American Plastic Surgery Federation and the prestigious International Society of Aesthetic Plastic Surgery. He studied in one of the best institutions in Latin America and has been honored and ranked first place among the Mexican plastic surgeons by the National Autonomous University of Mexico.
He was born in Veracruz, Mexico and studied medicine at the Anahuac University, General Surgery at the Guanajuato University and Plastic and Reconstructive Surgery at the Autonomous National University of Mexico. A young surgeon who's constantly updated on new techniques because of his desire for perfection, he never fails to educate and innovate himself through his craft.
Dr. Samano currently has his private practice in Cancun, Mexico and is committed consistently to delivering high-quality cosmetic and plastic procedures to his patients.
Benefits of Choosing Dr Victor Samano in Cancun Mexico
Pocket-friendly plastic surgery - Dr. Samano Clinic provides patients with cost-effective cosmetic procedures for international patients. You can save up to 70% on your cosmetic bills while maintaining the same level of care as in your home country.
Advanced facilities and technology - The clinic offers cutting-edge technology and techniques in a modern environment to ensure the best possible care to its patients.
Highly skilled and experienced plastic surgeon - Dr. Samano is certified and qualified to provide patients with effective and safe treatments. He is committed to giving the best possible outcomes to his patients with quality surgery.
Get FREE Video Consultation with Dr. Samano in Cancun Mexico, for Cosmetic Surgery!
Whether you need to rejuvenate your face, improve your body shape, or restore your pre-baby figure, Dr. Victor Samano can help. He uses only proven techniques to relish your natural beauty in the most amazing way. Contact the clinic today and book a free video consultation to discuss your plastic surgery options with dr. Samano today!

---
Dr Victor Samano Plastic Surgery Cancun, Cancun, Mexico Profile Details
A highly trained medical team and doctor Victor Samano ensures that patients have access to advanced technology in plastic surgery services for effective and safe treatments. The center's goal is to assist you in receiving the desired beauty results from your chosen cosmetic procedures.
The procedures at the Plastic Surgery Cancun clinic adhere to strict standards of medical care such as you can experience in America or Europe. Dr. Samano has over 10 years of experience treating local and international patients and has a proven track record of success. For more information, don't hesitate to get in touch with us at:

---
Dr Victor Samano Plastic Surgery Cancun Treatments Offered
Take a look at which treatments and procedures are done at the Plastic Surgery Cancun clinic:
Facial Rejuvenation
Signs of aging appear over time, including drooping eyelids, wrinkles on the forehead, excess skin or expression marks.
Procedures that lead to facial rejuvenation don't stop aging. However, they can significantly improve the appearance of the face.
Eyelid surgery
Inflammation and thinning of the eyelids can be caused by genetics, smoking, excessive alcohol consumption, or a lack of sun protection. However, there are some cases where the natural aging process begins too soon, causing aesthetic issues and sometimes blocking vision.
Blepharoplasty, which removes excess skin and fat below and above the eyes to improve vision and achieve a more youthful and rested appearance, is the solution.
Rhinoplasty
If the person isn't completely happy with the shape of their nose, it can have emotional consequences.
The nose is composed of bone, cartilage, and skin, forming a structure that can be improved with a combination of different rhinoplasty techniques, either to modify the shape of the back (hump), deviations, tip position, thickness, or even in reconstructive procedures after accidents or diseases that affect the shape and function of the nose.
Mommy Makeover
A mommy makeover usually includes breast surgery and a tummy tuck. As the name suggests, the procedure was developed to help women rejuvenate the areas of their bodies most affected by motherhood.
Breast Augmentation
Breast augmentation, also known as augmentation mammoplasty, is a surgical procedure used to increase the size of the breasts. It entails inserting breast implants beneath the breast tissue or chest muscles. Breast augmentation can help some women feel more confident.
Buttock Augmentation
Buttock augmentation is a surgical procedure used to increase the volume and shape of the buttocks. This can be accomplished through either fat transfer or buttock implants. Fat transfer is a popular procedure that uses the patient's fat to add natural-looking volume to the buttocks.

---
Dr Victor Samano Plastic Surgery Cancun Certificates, Accreditations, Qualifications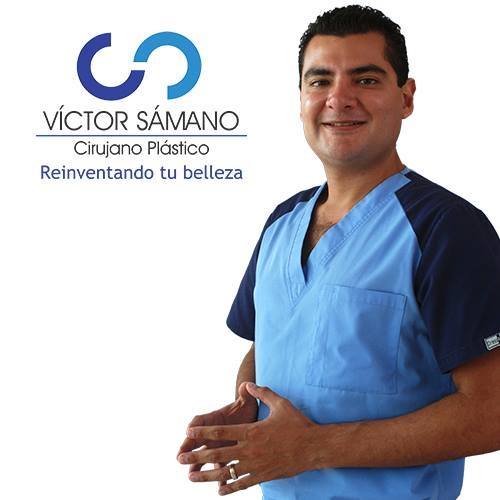 Doctor Name: Dr. Victor Samano
Specializations:
Plastic and Reconstructive Surgery,

Hair Transplant Surgery,

Cosmetic Surgery,

Breast Surgery
Languages:
Certifications:
The Mexican Board of Plastic, Reconstructive and Aesthetic

The Ibero - Latin American Federation of Plastic Surgery

The International Society of Aesthetic Plastic Surgery

---
Dr Victor Samano Plastic Surgery Cancun Testimonials
Laura Carrillo
"Dr Samano was professionally amazing from the beginning! He was patient and knowledgeable with me throughout the entire process. I was extremely nervous about the surgery I was undergoing being as it was my first time doing any kind of surgery. I went in for a lipo/tummy tuck and as well as a BBL. After surgery, I had the nurse Laura come to my hotel a few times to check on me and she was professional and so kind to me. The doctor and her took good care of me. Alex and Marial were nice. I am 5 weeks post operation, and my results are looking wonderful. It's still a progress but I cannot wait to see more and better results 5months from now! Thank you so much!"
Brenna Lynne
"I don't know where to begin when describing my experience here; everyone was absolutely phenomenal. I travelled from Canada to Dr. Samano for a Breast Augmentation and was met with service nothing short of amazing. They carried out all of the transfers, including to and from the airport and the resort by their very kind driver, Lino (Won't get that back home). Dr. Samano was professional, knowledgeable and took time to make you feel comfortable and heard. He had fantastic attention to detail and explained everything very well and I'm very, very pleased with the results. He did an amazing job.."
"I also had the privilege of regular interactions with his superb team. Alex was/is consistently available to answer my many questions, she was very friendly and kind. I didn't have many in-person interactions with her, but I enjoyed the ones we had. Laura was also very sweet and made sure I was doing okay, she was very comforting before I went into surgery as I was nervous, as well as post-op. She was the one that was able to calm me down a little bit right before I went into the operating room and I'm very grateful for that. Marial picked me up and dropped me off for all of my appointments, she also helped calm my nerves before every appointment since I was so nervous about everything (first surgery), she was very fun to be around, her kindness also didn't go unnoticed, and the car rides were fun. Both Marial and Laura came to my resort multiple times to check my vitals, how I was doing and if everything looked good. It was extremely kind and another thing you wouldn't get back in Canada. It really helped with the healing and everything since I didn't have to travel for a checkup right after. Another lady that did my blood work also created a good experience, as she was gentle, nice and fast, but unfortunately didn't get her name."
"I went for 15 days so I had enough time to get the stitches out and be okay to fly. I stayed at Riu Caribe as it was within a decently close distance if anyone is looking into going here.."
"I really appreciate everything Dr. Samano and his team did and continue to do for me while I continue to heal. Don't pay attention to the negative reviews, just follow the instructions given and you'll be fine! I recommend this clinic!! It was a pleasure getting to know all of them and although I was in post-op pain, I enjoyed every second!"
Jake
"I am extremely happy with the result of my surgery. Kudos to Dr. Victor and to his team. Thank you for taking care of me during my stay in cancun from pre-op to post-op. You guys are so incredibly amazing! I am more confident of how I look right now. I highly recommend Dr. Somano to everyone who wants to undergo plastic surgery.."
Selena Ruiz
"Great surgeon! Very informative and attentive to his patients. Alex and Dr. Samano make a great team. They respond fast and detailed to any questions you might have. They are bilingual as well which is definitely a plus. I traveled from Texas for my first surgery ever and I will definitely be returning!"

---
Dr Victor Samano Plastic Surgery Cancun Awards & Recognitions
---
Cancun, Mexico Destination Overview
Medical Tourism in Cancun, Mexico
Cancun has become a popular destination for people seeking affordable, high-quality medical treatments such as cosmetic surgery. Cancun offers state-of-the-art facilities and experienced cosmetic surgeons offering competitive prices for various procedures. The city's beautiful beaches and attractions make it a perfect combination of health and leisure.
If you're interested in visiting Cancun for medical tourism, here's how you can get there:
Fly: The Cancun International Airport is well connected to major cities around the world, making it easy to reach.
Drive: If you're coming from a nearby city in Mexico, you can rent a car and drive to Cancun. It's a scenic drive along the coast and takes about 2-3 hours from Playa del Carmen.
Bus: Another option is to take a bus from nearby cities like Tulum or Playa del Carmen. The journey takes about 2-3 hours and is a convenient and cost-effective way to reach Cancun.

---
---
Reviews
Kelly H

I don't even know where to begin! Of course I was so worried about everything, but this experience has been incredible. Dr. Sámano is lovely and a professional. He put me at ease, explained things in Laymans terms, answered every question thoroughly, and, on a random sidenote, has amazing hair :-) staff is superb. His assistant, Alex, is a wonderful, timely communicator and so helpful and warm. His nurse Maria is bubbly and fun and made me feel relaxed and happy. Everything went as explained. The hospital was top-notch. I have a splint and bandages on, so I don't know what the result looks like, but everything has been as promised so far! I am beyond pleased!

Dec 30 2022

Will A

All very good services

Dec 17 2022

Natalie S

From first contact Dr Samano and Alex have been professional, knowledgeable, kind and super easy to work with. I had an extended tummy tuck and breast lift and augmentation done. Dr Samano answered all my questions and concerns. Alex was incredible the entire time we were in Cancun. She took amazing care of us and it felt like we were family. My results are absolutely beautiful. Better than even I imagined. I am healing well and can't wait to see the even more beautiful result in 3 months. Thank you Dr Samano and Alex!! I am forever grateful to both of you! I finally have the body I've always dreamed of! If you are looking for a skilled, very qualified surgeon go to Dr Samano. He will take excellent care of you!!
From first contact Dr Samano and Alex have been professional, knowledgeable, kind and super easy to work with. I had an extended tummy tuck and breast lift and augmentation done. Dr Samano answered all my questions and concerns. Alex was incredible the entire time we were in Cancun. She took amazing care of us and it felt like we were family. My results are absolutely beautiful. Better than even I imagined. I am healing well and can't wait to see the even more beautiful result in 3 months. Thank you Dr Samano and Alex!! I am forever grateful to both of you! I finally have the body I've always dreamed of! If you are looking for a skilled, very qualified surgeon go to Dr Samano. He will take excellent care of you!!

Oct 24 2018
---
Anti-Aging Related Packages