Penis Enlargement Surgery in Mexico by Eduardo Cartagena
Package price starting from:
$7800
Treatment:
Cosmetic/Plastic Surgery, Penile Augmentation
Location:
Avenida Camino Santa Teresa 1055, Heroes de Padierna, Magdalena Contreras, Mexico City, Mexico
Focus Area:
Penile Enlargement Surgery in Mexico City | Penile Augmentation | Penile Enhancement | Dr Eduardo Cartagena | Grith Surgery Cost in Mexico
---
Penis Enlargement (Grith Surgery) in Mexico City

Dr. Eduardo Cartagena provides a cheap package for Penile Enlargement Surgery in Mexico City. Get Penile Augmentation Surgery now at PlacidWay. It's time for you to increase your confidence with the best penile appearance. You will be able to get happiness when you have intimate moments with your partner. We are ready to help you through the leading Board Certified Surgeon in Mexico City by Dr. Eduardo Cartagena. He is ready to help you realize what you need! You will receive the best results.
What is Penile Enlargement Surgery?
Penile Enlargement or augmentation is a treatment to thicken and enhance your penile without depending upon implants. Specialist will make a little section point in the male genital region, and continue to cut the Suspensory Ligament. Beginning it forward, the surgeon will be dealt with by liberating the most raised spot of the penile to give it the essential thickening and amplification influence. This Penile Surgery is safe and no impacts the erection or affectability of the man going through the procedure.
You can get Penile Enlargement Surgery in Mexico city from Dr Eduardo Cartagena with the cost starts from $7,800.
Note: Final cost can change depends on complexity of procedure and patients condition. For more information, please refer to center policy, or contact customer support.

Dr. Eduardo Cartagena performs the augmentation by partially de-inserting the penile shaft from a suspensory ligament, so he can advance it both, internally and externally. He also performs some fat transfer from your pubic area to your penis so he can enhance its girth as well. This way, he doesn't risk the erection, the blood flow or the comfort of the patient by inserting an implant (that causes discomfort as the patient is always erect) or a pump (that causes blood clotting). The average gain is 2-3 inches in length and 1/2-1 inch in girth.
He performs de-insertion of the base of the penile shaft without modifying its vascular or nervous structures. Afterwards, I aspirate some fat from the pubic area with 2 aims: to make the shaft look even bigger and to transfer the fat to the shaft, hence gaining about 2-3 inches in length and 1/2-1 inch in girth with the penis in resting position. Dr Eduardo offers a 1 or even 2-night stay at the clinic, he doesn't perform implant augmentation, as it disrupts some of the anatomy of the penis.
Note: If you are interested, we can schedule a free video consultation
Note: The pre-op tests will be suggested after an essential physical check up. The tests are required to be done before 7-10 days of the treatment.
Payment Options: Cash, Credit Card, Wire Transfer
Note: The clinic may ask you for money deposit once you decide to receive the surgery.
Dr. Eduardo Cartagena is a distinguished member of both the Mexican Association of Plastic, Aesthetic and Reconstructive Surgery (AMCPER) and the American Society of Plastic Surgeons (ASPS), ensuring his expertise in the field. Fluent in English, he effortlessly facilitates effective communication. Presently located in Mexico City, Dr. Cartagena boasts a remarkable accolade collection, including recognition as a finalist in the National Contest of Residents "Fernando Ortiz Monasterio" during the L International Congress of AMCPER. His compassionate contributions were acknowledged by the International Red Cross for selflessly aiding traumatized patients at Angeles Lomas Hospital. Additionally, his scholarly impact is evident through published scientific articles and co-authorship of a chapter in the foundational textbook "Introduction to Surgery," a cornerstone of UNAM Faculty of Medicine's bibliography.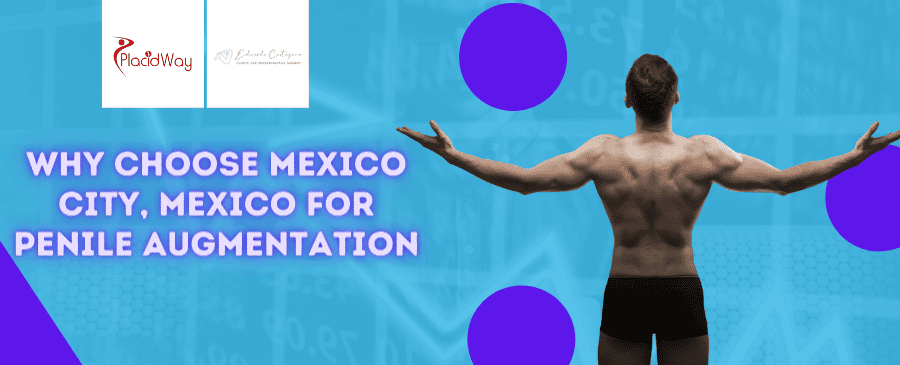 Mexico City offers an attractive alternative to surgical procedures performed elsewhere because of its lower costs, shorter waiting periods and more flexible travel guidelines. For many years now the country has been at the forefront when it comes all things surgery - offering low prices combined with quick turnaround times that make this destination a popular choice among patients looking for top notch care without breaking their budget!
Here you can find FAQs about Penile Enlargement Surgery:
The time you need to stay in the hospital after undergoing penile enlargement surgery will largely depend on a number of factors. A few days or weeks may be all that's needed, while other individuals may require months as well before they can return home and resume activity levels like work again.
Yes, the results of penile enlargement surgery are permanent. If you want guaranteed satisfaction and gets more information regarding the result, feel free to get consultation with the specialist directly.
Penis Enlargement surgeries require somewhere in the range of 1 and 2 hours of operation time. This implies that the entire cycle (from admission to release from the clinic) is approximately to 6 hours, after which you can get back to your ordinary daily activity.
The procedure for penile enlargement surgery is not complicated, but it does require preparation. You will be advised to stop smoking and drinking alcohol one month before your appointment in order achieve the best results from this operation; if you have any other recent health concerns then please let your surgeon know as soon possible so they can review whether or not going through with day's planned surgery!
Explore the realm of confidence and self-assurance with our comprehensive video on Penile Enlargement Surgery in Mexico. Guided by Dr. Eduardo Cartagena, a distinguished member of the Mexican Association of Plastic, Aesthetic, and Reconstructive Surgery, this video takes you through the transformative journey of individuals seeking enhanced comfort and satisfaction. Dr. Cartagena's fluency in English ensures clear communication, eliminating any concerns. 
Through Penile Enlargement Surgery in Mexico city at Dr. Eduardo, you will get the best medical services and understand what you need. Make sure that you contact us now to start your consultation. Please press the button below to connect with our customer representative:

Related Experiences:
Penile Augmentation in Tijuana Mexico
Penile Implant Surgery in Mexico
Penile Augmentation in Bangkok Thailand
Tummy Tuck in Mexico City
Mommy Makeover in Mexico City, Mexico
Liposuction in Mexico City
---