PlacidWay Luxembourg Medical Tourism
Medical Travel, Cancer Treatments, Orthopedic Treatments, Cardiac Care, Diabetes, Dental Treatments, Fertility, Medical Treatments, Alternative Medicine, Obesity, Luxembourg?

Luxemburg, Luxembourg City, Luxembourg

Specialty:

Addiction Treatment, Alternative Medicine, Anti Aging, Ayurveda, Cancer Treatment, Chronic Diseases, Cosmetic/Plastic Surgery, Dentistry, Detox, ENT, Executive Healthcheck, Eye/Lasik Care, Fertility Treatment, General Medicine, General Surgery, Gynecology Treatment, Hair Transplantation, Heart Care/Surgery, Laparoscopic Surgery, Laser Surgery, Medical Spa Treatment, Neurology, Obesity/Bariatric Surgery, Organ Transplant, Orthopedic/Knee Surgery, Pediatric Treatment, Radiology/CT Scans, Rehabilitation, Robotic Surgery, Skin Care, Spine Care/Surgery, Sports Medicine, Stem Cell Therapy, Urology, Vascular Surgery, Weight Loss Program, Yoga/Meditation

Focus Area:

PlacidWay Luxembourg Medical Tourism | Surgery | Treatments | Hospitals in Luxembourg | Global Health Care Centers | Affordable Medical Procedures Luxembourg
PlacidWay Luxembourg Medical Tourism Profile Overview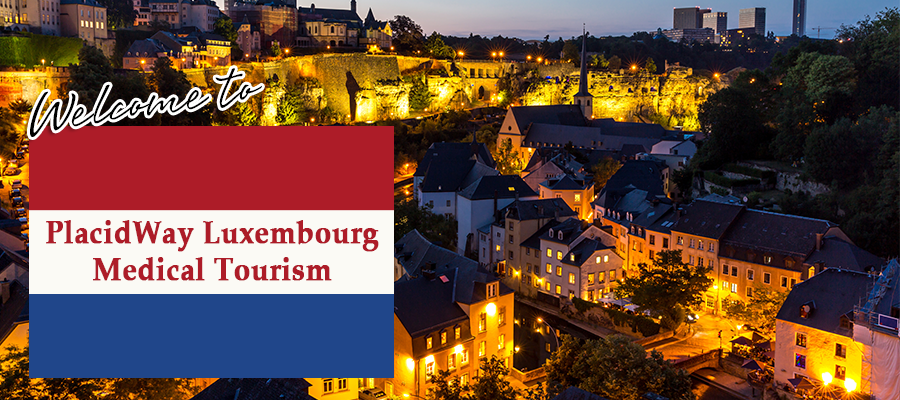 Welcome To PlacidWay Luxembourg Medical Tourism
PlacidWay Luxembourg Medical Tourism offers superior, world-class, and affordable medical solutions to patients who are looking for treatment options. We perfectly combine high-quality healthcare with amazing travel options in Luxembourg at pocket-friendly prices. If you are looking for new and efficient ways to improve or preserve your health through traditional or alternative medicine, or if you struggle with a condition that requires medical attention, PlacidWay Luxembourg Medical Tourism offers a vast array of options for you to choose from.
With a wide range of medical services offered, Luxembourg is rapidly gaining a reputation as one of the top medical tourism destinations. Renowned worldwide for its top-notch healthcare system, Luxembourg is a center of intense activity regarding state-of-the-art medical care. There are numerous first-class medical centers that welcome both local and international patients.
PlacidWay Luxembourg Medical Tourism works with accredited, renowned clinics and hospitals, highly educated and trained doctors and cutting-edge technological equipment.
Medical Treatments Offered
Orthopedic Surgery
Dental Care
Eye Surgery
Fertility Treatments
Plastic and Cosmetic Surgery
Reconstructive Surgery
Stem Cell Therapy
Obesity Surgery
Laparoscopic Surgery
Heart Care
Cancer Treatments
Urology
Vascular Surgery
Wellness Programs
Robotic Surgery
… and many others.
Why Choose PlacidWay Luxembourg Medical Tourism?
Comprehensive health care programs and solutions
Cutting-edge medical technology
We have years of experience in helping patients find the best healthcare, treatments, and medical packages
Excellent healthcare options in Luxembourg, according to the patients' budget, requirements, and needs
All the medical providers we collaborate with are renowned and accredited with international standards
We will guide you throughout your entire medical experience
PlacidWay Luxembourg Medical Tourism offers a wide range of solutions that fit your needs, desires, and finances. Contact us for a FREE quote!

---
---
Addiction-Treatment Related Packages
Addiction-Treatment Related Experiences