Dr. Goyals The Dental Solutions
Dental Care in India, Orthodontics In Mumbai, India, Oral Health, Smile Makeover Cost in India, Dr. Goyals, the Dental Solutions, Mumbai, India
139-1st floor, Lodha Boulevard Mall, above McDonalds, eastern express highway, Majiwada, Thane, Mumbai, India

Focus Area:

Dental Implants |Invisalign | Full Mouth Rehabilitation | Smile Makeover |Dr. Goyals the Dental Solutions | Mumbai, India
Dr. Goyals The Dental Solutions Profile Overview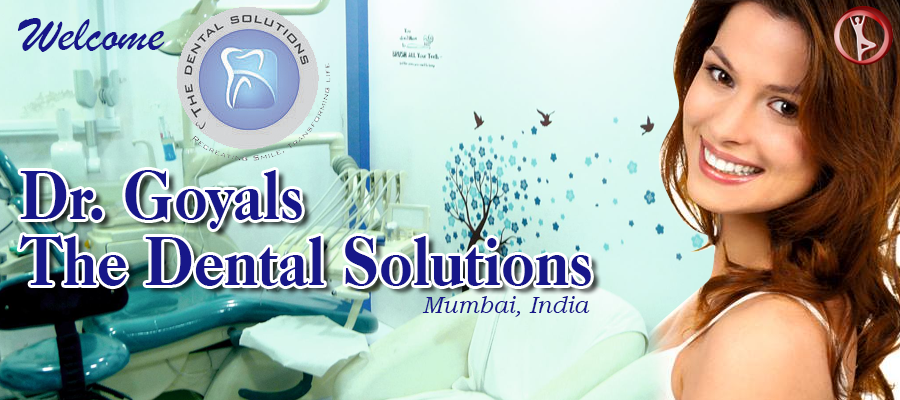 Healthy and Beautiful Smiles at Dr. Goyals, the Dental Solutions in Mumbai, India
Dr. Goyals, the Dental Solutions, located in Mumbai India is a globally recognized Dental Care Centre that provides excellent smile makeover along with complete teeth and gum care. It offers personalized and high quality service to its domestic and international patients. The clinic is well equipped with all latest dental technologies and specializes in the field of dentistry to promote good oral health and its benefits. It offers dental services at reasonable rates for to be able to afford high quality dental care in India.
The qualified dental staff of Dr. Goyals, the Dental Solutions focuses majorly on the dental health before creating impressive smiles. The expert dental specialists at this clinic take it as a mission to see that patients are satisfied before leaving the clinic. All dentists are specialists in their respective fields within dentistry and hold relevant knowledge and experience. They are consistently brilliant in their delivery of the treatment and offer world-class care.
Treatments and Procedures
General Dentistry

Dental Implants

Orthodontics/Braces

Dentures

Full Mouth Rehab

Veneers & Teeth Whitening

Emergency Dentistry

Paediatric Dentistry
If you want to know more about Dr. Goyals, the Dental Solutions or want to request for any information, just click the tab below!

---
---
Reviews
lal

This has been the nicest experience I have had here. The greatest dentist in town. I believe that in order to maintain proper teeth whitening in Thane, I should visit a Dentist. And here, the doctor is quite kind and professional.

Google

Feb 15 2022

Munaf

Dr. Ravi Goyal and his experienced staff are so competent and knowledgeable that I would suggest them to anybody seeking dental care. In Thane, he is the best dentist.


Google

Feb 17 2022

Tushar

Dr. Ravi is on time for their appointments and has modern technology in place to provide the finest therapy for his patients. As a result, I believe he is Thane's best dentist.

Google

Feb 17 2022
---
Dentistry Related Packages
Dentistry Related Experiences