Dental Clinic OCI Liberia
Top Clinic for Dental Care in Costa Rica by OCI Dental
Liberia, Costa Rica - In front of Pizza Hut, Liberia, Local Number 3 next to exclusive footwear., Liberia,Liberia 50101, Costa Rica

Focus Area:

Dental Treatment in Liberia Costa Rica | OCI Dental Clinic Liberia
Dental Clinic OCI Liberia Profile Overview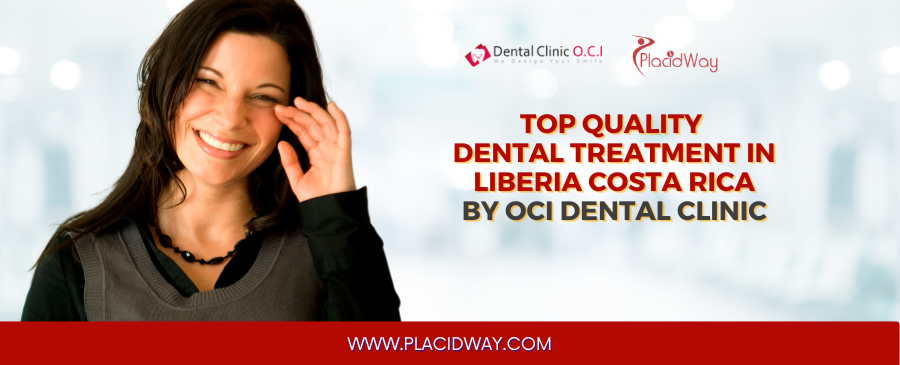 Build Your Smile with Dental Treatment in Liberia Costa Rica
About OCI Dental Clinic Liberia
OCI Dental Clinic provides top Dental Treatment in Liberia Costa Rica. Schedule your appointment for Dental Veneers, Crowns, and Implants at PlacidWay! Dental Clinic OCI, located in Liberia, Costa Rica, is a comprehensive dental care clinic for people of all ages. It takes care of the oral health of people going through underlying developmental or medical condition to provide them with preventative and restorative dental care. It not only straightens the crooked teeth, but also treats gums disease along with superior dental implants.
The qualified dental staffs of Dental Clinic OCI remain committed to help its domestic and international patients to maintain complete oral health. This is the integral part of the overall dental health and wellness they provide.
The expert dental specialists at this clinic take it as a mission to see that patients are satisfied before leaving the clinic. All dentists are specialists in their respective fields within dentistry and hold relevant knowledge and experience. They are consistently brilliant in their delivery of the treatment and offer world-class care.
Clinic Name: OCI Dental Clinic Liberia
Procedure: Dental Treatment
Location: Liberia, Costa Rica
Dentists: Edgar Pabon, Fabian Fernandez, Karina Malavassi, Luis Granera, Wendy Villalta and Oscar Cisneros.
Table of Content
• Cost • Procedures • Advantages
• Doctors • How to Book
Here are several advantages of choosing Dental Clinic in Costa Rica by OCI Dental:
Here are several procedures available at Dental Clinic in Costa Rica by OCI Dental Clinic Liberia:
Dental Aesthetic Treatment is a process that can improve the appearance of teeth. This treatment can involve processes such as teeth whitening, veneers, and dental bonding.
A dental implant is a titanium post that is surgically placed into the jawbone beneath the gums to replace a missing tooth. The implant serves as the new "root" of the tooth, and a dental crown is then placed on top of the implant to create a natural-looking replacement tooth.
Orthodontics is the dental specialty that deals with the diagnosis, prevention and treatment of dental and facial irregularities. Orthodontists use braces and other appliances to move teeth into their correct positions.
Root Canal
Dental nerve treatment is a way to treat dental problems that are related to the nerves. It can be used to treat a number of different problems, such as pain, sensitivity, and infection.
A Zirconium Crown is a type of dental crown that is made out of zirconium. It is a biocompatible material that is often used for people who have allergies to other materials.
Dentures are a type of prosthetic teeth. They are made to look like natural teeth and are used to replace missing teeth.
OverDenture
Implant overdentures are an excellent treatment option for the edentulous patient
3 on 6
Before and After Images for Dental Treatment in Liberia, Costa Rica by OCI Clinica Dental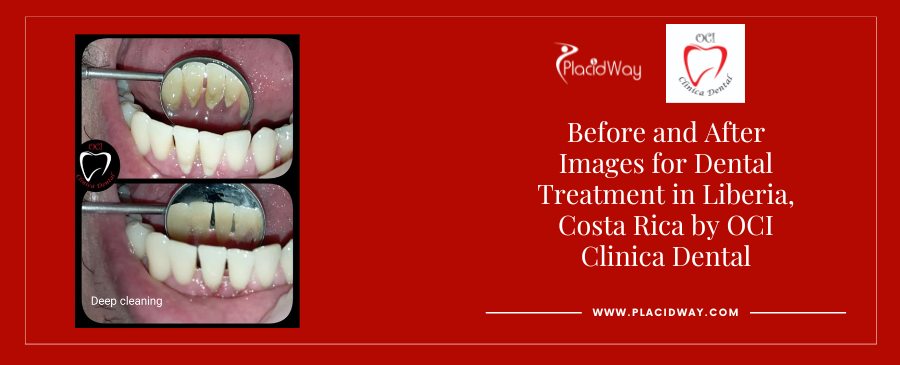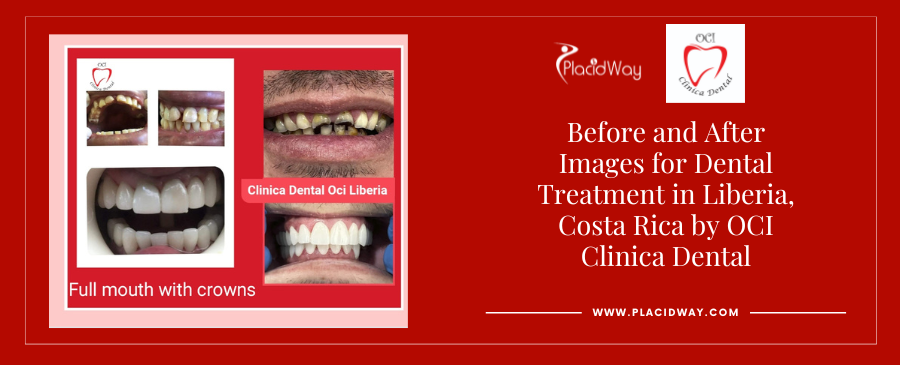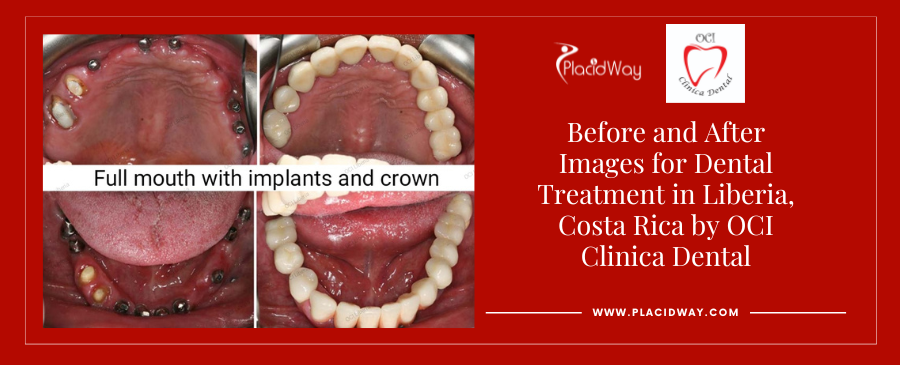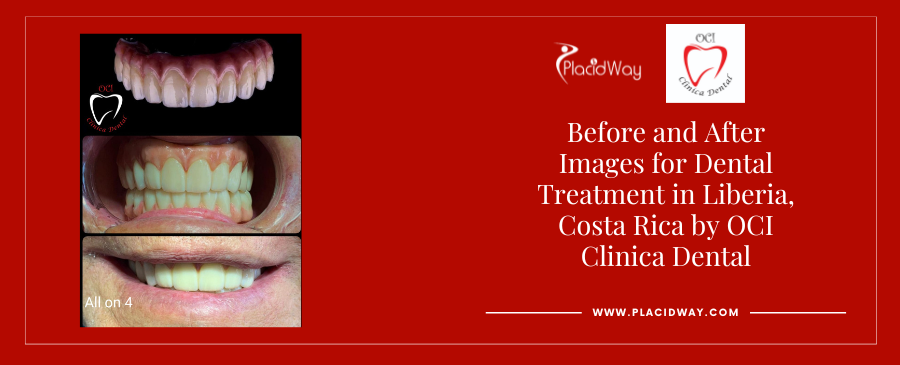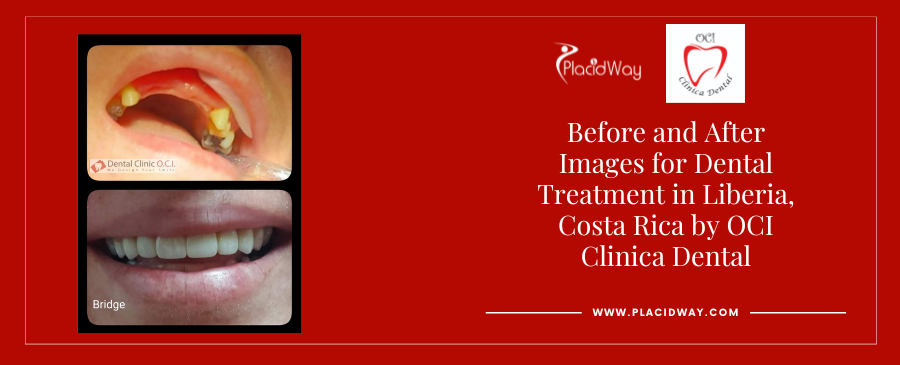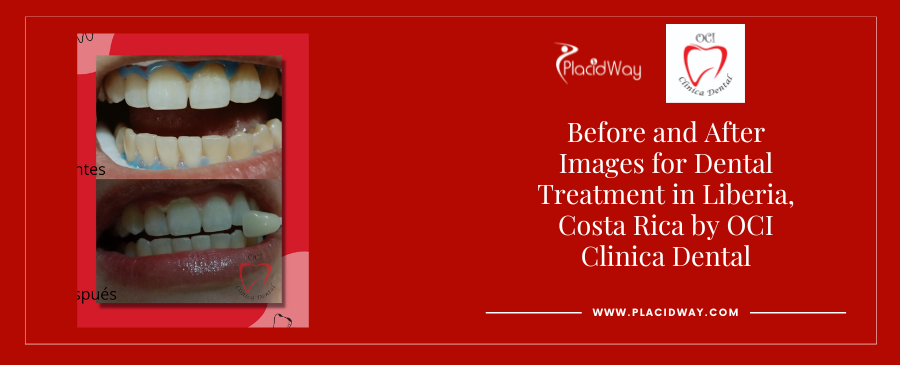 OCI Dental Clinic Liberia offers high quality dental services at an affordable price. If you are looking for a place to get your dental treatment done, then this is the clinic for you! They offer a wide range of dental services such as teeth whitening, veneers, fillings, and more. Contact PlacidWay by clicking button below for more information about Price for Dental Care in Liberia Costa Rica at this clinic.
Here you can find information about top Dentist in Costa Rica at OCI Dental:
Oscar Cisneros

Wendy Villalta
We understand that choosing a dental provider is an important decision. That's why PlacidWay offer free consultations, so you can schedule your appointment with the provider and learn more about their services before making a commitment. To book your consultation, click contact us button below and fill out our online form.
We look forward to meeting you and helping you achieve your optimal oral health!

---
---
Reviews
Jen S

I high high recommend OCI Liberia, was so nice all attention for me. I come back for implants.

Aug 29 2022

Adriana P M G

Improve your smile here, dental vacations!

Dental Clinic OCI Liberia

Feb 24 2022

Bruce R

An amazing professional experience! I've been to several dentists over the years in US...this was the best I've ever been to... and a Adriana is wonderful person at heart.

Dental Clinic OCI Liberia

Jul 11 2022
---
Dentistry Related Packages
Dentistry Related Experiences