Body by Ravi Plastic Surgery & Aesthetics
Cosmetic and Plastic Surgery, Best Cosmetology Clinic at Texas, Plastic Surgery, Ravi Plastic Surgery & Aesthetics, Houston, United States

9230 Katy Freeway, Suite 520 Houston Texas, Houston, United States

Specialty:

Anti Aging, Cosmetic/Plastic Surgery, Skin Care

Focus Area:

Cosmetic and Plastic Surgery | Best Cosmetology Clinic at Texas | Plastic Surgery | Ravi Plastic Surgery & Aesthetics | Houston | United States
Body by Ravi Plastic Surgery & Aesthetics Profile Overview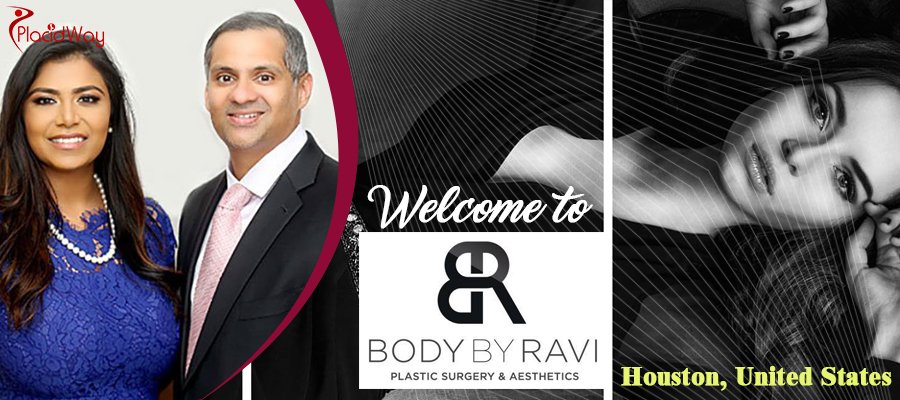 Complete Solution for Cosmetic and Plastic Surgery at Ravi Plastic Surgery & Aesthetics, Houston, United States
Ravi Plastic Surgery & Aesthetics, located in Houston, United States, is one of the most promising solution providers for cosmetic and plastic surgery. Headed by Dr. Ravi Somayazula, a Board-Certified Plastic Surgeon in Texas, this cosmetology unit offers best reformation to breast and body cosmetic surgery. It is known to create elegant transformations—sculpting, refining, and restoring the body to its most ideal shape. Medical experts at Ravi Plastic Surgery & Aesthetics offer best patient-care and make them feel comfortable throughout their treatment process. As a matter of fact, Dr. Ravi is one of Houston's top cosmetic surgeons.
The primary goal of the clinic is to make the entire plastic surgery journey comfortable and safe for the patients. The expert physicians at the clinic provide safe and assured treatment to meet the rational expectations of domestic and international patients. The look designing involves various stages of accuracy and planning. Experts at the clinic use modern and highly effective technology for Cosmetic and Plastic Surgery.
Treatments and Procedures
Breast Augmentation

Brazilian Butt Lift

Tummy Tuck

FaceTite

Facial Rejuvenation Med Spa Treatments

Mommy Makeover
If you want to know more about Ravi Plastic Surgery & Aesthetics, Houston, United States or want to request for any information, just click the contact tab below!

---
---
Reviews
Valerie

Dr Ravi is the BEST!!! I am loving my new body and happy with my results. Anytime I had questions or concerns, the staff or Dr. Ravi called me immediately. Eveyone is helpful and nice. Thank you for making my body look amazing.
I wish I had done this sooner.

Google

Sep 14 2022

Kassandra

If you're thinking of getting breast augmentation Dr. Ravi and his staff are amazing. From the first visit to my last. I was very anxious about getting my breast augmentation from going under anesthesia to possibly getting botched. Dr. Ravi was recommended to me but I still did my own research. Had a consultation with another surgeon before him and basically told me pick whatever you want and I'll do it for you. When I had my consultation with Dr. Ravi, I told him I don't want to look "fake" that I wanted a natural look and proportionate to my body. He gave me a size and told me this is what fits your body and I won't go bigger than that. If you want bigger than I'm not the surgeon for you. I don't want you to look botched. He answers all my questions no matter how "dumb" the question could be. I left my consultation like wow he cares about how his patients look and that's what made me decide to go with Dr. Ravi. Almost two years later people see me out there and haven't questioned if I've had a surgery, the people I do tell about my surgery are shocked how propionate and natural they look. Plus the confident boost it gave me was amazing!! I love my new girls!! I'm very happy I went with Dr. Ravi.

Google

Sep 13 2022

Jim

Dr.Ravi is a talented doctor and my results are excellent! Only 7 weeks out and I look great and very pleased with my result. After significant weight loss I needed his skill to make my transformation possible. If you're like me, you put in the hard work, lose significant weight, build muscle and your left with frustrating loose skin. Dr. Ravi can resolve that issue and help you realize your transformation goals.

Google

Sep 15 2022
---
Anti-Aging Related Packages