Dr. Orawan Holistic Dermatology & Anti-Aging Institute
Face Treatments in Thailand, Anti-aging Treatment in Thailand, Beauty Therapies in Thailand, Body Treatments, Hair Growth Treatment, Holistic Treatments & Care, Dr. Orawan Holistic Beauty and Anti Aging Institute, Phuket, Thailand

92/1-4 Moo 2, Thep Kra Satri Rd, Ko Kaeo, Mueang,, Phuket, Thailand

Specialty:

Anti Aging, Chronic Diseases, Cosmetic/Plastic Surgery, General Medicine, Hair Transplantation, Medical Spa Treatment, Neurology, Obesity/Bariatric Surgery, Skin Care, Sports Medicine, Stem Cell Therapy, Weight Loss Program

Focus Area:

Dr. Orawan Holistic Dermatology & Anti-Aging Institute | Anti-aging Treatment in Thailand | Beauty Therapies in Thailand | Body Treatments | Hair Growth Treatment | Holistic Treatments | Mueang Phuket | Thailand
Dr. Orawan Holistic Dermatology & Anti-Aging Institute Profile Overview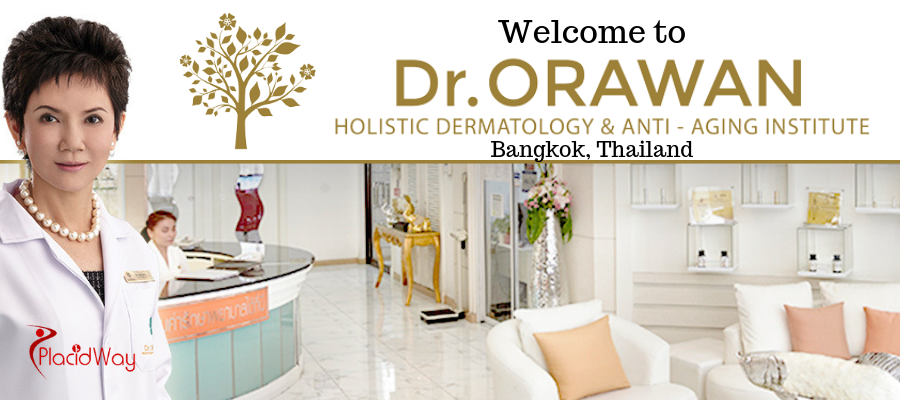 Medical Spa Tourism at Dr. Orawan Holistic Beauty and Anti Aging Institute, Phuket, Thailand
Dr. Orawan Holistic Beauty and Anti Aging Institute, located in Phuket, Thailand was established in the year 1988 by Wg. Cdr. Dr. Orawan Kitchawengkul MD. She is one of the world-famous gurus in health and beauty. Dr. Orawan is the pioneer in her field of holistic beauty care and anti-aging. She is a known and respected Guru for Thailand in the field of medical spa tourism. Her years of services are dedicated to blending the best Eastern world remedies and medicines for beauty and wellness and harmonize them effectively with those of the West.
This holistic approach to nourishing beauty and wellness has given birth to a whole range of innovative Orawana solutions to health and beauty. The clinic offers superior quality, services, and innovation that has won several awards and recognition from across the world. Dr. Orawan is committed to bring the best solutions to her clients and offer them a younger and healthier than ever before.
Treatments and Procedures:
Holistic & Wellness
Anti Aging Treatment
Beauty Treatment
Laser & Light Therapy
Natural Herb Treatment
Treatment Checkup
Face Treatments
Organic Mask and Cold Laser Facial Therapy to remove impurities and reduce roughness of skin

24-karat Nano Gold Facial Treatment for firming and anti-aging benefits

Pico & Nano Second Laser for all facial pigmented problems

Diode, IPL and Nd-Yag Lasers for Hair Removal

Innojector for face lifting and skin rejuvenation

Nano Gold Fractional Radiofrequency for skin rejuvenation

Plasma Radiofrequency for eyes & lips rejuvenation

Ultra Vitamin IV Therapy with Quantum Treatment for boosting inner beauty glow

Botox or Dysport Injection for wrinkle-smoothing effects

Filler " Restylane" Injections

Microcurrent (Vitamin A& C facial rejuvenation Face, Face & Eyes, Face, eyes & neck, Octolift with microcurrent)
Body Treatments
Innojetor for sweat and odor reduction at both underarms with Dysport innojetor

Pico & Nano second Laser Tattoo removal

Permanent Hair Removal (Underarm, Upper arm, Lower arm, Bikini's lines, Upper chest, Chest, Upper abdomen, Whole abdomen, Upper Leg, Lower Leg)

Varicose vein removal (Sclero Therapy, Laser)

Stretchmark and scar removal (Fractional Laser, Innojetor)

Weight Reduction Package (IV therapy, Low Level Laser, LED, Acupuncture, Quantum, Whole Body Vibration Therapy, Ear acupuncture)
Hair Growth Treatment
Hydroacupuncture with Low Level Laser & Quantum Therapy

Innojetor Hair growth

Hair Bio fiber Transplant 1 graft

Hair Follicular Extraction Transplant

Orawana Hair growth massage with cold laser therapy 30′
Holistic Treatments & Care
Sophisticated Energy & Toxin check up with Biomolecular Resonance image

Telomere gene checkup for life span

Tumor marker checkup for CA

Hormonal checkup (Male, Female)

Complete Blood Count (Blood group, Diabetic checkup, Lipid profile checkup, Liver function test, Kidney function test and Inflammation marker checkup)

Genetic checkup (For CA and PD53)

Infection Checkup (VDRL, Viral hepatitis A,B,C, Antigen Antibody and Human Papilloma Virus)

Ebsteinbar Virus | HIV | Etc.

Allergy test (IgG Food Intolerance Test and IgE Test)

Auto immune test
For more information about the treatments and procedures offered Dr. Orawan Holistic Beauty and Anti Aging Institute, please contact us!

---
---
Reviews
Nattanicha

The doctor is very good. The doctor has a lot of experience. It does not hurt my hands. I used to inject Botox with the doctor. No pain, no bruise, no swelling. I like it very much.

Facebook

May 18 2020

Jany

Come to treat the wound from surgery on my left arm. Here I use the best tools and technology. The doctor is very professional and nice. The keloid scar is clearly gone. The bladder is starting to heal. Thank you very much, doctor.

Facebook

Jun 29 2020

Nutcharin

I used to not feel well. I often get dizzy and dizzy. After I came to give IV vitamin C here to freshen my body. The dizziness is better. The doctor here is good. The staff is nice. Thank you very much.

Facebook

May 20 2020
---
Anti-Aging Related Packages