Siam Clinic Phuket
Anti Aging & Cosmetic Surgery in Phuket, Thailand by SIAM Clinic
Big C Supercenter 1st floor (opposite to KFC), Amphoe Muang Phuket, Thailand, Phuket 83000, Thailand

Specialty:

Anti Aging, Cosmetic/Plastic Surgery, Skin Care, Stem Cell Therapy, Weight Loss Program

Focus Area:

SIAM Clinic | Phuket | Thailand | Aesthetic Medicine | Anti Aging Treatment | Cosmetic Surgery | Liposuction | Facial Treatment
Siam Clinic Phuket Profile Overview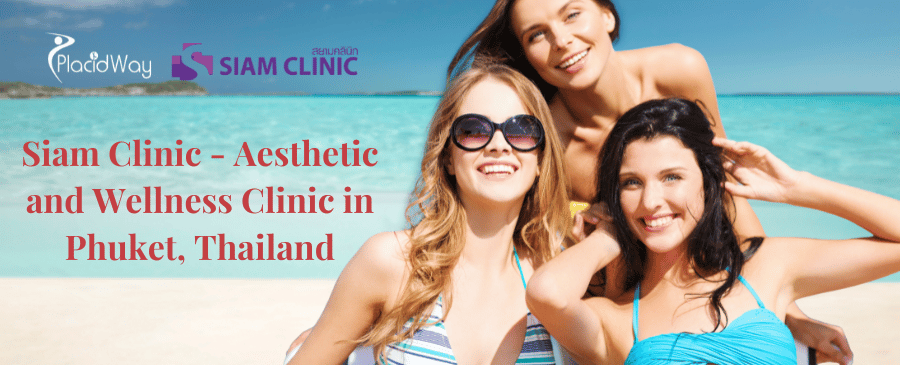 Aesthetic and Wellness Treatments in Phuket, Thailand
Siam Clinic is the go-to destination for those seeking high-quality cosmetic surgery and aesthetic treatments in Phuket, Thailand in a beautiful and relaxing setting. With more than tens of thousands of cases under our belt, we are committed to providing our customers with the best possible results. Our doctor is a recognized industry leader, having won awards and obtained numerous certificates, and we pride ourselves on being responsible and accountable to our customers. We use only world-renowned drugs and tools, and our procedures are designed with the highest regard for safety and natural beauty.
Convenient Location in Phuket
Located in the heart of Phuket, Siam Clinic is easily accessible and convenient for customers traveling from near or far. Our central location makes it easy to combine a visit to our clinic with other sightseeing or recreational activities on the island. We offer flexible scheduling options to accommodate our customers' busy schedules, and our team is always happy to provide guidance and assistance with travel and accommodation arrangements for your cosmetic surgery and aesthetic medicine in Phuket!
Comprehensive Wellness Services
At Siam Clinic Phuket, we understand that true beauty comes from within. That's why we offer a range of comprehensive wellness services designed to help our customer's look and feel their best. From nutritional counseling to stress management, our team of experts is dedicated to helping you achieve optimal health and wellness. Whether you're looking to lose weight, boost your energy levels, or simply improve your overall wellbeing, we have the tools and resources you need to succeed.
Experienced Medical Professionals
Our team of experienced medical professionals is led by Dr. Phimphakarn Tantithummawong, a renowned aesthetic doctor with years of experience in the field. Dr. Tantithummawong is joined by medical supervisor Dr. Akkavich Harnnavachok, certified nurse Dise, and a team of experienced beauty therapists. Together, our team has the skills, knowledge, and expertise to provide our customers with the best possible care and treatment.
Cutting-Edge Technology and Techniques
At Siam Clinic Phuket, we pride ourselves on staying at the forefront of the aesthetic industry. We use the latest cutting-edge technology and techniques to ensure our customers receive the best possible results for aesthetic medicine in Phuket, Thailand. From face contouring and filler to liposuction and body contouring, we offer a wide range of customized treatments designed to help our customers look and feel their best.
Customized Treatment Plans
We understand that every customer is unique, which is why we offer customized treatment plans tailored to each individual's needs and goals. Whether you're looking to address fine lines and wrinkles, acne, melasma, or other skin concerns, our team will work with you to develop a personalized plan that meets your specific needs. We take the time to listen to our customers and understand their goals, ensuring that every treatment we provide is effective and safe, such as Face Contouring, Filler, Thread Lifting, Botox, Skin Treatment, Acne Treatment, Melasma Treatment, Brightening, Anti-Aging, Liposuction, Body Contouring and more!
Luxurious Facilities and Amenities
Our state-of-the-art facilities are designed to provide our customers with a luxurious and relaxing experience. From our comfortable waiting area to our private treatment rooms, we strive to create a welcoming and tranquil environment where our customers can unwind and enjoy their treatment. Our team of friendly and knowledgeable staff is always on hand to answer any questions and provide support throughout the treatment process.
Our customer representative at PlacidWay will help you connect with Siam Clinic in Phuket, Thailand. Click contact us button below to get started:

---
Siam Clinic Phuket, Phuket, Thailand Profile Details
---
---