Beijing Puhua International Hospital- Anti Aging
Beijing Puhua International Hospital, Anti Aging Treatment, Rejuvenation, Stem Cell Therapy for Anti Aging, China

#12 Tiantan Nanli, Dongcheng District, Beijing, China

Focus Area:

Beijing Puhua International Hospital | Anti Aging Treatment | Rejuvenation | Stem Cell Therapy for Anti Aging | China
Beijing Puhua International Hospital- Anti Aging Profile Overview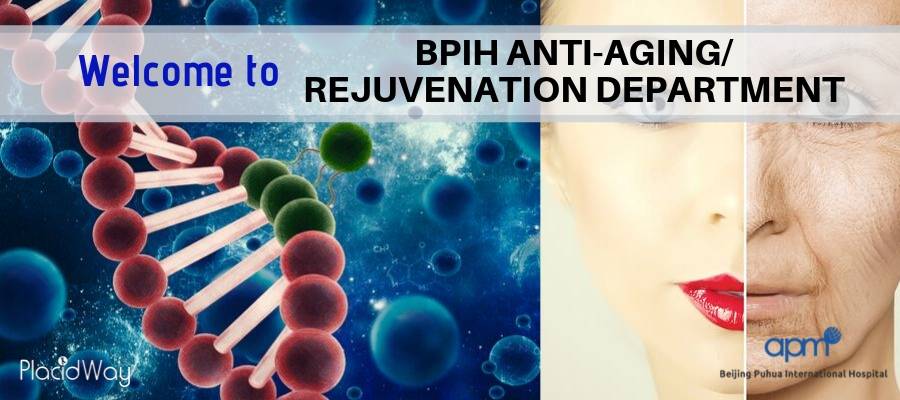 Beijing Puhua International Hospital- Best Anti Aging and Rejuvenation in China
Anti-aging department at Beijing's Puhua International Hospital (BPIH) has the solutions for a wide range of age related skin issues that once considered as irrecoverable. BPIH is providing affordable anti-aging solutions through stem cell therapy. The hospital features a team of specialists and state-of-art facilities designed to serve both local and international patients.
Their internationally-acclaimed stem-cell therapists, doctors and consultants work together to designs and deliver a personally satisfying experience. The 5-day anti-aging treatment package includes high-quality accommodation and quality treatment at their state-of-art facility. The hospital has been working on stem cell therapy since the mid-1990s when the application of biotechnology and stem cells therapy was very rare and expensive.
Stem Cell Therapy as Anti-Aging
Millions of patients around the world have benefited from stem cell treatment. Stem cell therapy is quite effective in the process of getting youthful skin. In this treatment, specialists use patient's stem cells and apply them in the target area. The treatment supplies concentrated stem cells to repair and rejuvenation the skin.
Stem cells are specially treated cells that promote self-repair in our body. Stem cell therapy can speed up the healing process for different kind of injuries. Anti-aging is one of the common treatments that can be done through stem cells. Stem cell therapy can slow down the process of aging and ensure a youthful look to the patients.
Beijing is the home of some of the finest biotechnology hospitals in the world and BPIH is one of them. Individuals seeking anti-aging solutions can visit the hospital to get budget-friendly anti-aging solutions.
The Response of Stem Cell Therapy
The progressive depletion of cells leads to aging and the inclusion of modified cells in the body slows down or reverses the process of aging. Stem cells promote a unique anti-aging effect and it slows down the process of aging by improving the immune function. The therapy also repairs tissues and organs damaged by time and stressors. Stem cell therapy enables our body to use its cells to become stronger, healthier and persistent to several diseases.
Therapy Enhances the Beauty
A few weeks after receiving the therapy, a patient can witness improvement in the condition of facial skin. The skill will get smoother look youthful following the treatment. Along with the skin, the stem cell therapy will improve the condition of hair. The grey hair will start getting its original color, while the bald spots will also be filled. The patients will notice a sharp reduction in age-related issues like pigmentation marks, scars, bruising and more.
Stem Cell Therapy for Anti-Aging in Asia
Asia has become a major hub of the medical tourism industry and China has been an important part of it. Beijing's BPIH comes with a dedicated department for an anti-aging solution. The hospital has been applying stem cells for anti-aging treatment for a long time with an impressive record of accomplishment.
Patients seeking affordable anti-aging solutions can visit BPIH. At BPIH, the experts will take 5 days to complete the process. The 5-day treatment package includes accommodations in hotels. Patients can enjoy a rewarding experience when staying in Beijing for their anti-aging treatment. The BPIH is associated with Chinese Health & Culture Centre and they have both experience and capability to deliver satisfactory anti-aging solutions. The hospital comes with a dedicated team of experts that can plan and design personalized treatment.
Department Head
The dedicated department for anti-aging solutions at BPIH houses some internationally recognized stem cell therapists and consultants. Their head of the department is highly-qualified and experienced, who was associated with many international healthcare organizations. Researchers at BPIH's anti-aging department have been working on the development of applied biotechnology and cellular science to deliver accurate anti-aging solutions for local and international patients.
Rejuvenation
BPIH works with a Chinese Health & Culture Center as well as with an expert, high-level travel & tour group. From room-service body and foot massage, classes in Chinese culture, art and longevity/healing, to the best personal choices of cuisine and entertainment, the keyword is always 'no problem'.
If you want to know more about the anti aging and rejuvenation procedures offered at Beijing Puhua International Hospital, click here!

---
---
---