Instituto Roosevelt
Top Clinic for Child Care Procedures in Colombia Since 1947
Carrera 4 Este No 17-50 Bogota Bogotá, Bogota, Colombia

Specialty:

Dentistry, Neurology, Orthopedic/Knee Surgery, Pediatric Treatment, Rehabilitation, Spine Care/Surgery, Urology

Focus Area:

Instituto Roosevelt | Bogota | Colombia | Pediatric Treatment
Instituto Roosevelt Profile Overview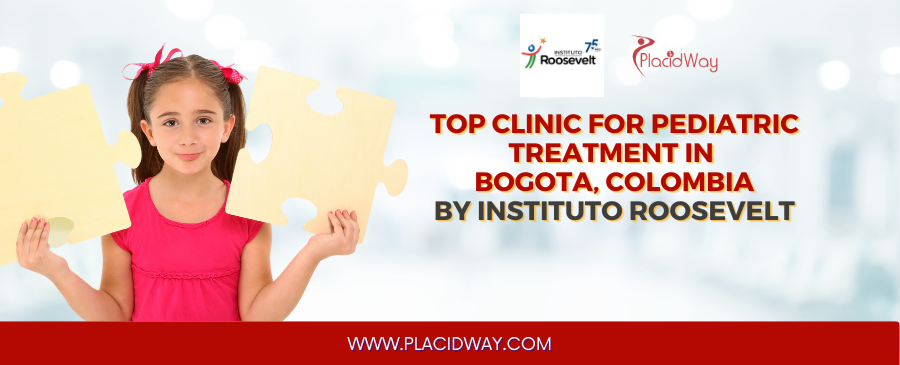 About Instituto Roosevelt in Bogota, Colombia
Instituto Roosevelt is located in Bogota, Colombia and provides quality, safe, and effective pediatric treatment services since 1947. The Roosevelt Children's Orthopedic Institute has arisen to deliver comprehensive orthopedic and rehabilitation care to children and young people with muscular and skeletal disorders.
Experienced medical team contributes with the knowledge and the will to serve others. They aim to be a highly reliable and safe hospital by reaching high international standards. Through years of hard and dedicated work, the hospital has nurtured the hope and well-being of thousands of patients. The Roosevelt Institute of excellence has received a variety of awards and certifications.
Their rehabilitation program provides personalized services for children with physical, neurological and/or hearing disabilities. The hospital offers physical therapy, occupational therapy, adaptive equipment fitting, orthotics and prosthetics fabrication, speech-language pathology and audiology services. In addition to clinical care they offer academic activities such as music and art classes which help the patient to improve their physical and psychological development.
The hospital is also famous for its pediatric orthopedic surgery program, which helps children to develop a normal range of motion after experiencing an injury or deformity due to birth or accident. The hospital caters to patients with conditions such as spina bifida, cerebral palsy, clubfoot, and scoliosis.
Clinic Name:

Instituto Roosevelt

Procedure:

Pediatric Treatment

Location:

Bogota, Colombia
You'll find numerous benefits by choosing orthopedic surgery and other child care procedures at Instituto Roosevelt, such as:
Leaders in specialized pediatrics, orthopedics, and rehabilitation

We generate education and knowledge for the benefit of the community

We participate with experience and responsibility in the development of the country

We tend to a safe and warm attention

We contribute with excellence to the progress and well-being of our clients
Here are healthcare treatments available in Bogota, Colombia at Instituto Roosevelt:
Orthopedics surgery is often utilized to promote the health and healing of bone and joints associated with various orthopedic conditions such as knee and hip problems, arthritis, sports injuries, or rotator cuff surgery.
Dentistry is a specialized field involving many different dental care treatments and procedures, dental surgery, and cosmetic dentistry.
Pediatrics is the branch of medicine that deals with the health and medical care of infants, children, and adolescents from birth to age 18. The word "paediatrics" means "healer of children"; they are derived from two Greek words: (pais = child) and (iatros = doctor or healer).
We understand that you need transparent and up-to-date information for orthopedic surgery, dental care, and other pediatric treatment prices. We provide information on the Price for child care procedures in Instituto Roosevelt, so you can get the accurate price for your specific needs. For more information, please contact us by clicking the button below:

Experienced Doctors

in

Bogota, Colombia

at

Instituto Roosevelt
Doctors in Bogota are specialists in their medical field and dedicated to children's well-being and prevention. Here are the names of the best pediatric doctors in Bogota at Instituto Roosevelt.
Doctors Names:
Dr. Paola Victoria Pedraza Arrows, Specialist in Medicine - Pediatric Endocrinology

Dr. Javier Yesid Pinzon Salamanca, Pediatrician Specialist in Epidemiology

Dr. Sergio Alejandro Nossa, Head of Orthopedics

Dr. Monica Cediel Echeverry, Pediatric Specialist

Dr. Fredi Soto, Pediatrician with training in Infectology

Dr. Fernando Ortiz Corredor, Head of Rehabilitation
Associations and Accreditation:
Accreditation in Health with Excellence

University Hospital

Family Responsible Company

Green Hospital Network

PREAD Certification
If you're considering child rehabilitation or orthopedic and other surgery, you can choose the highly skilled medical team at Instituto Roosevelt in Bogota, Colombia. Find more about the hospital and book your consultation with qualified doctors in Bogota today!

---
---
Reviews
Sonia L

"Excellent service, excellent professionals with humanization in the service."

Instituto Roosevelt

Aug 01 2022

Nancy F F

"The quality of care of doctors. True vocation in their excellent work."

Instituto Roosevelt

Jan 02 2022

Leidy M

"Excellent care trained in the care of the user and the patients. Excellent doctors."

Instituto Roosevelt

Mar 17 2022
---
Dentistry Related Packages
Dentistry Related Experiences