Argentina Medical Center
Best Clinic for Cosmetic Surgery and Weight Loss Surgery in Mexicali, Mexico
Av. República de Argentina 402, col. Cuauhtémoc Norte Mexicali Baja California , Mexicali, Mexico

Specialty:

Cosmetic/Plastic Surgery, Obesity/Bariatric Surgery

Focus Area:

Argentina Medical Center | Plastic Surgery | Bariatric Surgery | Weight Loss Surgery | Tummy Tuck | Liposuction | Mexicali | Mexico
Argentina Medical Center Profile Overview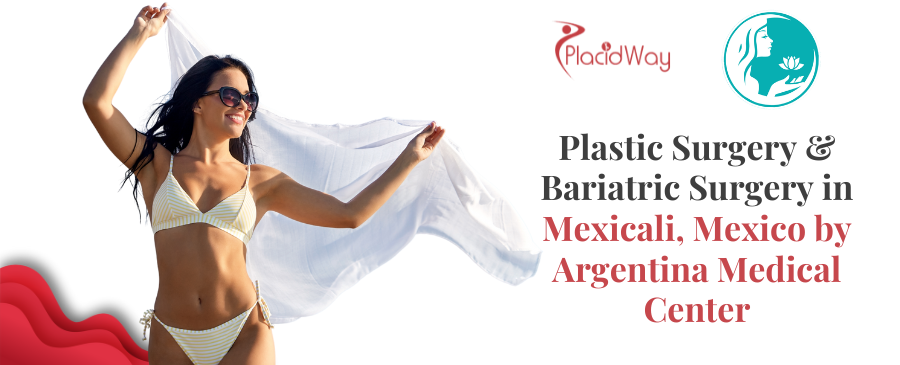 Argentina Medical Center in Mexicali, Mexico provides high-quality, safe, and effective bariatric surgery and plastic surgery to local and foreign patients. It operates with advanced technology and modern equipment such you can find in the best clinics across the USA.
Argentina Medical Center team are dedicated to their patients' goals and needs. They speak English fluently and provide safe bariatric surgeries and cosmetic surgeries at affordable costs. Whether you need a gastric bypass, gastric sleeve, breast augmentation or tummy tuck, you can find it in this clinic. There are a variety of services for patients to choose from.
Clinic Name: Argentina Medical Center
Procedure: Bariatric Surgery & Plastic Surgery
Location: Mexicali, Mexico
Doctor: Bariatric Surgeon Ruben Castillo Mendez & Dr. Walter Gonzalez Plastic Surgeons
As a patient, we understand that you need transparent and up-to-date information for Bariatric and cosmetic surgery prices. We provide information on the weight loss surgery & cosmetic surgery cost, so you can get the accurate price for your desired procedure. For more information, please contact us by clicking the button below:

Here are several bariatric and plastic surgery procedures available in Mexicali, Mexico:
Gastric Bypass
Gastric Bypass, also called Roux-en-Y (roo-en-wy) gastric bypass, involves creating a small pouch from the stomach and connecting the newly created pouch directly to the small intestine. After the surgery, consumed food will go into this small pouch of the stomach and then into the small intestine, bypassing most of your stomach and the first section of your small intestine.
Gastric Sleeve
Gastric Sleeve surgery, also called sleeve gastrectomy, is a bariatric surgery procedure. It removes a large portion of your stomach, leaving behind a narrow "sleeve." Reducing your stomach helps restrict calories and reduce hunger signals.
Breast Augmentation
Breast Augmentation or augmentation mammaplasty involves various types of implants to increase or restore breast volume.
Abdominoplasty
More commonly known as a tummy tuck, abdominoplasty provides a flatter abdomen by removing excess fat and skin from areas where excess fat causes abdominal swelling.
There are numerous benefits you gain by choosing weight loss surgery and cosmetic surgery such as:
Minimum to zero waiting time for surgery

Effective weight loss programs

Compassionate medical team

Safe and effective plastic surgery

Professional plastic surgeons

Comfortable rooms and modern facilities

English-speaking medical staff
Here you'll find more details about the best bariatric surgeon & plastic surgeon in Mexicali, Mexico
Doctor Name: Bariatric Surgeon Ruben Castillo Mendez
I am Dr. Castillo, a specialist in general surgery, I have a high specialty in bariatric surgery, I like to provide quality care to my patients and give the best possible treatment in each case.
Doctor Name: Dr. Walter Gonzalez Plastic Surgeons
Dr. Walter Gonzalez is a plastic surgeon, providing the best quality of care to patients in Mexicali, Mexico.
If you choose Argentina Medical Center for your bariatric or cosmetic surgery, you will witness first-class, exceptional surgical results that'll help you to get more desired look. Book your consultation with a qualified bariatric surgeon or plastic surgeon in Mexicali today!
---
---
Reviews
Lilian E

Excellent Doctor!! Attentive to his patients, he clears your doubts, very attentive, I recommend him.

Argentina Medical Center

Oct 03 2022

Suzeth L

I felt confident, listened to about my condition, he explained the procedure and the costs to me very well, which are very good. I am very satisfied with the attention received in the consultation. I hope soon to be able to conclude the surgery with Dr. Reuben Castillo.

Argentina Medical Center

Aug 18 2022
---
Cosmetic/Plastic-Surgery Related Packages
Cosmetic/Plastic-Surgery Related Experiences