Clinica Javier Prado
Affordable Cosmetic Surgery in Lima, Peru at Clinica Javier Prado
499 Javier Prado Este Avenue. 2nd Floor, Office 215, San Isidro, Lima - Peru, Lima Lima 27, Peru

Specialty:

Anti Aging, Cosmetic/Plastic Surgery, Skin Care

Focus Area:

Cosmetic surgery in Lima, Peru | Reconstructive Surgery | Aesthetic Surgery | Clinica Javier Prado | Dr. Guillermo Wiegering Cecchi | ISO Certified Cosmetic Clinic in Peru | Cosmetic and Plastic Surgery | Rhinoplasty | Liposuction | Breast Augmentation
Clinica Javier Prado Profile Overview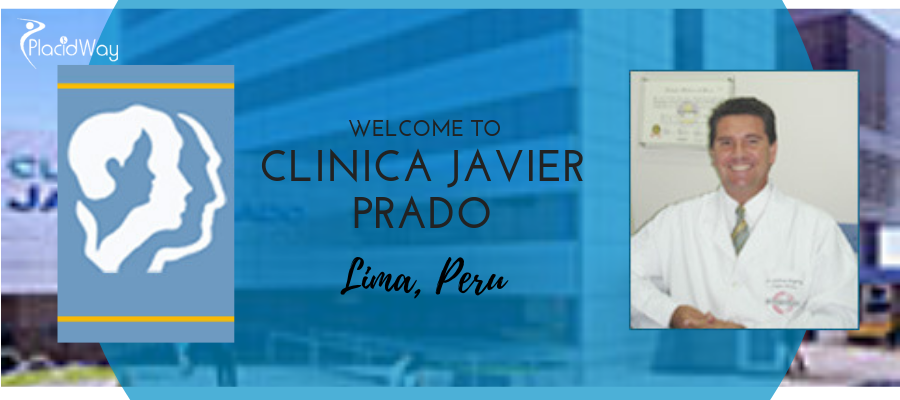 Plastic, Reconstructive and Aesthetic Surgery at Clinica Javier Prado, Lima, Peru
Clinica Javier Prado, located in Lima, Peru is a prestigious Plastic, Reconstructive and Aesthetic Surgery clinic led by Dr. Guillermo Wiegering Cecchi. Dr. Cecchi is one of the most renowned Surgeons specialized in the field of Plastic, Reconstructive and Aesthetic Surgery working since 1991 and changing many lives.
The clinic is known to create elegant transformations—sculpting, refining, and restoring the body to its most ideal shape. Medical experts offer the best patient-care and make them feel comfortable throughout their treatment process.
Clinica Javier Prado is well equipped to have all the support required in Medicate Surgical specialties like:
Intensivists

Internists

Anaesthetists

General Surgeons

Neumologysts, etc.
The infrastructure is suitable to completely cure patients after cosmetic surgical procedures. The clinic has Laboratory, a Blood bank, and Recovery Unit with the modern technology of Monitors, Pulse - Oximeters, Desfibrilators, Ventilation Machines, etc.
The clinic is always ready to combat any surgical complications that may arise to any patient. Javier Prado Clinic proudly announces it to be the only clinic in Lima with the International Certification of ISO 9001- 2000 for it's:
Intensive Care Unit

Operation Rooms

Emergency Service, and

Hospitalization
Treatment and Procedures
Cosmetic Surgery
Rhinoplasty (Cosmetic Surgery of the Nose)

Blepharoplasty (Cosmetic Surgery of the Eyelids)

Rhytidectomy (Facial stretching)

Brow-Lift

Liposuction and / or Liposculpture

Cosmetic Surgery of the Abdomen (Abdominoplasty or Dermolipectomy)

Breast Augmentation

Breast Reduction

Breast Lift

Otoplasty (Cosmetic Surgery of the Ears)

Cosmetic Surgery of the Lips

Genioplasty (Cosmetic Surgery of the Chin)

Facial Implants

Gluteal Implants

Elimination of Scars by Peeling (Chemical, Mechanic Dermabrasion, Laser)

Botulinum Toxin: Botox

Laser in Cosmetic Surgery

Surgery of the Baldness (Hair Transplant, Uni, Mini, or Micro Hair graft, Rotation Flap)
Reconstructive Surgery
Scar Revision

Treatment of the Acute and Chronic Burns

Extraction of Tumors

Treatment and Recovery of the Corporal

Traumatism and Jaw-Face

Treatment of the Skull-Face Syndromes

Treatment of the Sores for Decubitus

Repair of the Arteries, Veins and Nerves by Microsurgery
Plastic Surgery
Congenital Malformations

Cleft Lip

Cleft Palate

Malformations of Ears (Anotias, Microtias, Prominent and Protruding Ears, Cup and Lop Ears, etc)

Malformations of Hands and Feet (Polydactyly, Syndactyly, Acrosyndactyly, etc.)
If you want to know more about Clinica Javier Prado, Lima, Peru or want to request for any information, just click the contact tab below!
---
---
Reviews
Fernando

Overcoming the health crisis, infrastructure, face-to-face service and remote assistance have been modernized, always with the professionalism and quality of the medical staff, medical and administrative assistance.

Google

Mar 17 2022

Karola

Excellent attention I was impressed by how efficient and friendly the staff at the vaccination center are, they attended me very quickly, although it is the first time I have used their facilities and services, the attention was very fast and effective, they also have very modern and educational facilities for our children, the very kind doctors also attend to you and explain patiently, despite having gone to vaccinate my daughter, she left the vaccination center very happy, they gave her a balloon and she said they gave it to her for being brave, the waiting room It has air conditioning and on the TV they show drawings for the little ones, all very nice.


Google

Mar 26 2022

Gianni

Today I went to vaccinate my daughter. In the vaccination area everything is fine. Very friendly, very friendly nurse. She sang to my little daughter while she gave her the vaccine. Everythings fine

Google

Jun 17 2022
---
Anti-Aging Related Packages