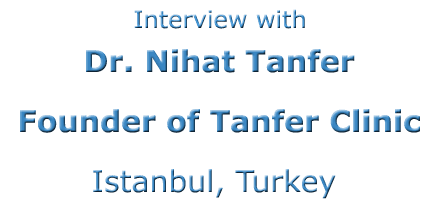 Interview with-Dr Nihat Tanfer Dentist Specialist Turkey
Dr. Nihat Tanfer, who was born in Ankara, in the year 1951, graduated from Marmara University, Faculty of Dentistry in the year 1974. Dr. Tanfer began his career in the professorship chair of Tooth and Jaw Diseases Surgery as a doctoral student in the year of 1975 and he completed his studies as Dr. Med. Dent. with excellent grade in 1981.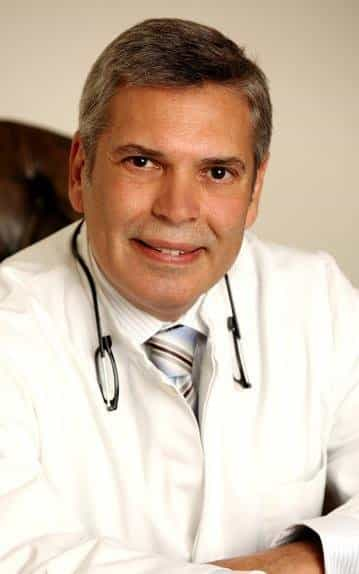 He carried out studies concerning Cerec together with Prof. Mormann in Zurich in 1990. His Aesthetic Oral Surgery Center still provides service under the name of Tanfer Oral and Dental Health Polyclinic.
Tanfer Clinic was founded by dental and maxillofacial surgery specialist Dr. Nihat Tanfer, one of the pioneer dentists, who applied osteoregeneration operation for the first time, in Turkey.
Learn more about Osteoregeneration. 
Tanfer Clinic provides boutique services and has been doing so for the past 30 years and has adopted the concept of hygiene and high quality, comparing to world standards that are regulated by BVQI. Laboratory processes are performed as in-house operations in the clinic, abiding ISO 9001 quality certification.
Exclusive Dental Technology:
The new method of Osteoregeneration is being implemented within the practice at high standards and the best quality.
PRF method is being used in the Clinic which consists of a serum that boosts bone regeneration. The serum is comprised of the patient?s own blood for reliable results and shorter recovery time.
In addition, Box Technique and Shell Technique are both used for missing bone areas in order to later perform effective dental implant procedure.
Learn more about Tanfer Dental Clinic.
Interview with Dr. Nihat Tanfer
founder of Tanfer Clinic, Turkey
PlacidWay: To being with, which is Tanfer Clinic?s most sought after dental procedure and why?
Dr. Tanfer: Our most sought after treatment is Box Technique, that is applied for patients whose jaw bones are lost. It is a new bone prosthesis that is aesthetically guided by a regenerative technique. It requires the use of organic materials that can be absorbed by the body naturally. This revolutionary method does not require bone grafts, thus reducing the number of surgery sessions. It is the first prosthesis by guided bone regenerative technique which aims to fully restore lost bone volume 3D by using only absorbable materials, polylactic acid ? PDLLA DL-lactide.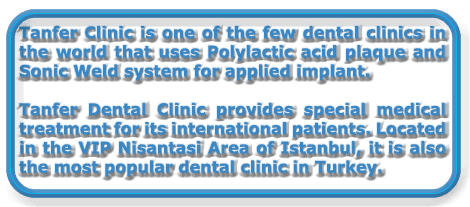 The Box Technique is a regenerative technique able to convert the bone volume defect into a container (hence ?box technique?) which can easily be filled with the appropriate filling material (Allograft or Xenograft). It allows the 3D bone regeneration.
The aim of Box Technique is the ?restitutio ad integrum? that is to fully restore the bone to its original condition, not only in functionality but also in appearance. It allows a quick and easy transfer of implant placement and offers a reduced surgical impact, when compared to other bone regeneration/prosthesis techniques.
PlacidWay: Can you please mention how is Tanfer Clinic perceived domestically as well as internationally in general?
Dr. Tanfer: Our company is one of the leading dental clinics, in terms of advanced technology, highly specialized dentists and continuous success. 
PlacidWay: How do the patients you cater to benefit when choosing Tanfer Clinic?
Dr. Tanfer: Patients benefit when choosing our facility from:
Advanced technologies utilized by highly experienced dentists
Since all the procedures are performed in our office, total cost is reduced and it becomes more convenient
Hygienic and serene clinic conditions.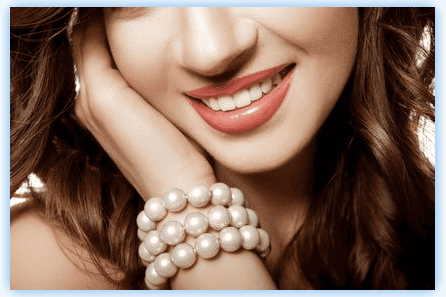 PlacidWay: Today, Medical Tourism has become highly competitive. How do you set Tanfer Clinic apart?
Dr. Tanfer: In our clinic, we have a very friendly, warm, caring and nurturing environment. We focus on our patient?s treatment and their satisfaction so we continue to keep in touch with them even after they go back to their home country.
 
PlacidWay: What are the challenges and risks involved in your business specifically from Medical Tourism perspective?
Dr. Tanfer: The biggest challenge for some patients is that they often need to return for their implant treatment: i.e. 3 or 4 months later.
PlacidWay: What kind of additional services do you offer and what should the patient pay for (not included in the stay ? meals, transport, all inclusive).
Dr. Tanfer: Since all the treatments are performed in our clinic, our prices include everything about the medical services.
Patients usually stay in local hotels, eat meals on their own, and must provide transportation to and from our offices.
Having said that, our clinic is located in Istanbul city center, therefore, patients can easily do city tours.
PlacidWay: A few words on your clientele ? is it more of insurance, corporate clients, or more individuals?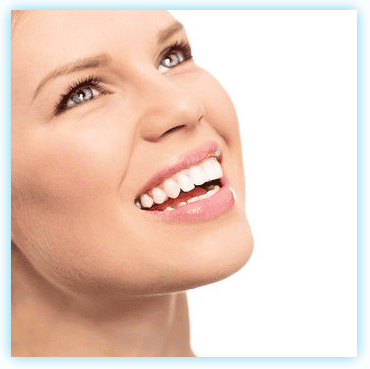 Dr. Tanfer: Due to the specialized nature of our practice, we do not participate with any insurance companies.
We are happy to provide free and comprehensive dental examinations and at the conclusion of this examination, patients are provided with written, pre-treatment fee estimates.
In addition, we accept all major credit cards.
PlacidWay: What issues have you encountered since entering the medical tourism market?
Dr. Tanfer: In medical tourism, especially when we talk about dental treatments, it is one of the most competitive fields.
First of all, there is competition between countries, and then, within the country, there are a lot of competitors ? providing exceptional dental care at low prices is one of the most important challenge.
On the other hand, working for the past 30 years in dentistry has its advantages ? therefore Tanfer Clinic has the lowest prices.
PlacidWay: What do you think the patients should know when opting to travel for health to Tanfer Clinic?
Dr. Tanfer: I think the patients should know that we offer an excellent technique for those who have lost their jaw bones ? a safe, effective and convenient procedure.
PlacidWay: Finally, a few words on your most recent services, that are very unique to Tanfer Clinic.
Dr. Tanfer:  As mentioned above, the unique treatment at our clinic is the Box Technique, which is performed by only a few maxillofacial surgeons.
"Patients who need dental implants and
have jaw bone problems can benefit from this excellent technique!"