Bariatric Surgery Abroad

Compare Prices and Make the Right Choice!
It has become common knowledge that rates of overweight and obesity are increasing at an epidemic rate, not only in America but around the world. The World Health Organization estimates that 1.6 billion people worldwide are overweight or obese. The death toll associated with obesity runs to 2.5 million annually, and the numbers haven't reached their peak. The British Heart Foundation predicts that half the population of the UK could be obese within 25 years. Bariatric surgery today, as the only effective therapy for morbid obesity, is expanding exponentially to meet the global epidemic of morbid obesity.
Obesity is a complex disorder involving an excessive amount of body fat; it isn't just a cosmetic concern. Obesity increases your risk of diseases and health problems such as heart disease, diabetes, high blood pressure, and breathing difficulty. It occurs over time when you eat more calories than you use, but the balance between calories-in and calories-out differs for each person. Factors that might affect your weight include your genetic makeup, overeating, eating high-fat foods, and not being physically active.
Do you need bariatric surgery?
Obesity and weight loss surgeries are generally only an option for people who are more than 100 pounds overweight. Most physicians will first suggest a wide variety of treatments such as behavior modification, dieting, and exercise. Sometimes, a doctor will prescribe medications. When these fail, surgery is an option for those who have not responded to such treatments and who are severely obese.
Surgical procedures are generally divided into three categories: malabsorption, restrictive, and mixed, or combination. The type of surgery any patient will undergo will depend on how much weight needs to be lost. Lap banding and gastric bypass are two of the most common surgeries.
Weight-loss treatments and obesity surgeries and procedures are designed to reduce illness and death caused by obesity. However, such procedures require dedication and determination to maintain permanent lifestyle changes. After surgery, patients who follow instructions may enjoy as much as a 60% weight loss, improving health problems as an added benefit.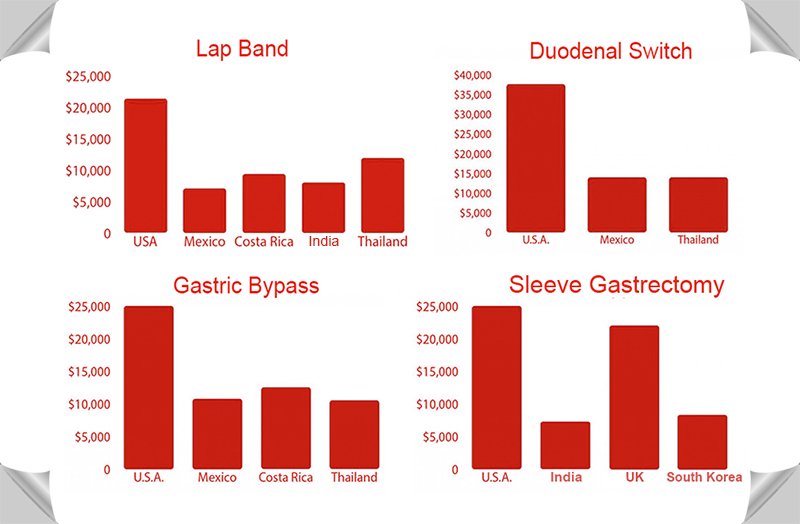 Before you plan a bariatric treatment abroad, discuss your alternatives fully with a specialist. Also, make sure you understand what you can reasonably expect as an outcome of a successful surgery. You need to consider the practicalities of dealing with a long flight, both as an overweight person flying out and the following surgery flying back. You also need to consider how easy it will be to return for further treatment, such as gastric band removal or adjustment.
Asia
Thanks to a flourishing economy and growing medical system, Asia has transformed itself into a viable medical tourism destination. Having your operation carried out in Asia may be cheaper than going privately in your country. The best Asian treatment centers attract clients from across the globe, including Americans and Europeans, making them some of the most popular obesity surgery destinations in the world. In India, Thailand, and South Korea the gastric bypass surgery can cost as little as $6,000. In Asia, prices for duodenal switch surgery range from $10,000 to $18,000, lap band surgery - $6,500 to $11,000, sleeve gastrectomy – $5,700 to $8,500.
Europe
Belgium and Germany are known worldwide as centers of excellence in the field, yet offer prices that are around half of what you would pay in the UK. For example, a lap band operation in Belgium can cost as little as $5,800, while in Britain you could pay over $12,000. Medical tourism hotspots, such as Hungary and the Czech Republic also offer great deals, while Baltic states, such as Latvia and Lithuania, are also popular as they combine high-quality clinics with easy access and exceptionally low prices. Obesity treatment prices in Spain compare favorably with other European destinations, while Malta and Cyprus have the advantage of English speaking locals. In Europe, prices for duodenal switch surgery range from $12,000 to $15,000, lap band surgery - $5,000 to $13,400, sleeve gastrectomy – $32,500 to $43,700.

America
According to the National Institutes of Health, bariatric surgeries in the US cost, on average, between $17,000 and $35,000. In Mexico, these same surgeries cost between $5,500 to $12,500. Average costs for sleeve gastrectomy range from $10,000 to $20,000 in the United States. If that sounds too high consider having the surgery in Mexico, for prices starting from $4,400. Gastric bypass surgery is one of the most popular bariatric surgeries, and its costs range from $15,500 to $30,000 in the United States, while in Mexico prices start from $5,900. Duodenal switch surgery costs on average $25,000 in the United States, while in Tijuana, Mexico, prices start from $6,500. For adjustable gastric banding or lap band, prices range from $17,000 to $30,000 in the United States, while in Mexico they start at $5,600.
Now that you have a better understanding of bariatric surgery, take the time to weigh all your options. This is a major procedure and it requires a well thought out decision. We always recommend finding the best clinics and surgeons for bariatric surgery.
About PlacidWay
PlacidWay, a leader in the medical tourism industry, offers extensive information related to medical travel, foreign treatment packages, international medical providers, as well as global destinations for health travelers. PlacidWay's network has over 250 renowned medical centers in 50 countries.