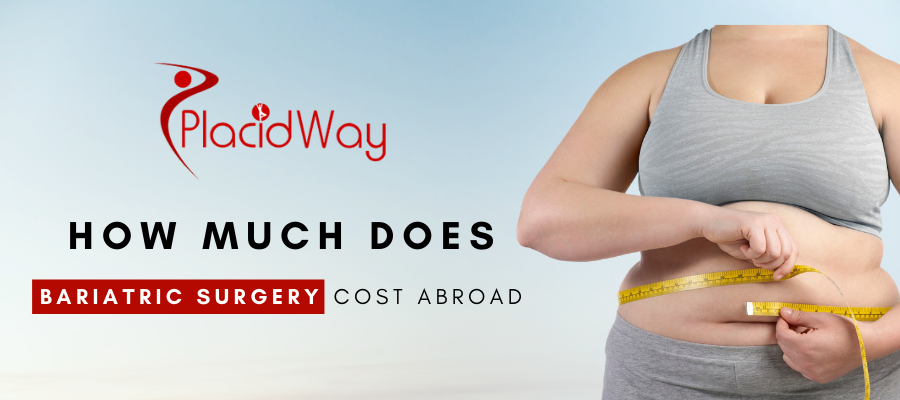 Bariatric surgery is, more often than not, a necessity for overweight people, as it is, in some cases, the only thing that can help those people to lose excess weight. However, even though it is a necessity, this type of surgery is usually not covered by insurance, as it is considered to be elective. Since each case has to be reviewed by the insurer, and they mostly get turned down, people have started to look outside of their country's borders to get this procedure done at cheaper rates.
Mexico, India, UAE, Lithuania and Poland are the best places for weight loss surgery in the world where top bariatric surgeon providing top level bariatirc surgeries to weight loss paitents.
Having this in mind, we decided to give you examples of how much it costs to have bariatric surgery abroad and to show you the most popular destinations for these procedures abroad. You should note right away that, while it is an important factor, the price should not be the only thing to look at when deciding where to go for this procedure. Experience, knowledge, and quality (both of the staff and the facilities) should be the primary thing when deciding, and only afterwards should you consider the price. It is more important to have the procedure done properly, than to pay less.
That being said, let us see what bariatric surgery is about.
Obesity Surgery Overview
Bariatric surgeries are surgical procedures that involve shortening the stomach in some way, as to prevent excess food absorption, reduce the appetite of the patient, or a combination of both. They are usually recommended to patients as a last resort, following unsuccessful treatments involving exercises, diets, behavior modifications, and, in some cases, medications. If all of these fail, bariatric surgery is usually the final attempt at reducing weight of obese patients.
It should be noted, however, that these surgeries are not a "miracle cure" for obesity, as they still require the patient to obey the strict diet regimens and exercise patterns, as the surgery only provides the basis on which to start losing excess weight. 
5 Best Place for Weight Loss Surgery
1. Mexico
Being the closest to the US, and with a large number of US expats opening their medical practices there to be able to provide cheaper medical care for US patients, Mexico is always one of the most popular destinations for medical tourism, regardless of the medical field. Bariatric surgery field is no different and Mexico is one of the most popular destinations, with some of the cheapest prices for these kinds of procedures throughout the world. The average price for a bariatric surgery in Mexico is $6,733, while the most expensive procedure that you can find here is a Gastric Bypass in Tijuana, at $16,000. The cheapest listing that we have is $2,700 for a gastric balloon procedure.
2. India
India has become the leader in modernization of medical infrastructure and equipment, as far as developing countries go. The medical care in this country has seen significant upgrades and is now considered to be among the better in the world, while only costing a fracture of what you would pay in the developed countries. Indian bariatric surgeons are especially well regarded, considering that most of them have specializations done in the United States or some other Western country, allowing them to pick up the finest details that the developed countries have to offer. The average price for a bariatric procedure in India is $6,335. The cheapest procedure to be found is a gastric balloon procedure, which costs $3,000, while the most expensive is the gastric bypass, which will cost you $11,000.
3. UAE
The UAE (United Arab Emirates) has seen significant improvement in medical tourism over the past decade, as well as much of the Middle East. With their money, they have attracted top-notch doctors and surgeons from around the world, as well their own medical staff who have been working abroad, honing their experience there. The result is a high quality of medical services, especially in the field of bariatric surgery, which this country is famous for globally. The average price of bariatric surgery in UAE is $8,276. The cheapest procedure available here is a gastric balloon procedure at $4,110, while the most expensive is the gastric bypass, at $11,900.
4. Lithuania
Ever since their entrance into the EU, Lithuania has been investing heavily into the medical sector in order to bring it up to European standards. The resulting income from medical tourism from countries such as Russia and other neighboring countries has done much towards further improving the quality of medical services provided. Much like in the abovementioned countries, their surgeons have done their specializations abroad and have readily applied their knowledge and experiences towards improving Lithuania's own practices. The average price in Lithuania for a bariatric surgery is $6,500. Their bariatric surgery packages have small differences in price, which is shown by the most expensive treatment costing $6,949, while the cheapest is only $3,910.
5. Poland
Poland, much like Lithuania, has seen significant medical progress since joining the EU. Their doctors and surgeons have done well to exploit the possibility of movement to go and study medicine abroad, and then to return and apply the newly-learned practices at home. This has given the patients the possibility to enjoy medical services of the highest quality, while still paying a fraction of what they would in some Western European countries. This is why they draw a lot of patients from those countries every year. The most expensive bariatric treatment in Poland is duodenal switch surgery, which costs $12,400, while the cheapest is gastric balloon surgery, which is probably the cheapest in the world, at only $2,800. The average price for a bariatric procedure in Poland is $6,024. 
Top 10 Bariatric Surgeons in the World
There are many talented and skilled surgeons who perform bariatric surgery, but who are the very best? Here is a list of the top 10 bariatric surgeons in the world, based on experience, training, and success rates.
| | |
| --- | --- |
| Name | Country |
| | Mexico |
| | Turkey |
| | Turkey |
| | Mexico |
| | Mexico |
| | Turkey |
| | Turkey |
| | Mexico |
| | Turkey |
| | Mexico |

What is the Cost Worldwide?
The cost of these surgeries varies greatly across the world, although not as much as some other procedures in different medical fields, such as cosmetic surgery or dentistry. The reasons for these variations are different rules in different countries, different overhead costs, cheaper access to instruments, and lower staff salaries.
Comparing prices on Placidway, we can find that the cost of bariatric surgeries worldwide ranges from $2,800 for a Gastric balloon in Poland, to a Bariatric Surgery in the USA, which costs $25,000. The average price for all types of obesity surgeries worldwide is $9,100 and we recommend looking for deals that are somewhere around this number.
Most Popular Obesity Surgeries
There are different types of obesity surgeries that have different goals and are targeted at different parts of the digestive system. Some procedures, however, have shown better success rates and are thus more popular with obese patients, and these are:
Why Are Obesity Surgeries so Expensive?
While these procedures are usually the last resort for over-weight people to try and get their bodies in check when it comes to eating, most times these surgeries are regarded as elective and the insurance is paid only in a small number of cases. This makes them seem elective, and thus something that should be paid for a lot, at least in the West. However, that is not the only thing that affects the price of these procedures. Things like overhead costs, staff salaries, equipment procurement, and rent all affect the prices and the further West you venture, the more expensive all of these factor become. The countries that we mentioned here still do not have such problems, which is why they can offer cheaper bariatric treatments.
Choosing the Right Surgeon and Clinic
Most of the people looking for bariatric surgery are, of course, looking to find the best possible deal, but in most cases, that does not mean simply choosing the cheapest package available, but looking at quite a few possibilities, including the more expensive ones, before making a decision. The most important factor to consider should be whether the surgeon who performs the surgery has had enough experience and proper training so that you can feel you can trust him. Also, both the surgeon's and the clinic's certifications must come into consideration, as this will show you how up to date they are with the latest technologies and whether or not the clinic operates on legal grounds. If you have any doubts as to what you should be looking for, we have provided you with a set of questions to ask each bariatric surgeon you should perform your procedure and also a more general text about what to look for when choosing a bariatric surgery clinic. 
If you have any questions about bariatric surgery procedures, prices, doctors or clinics, or you would like to get a free quote for one, please feel free to contact us and we will respond in a timely manner.